Calligraphy and Lights Christmas Cards x 4
These gorgeous A6 size handmade Christmas cards are made with 350gsm white textured card. The inside is blank for you to write your own message. Each card is supplied with a silver metallic envelope for posting. To purchase please select the card pack and click on the 'Add to Cart' button at the bottom of the page. The designs include;
'Joy Peace Love' with miniature wooden heart
'Merry Christmas' with miniature wooden heart
'Merry and Bright' with hand drawn lights with multi-coloured bulbs
'Merry and Bright' with hand drawn lights with bright blue bulbs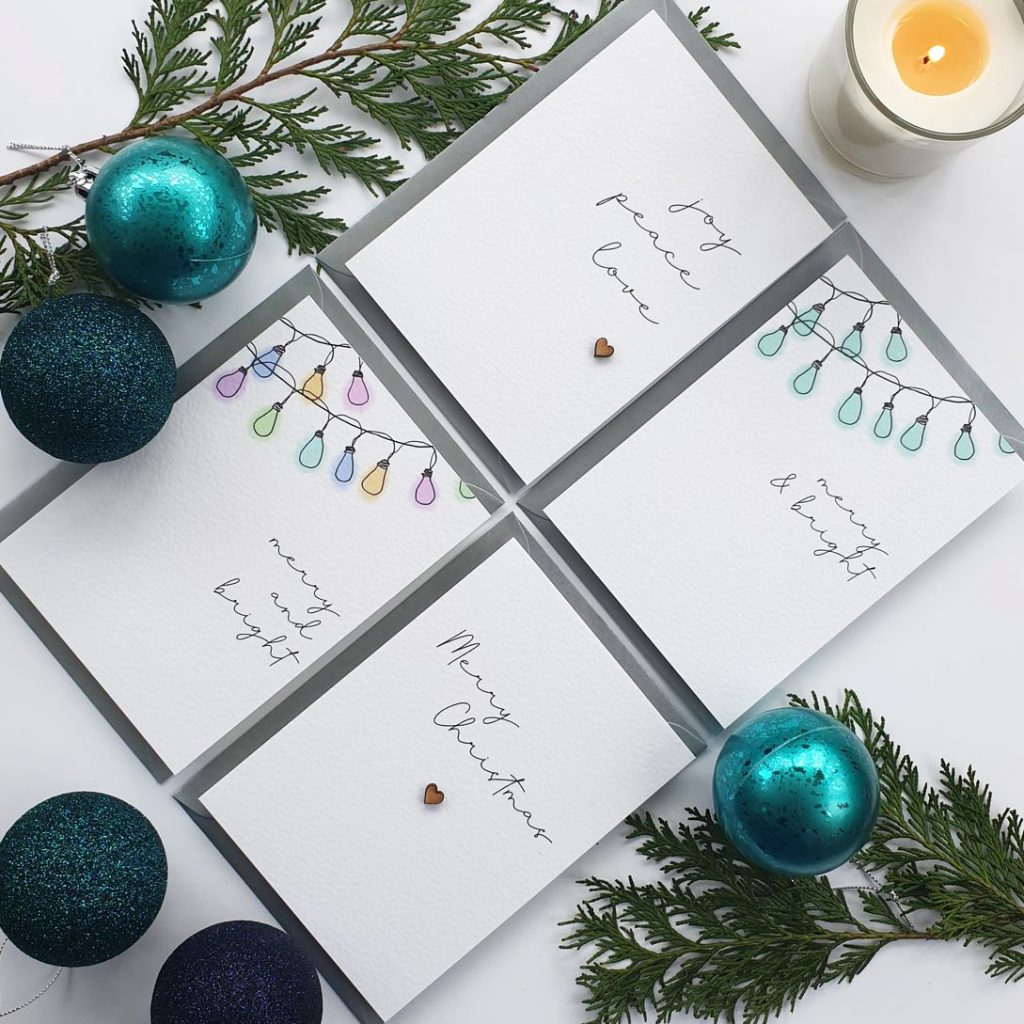 Wreath Christmas Cards x 4
These pretty A6 size handmade Christmas cards are made with 300gsm ivory iridescent card. The inside is blank for you to write your own message. Each card is supplied with a red envelope for posting. To purchase please select the card pack and click on the 'Add to Cart' button at the bottom of the page. The designs include;
'Joy Peace Love' with lime green wreath
'Merry and Bright' with mint green wreath
'Merry Christmas and Happy New Year' with sage green wreath
'Christmas Wishes and Mistletoe Kisses' with duck egg blue wreath
If you would prefer to pay by bank transfer, simply click HERE and send me your order along with your name and address. I will then forward my bank details so you can make payment. 
Wedding Stationery Gift Vouchers
Wedding stationery gift vouchers are available to purchase as a gift. The voucher is personalised with the recipients name(s) and is provided with a free decorative wallet with a satin ribbon to pull out the voucher. The voucher can be for any amount over £10.00. A message from the sender to the recipient can also be added free of charge. Vouchers will be valid for 12 months and are non-transferable. For more images of the voucher you can visit my Instagram or Facebook pages. To view my wedding stationery collections please click here.
To purchase a voucher or for more information please get in touch here.