Planning the Luxury Styled Wedding Photoshoot
With weddings as we know them on the back burner at the moment, the next best thing for us wedding suppliers, is a luxury styled wedding photoshoot! Our aim was to get back to what we all know and love, and be able to share our passion with you. We decided to go for a luxury feel with lots of whites, gold and gorgeous green foliage. 
Our venue for the day was the stunning exclusive use, Upper House which is tucked away on the magnificent Kinder Scout in the Peak District National Park. It truly is a unique venue which is full of history dating back to 1378.
Please note – The following images were taken on the day by various suppliers. Professional images to follow.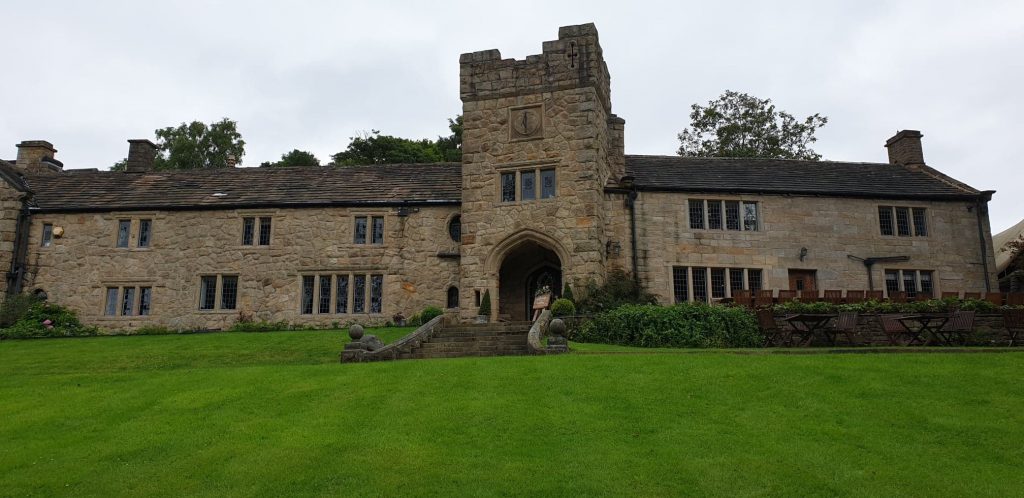 First Set-Up of the Day
We started our table set-up in the magnificent Medieval Banqueting Hall bay window which included beautiful crockery supplied by Whitehouse Events Crockery and gorgeous linen embroidered napkins from The Embroidered Napkin Company.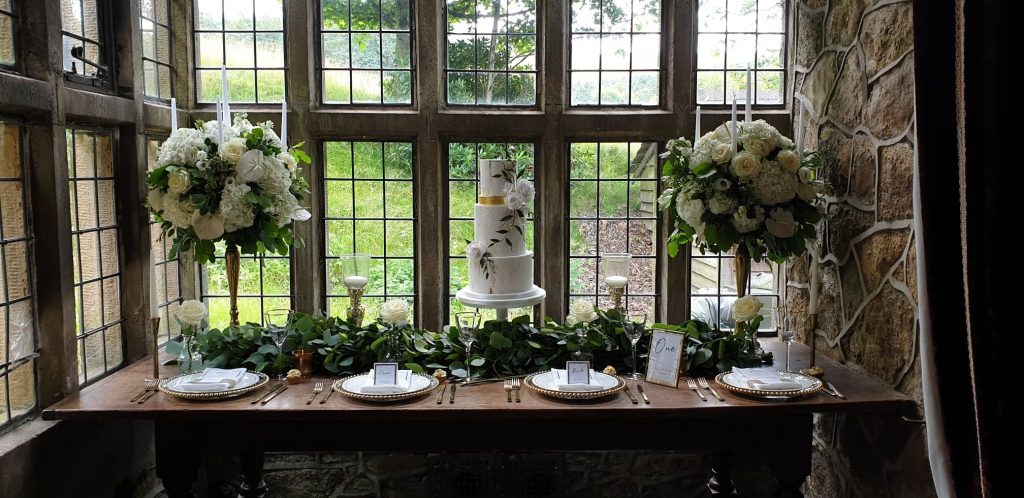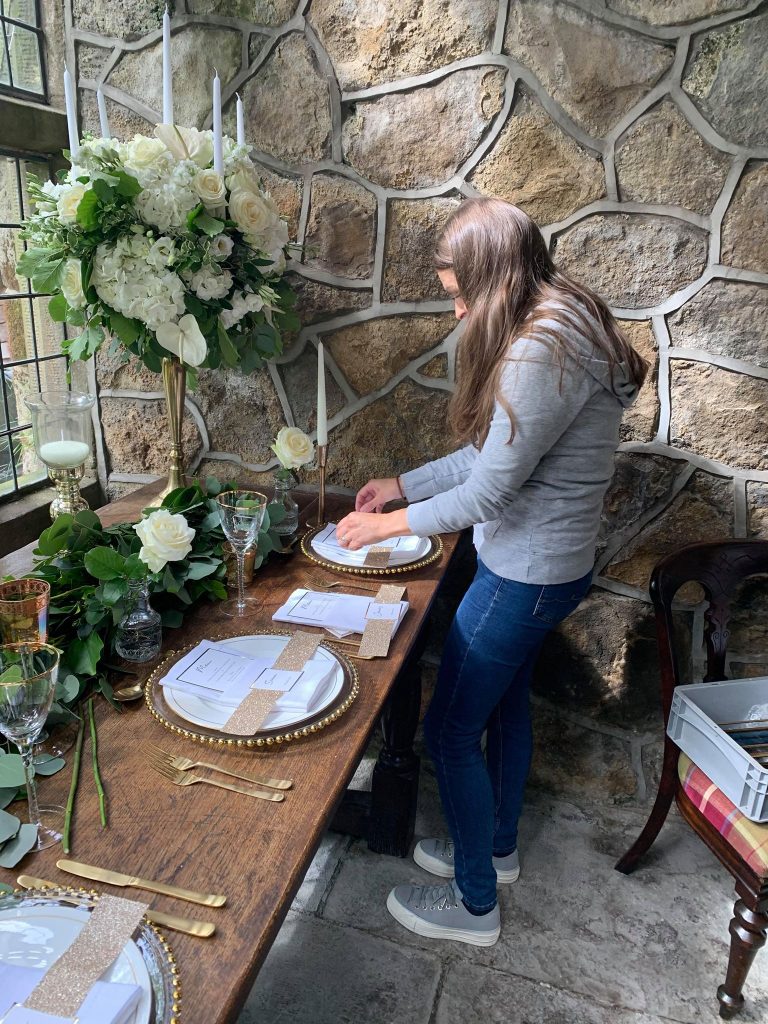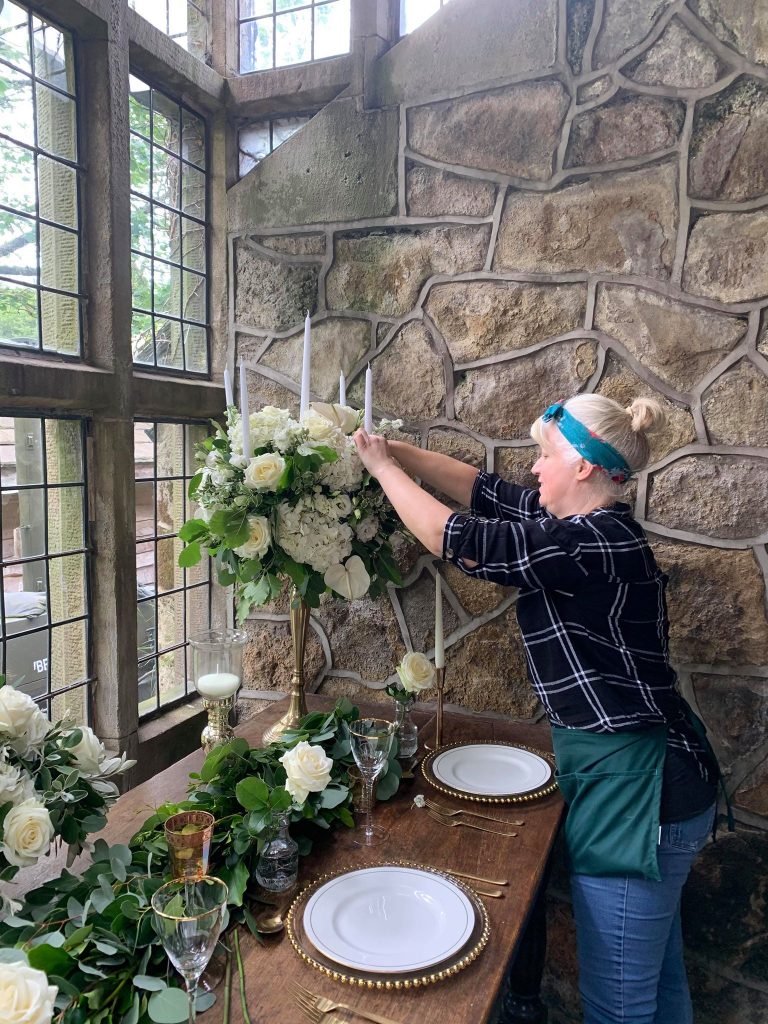 Luxury Wedding Stationery
For the day, I created lots of wedding table stationery including place cards, place tags, menus and table numbers. The luxury wedding style allowed me to use lots of gold leaf, gold eyelets, glitter and foil cards and my favourite, antique gold frames.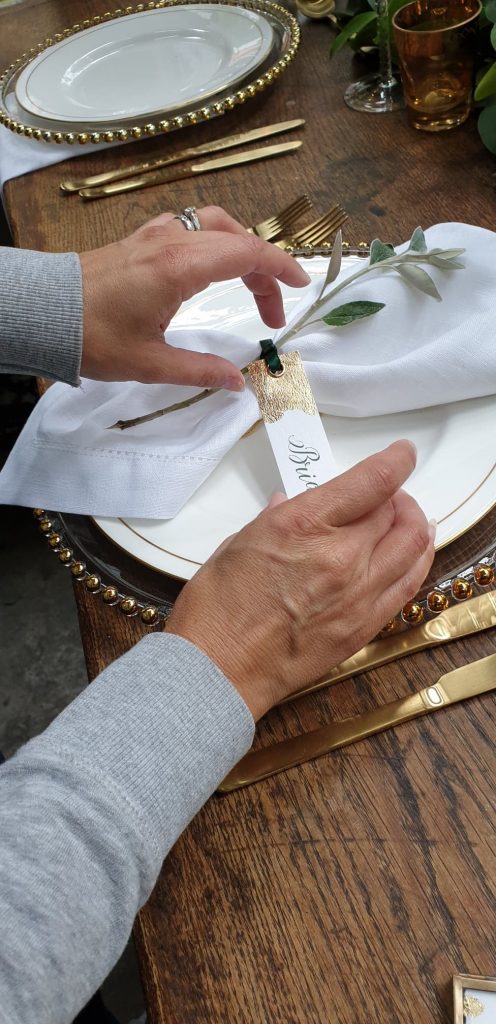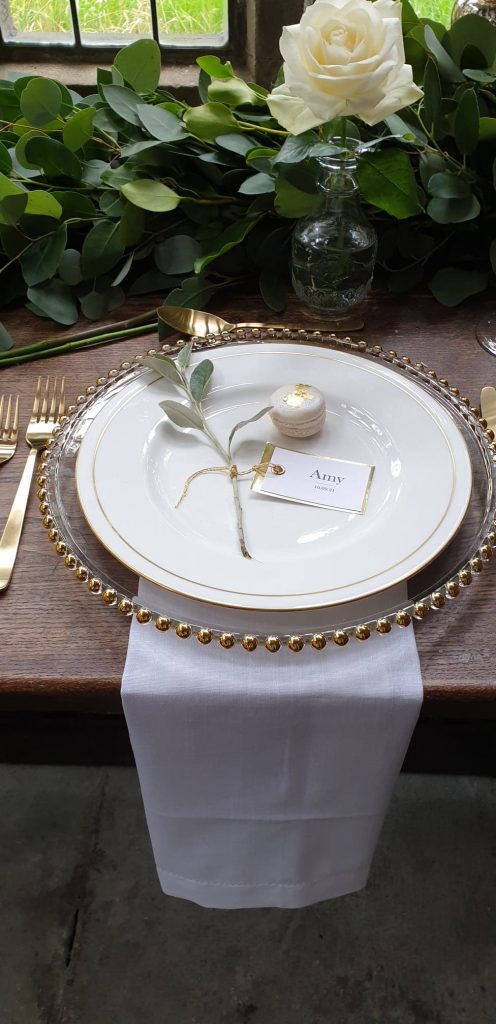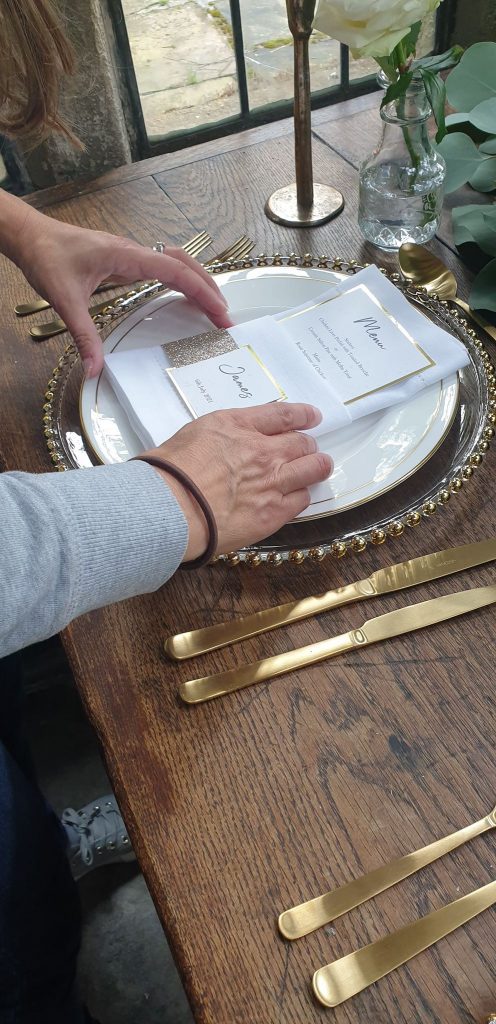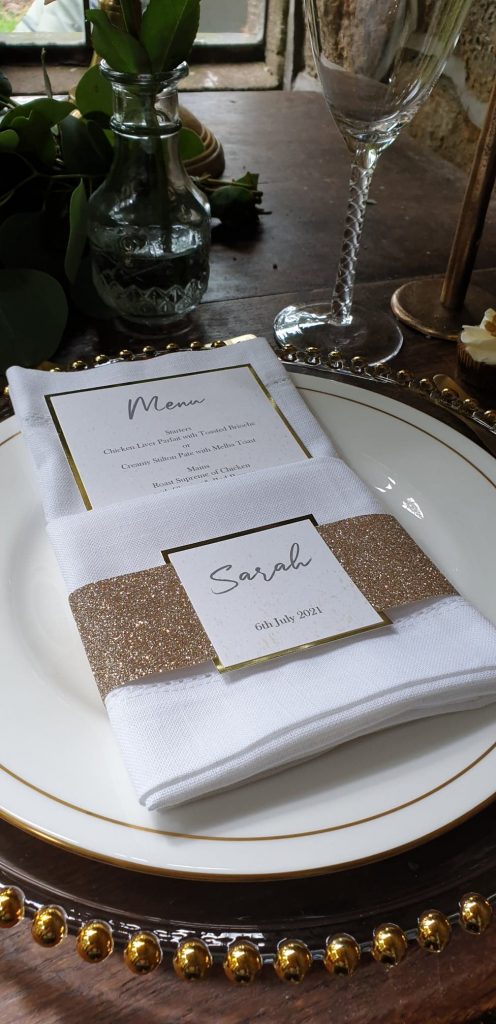 The Wedding Photographer
Our photographer for the day was the very lovely and super talented Chelsea from Chelsea Shoesmith Photography. Chelsea was an absolute star and very patient with us all as we 'tweaked and faffed' to get that perfect shot.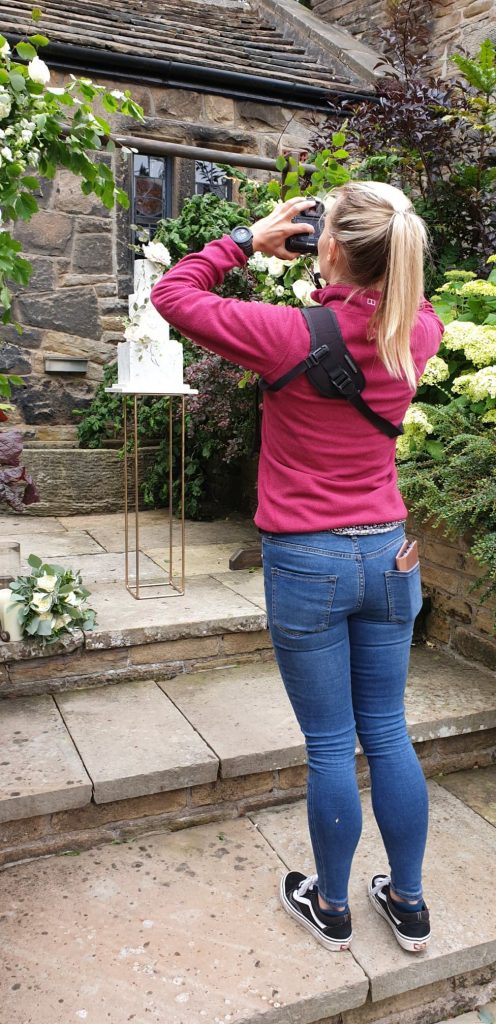 The Wedding Venue Upper House Courtyard
As the weather was on our side (anything can happen in the Peak District), we just had to take advantage of it. The Upper House wedding venue courtyard is stunning and has lots of amazing features and photo opportunities so we headed outside. 
The florist, Helen from Taylor Made Blooms worked tirelessly throughout, creating beautiful displays and then moving them around to show a multitude of uses. In particular, we were all in awe of her amazing floral decoration of Joanne's stand and sign that was set up in the courtyard. Joanne from Wild Peak Events supplied some fabulous props, including this huge sign which just looked FAB!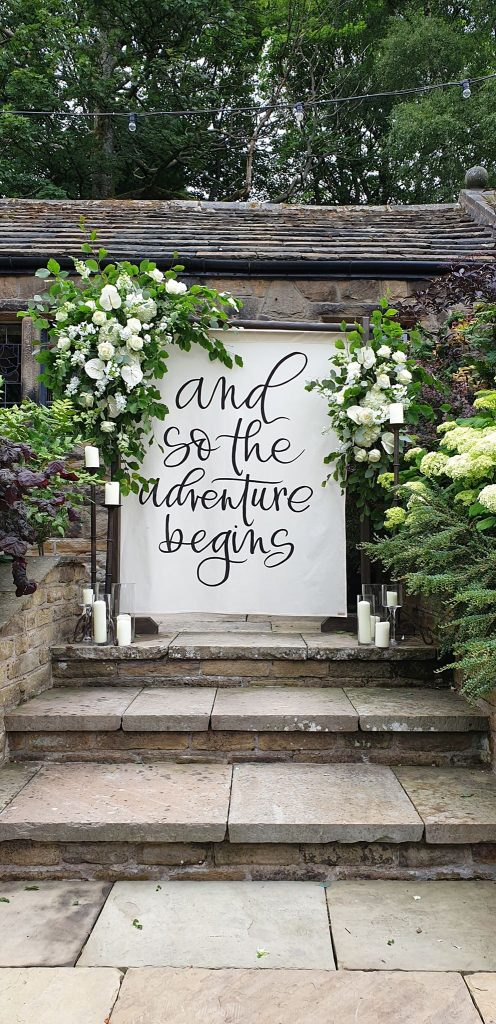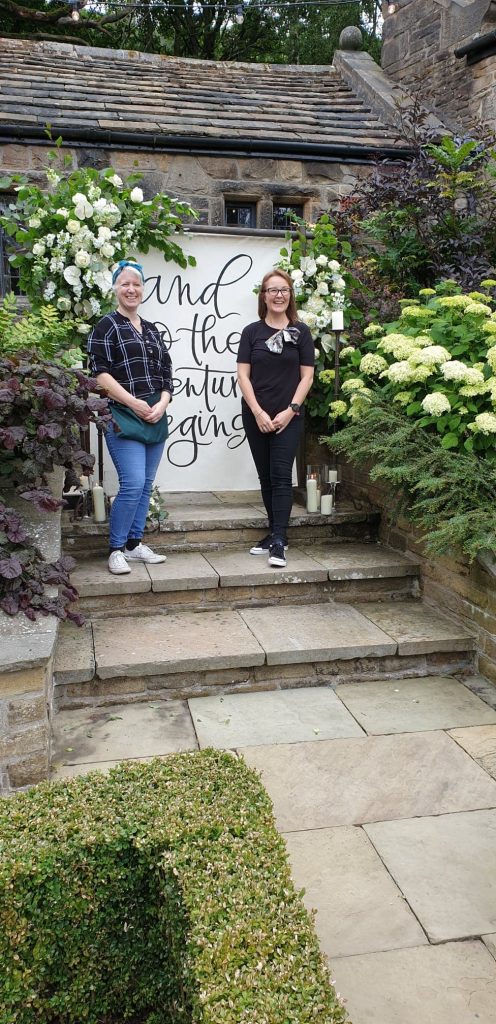 Finding Many Uses for Props and Flowers!
We also utilised the floral decorated stand to showcase my wedding table plan which just looked stunning! The grand finale was the stunning wedding cake from Buttercup Cakes which was framed perfectly within the floral decorated stand. It was great to see the many uses of the props and florals. Perfect examples of how to utilise all of these items for your wedding day.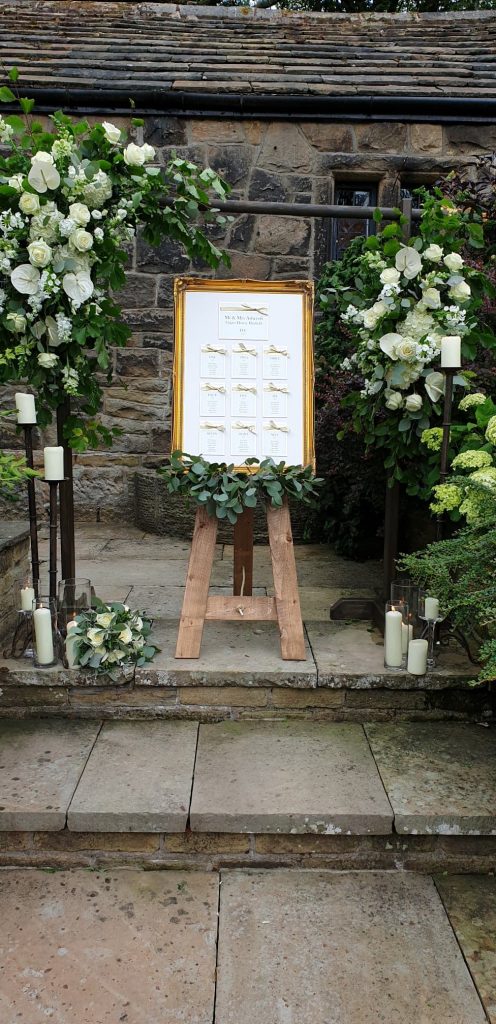 The End
After consuming THE best chocolate brownies and cupcakes made by Linda from Buttercup Cakes, we moved back inside the Medieval Banqueting Hall to make use of the stunning fireplace and amazing backdrops. We now eagerly await the images from Chelsea once she has put her stamp on them.
And that as they say…is a wrap!!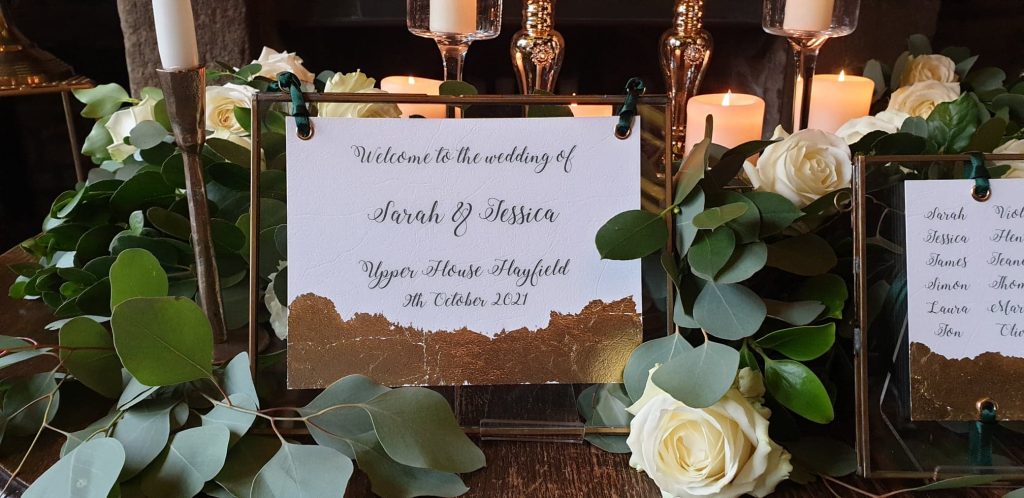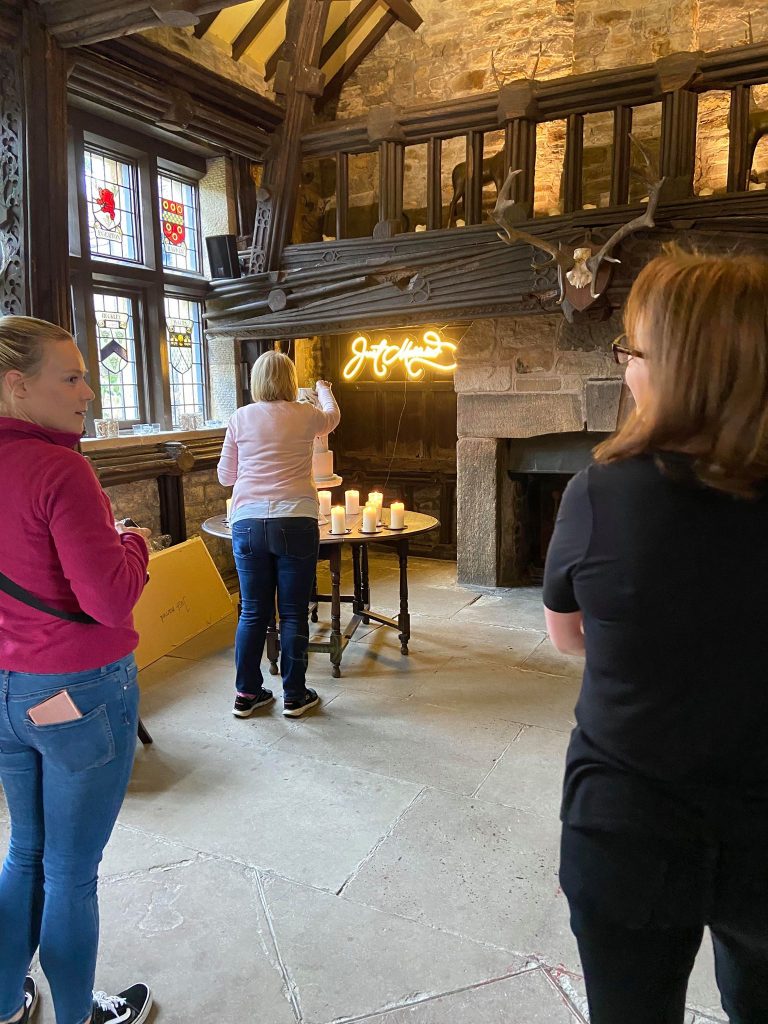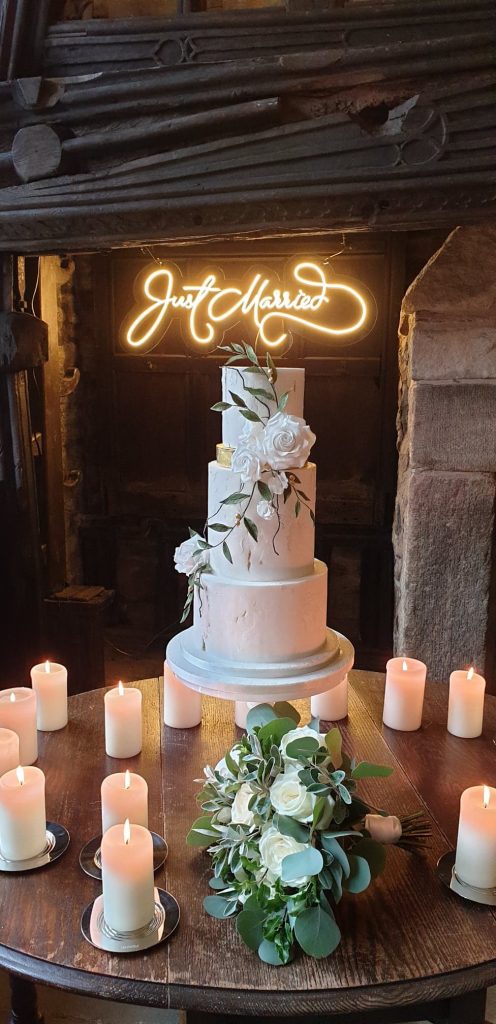 Thank You
Thank you to all the wedding suppliers that took part in this luxury styled wedding photoshoot and shared their skills. Special thank you to the lovely Linda for getting us all together and creating a wonderful day. Not forgetting Eric, the resident Upper House dog. He was quite a character!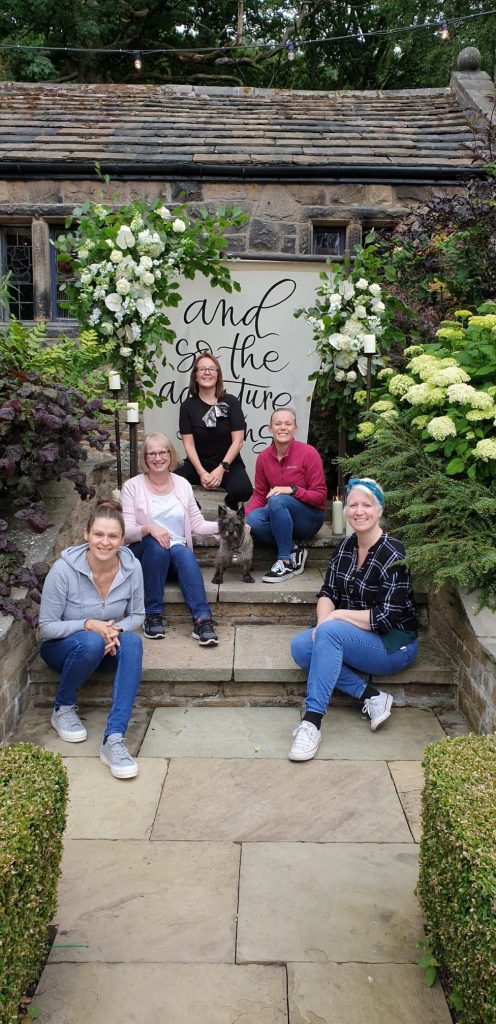 Watch my Instagram and Facebook accounts for the professional images coming soon….
The Fabulous Team
For more information and ideas of how to style your wedding date, please contact the suppliers who are happy to help;
Inspired by Lisa designing and creating handmade luxury wedding stationery helping couples across the UK. Instagram Facebook Pinterest
Upper House is an exclusive wedding venue that stands alone on the magnificent Kinder Scout in the Peak District National Park.
Buttercup Cakes specialising in beautiful bespoke wedding cakes which are elegant and timeless.
Chelsea Shoesmith Photography offers contemporary wedding & portrait photography.
Wild Peak Events based in the High Peak, offer an eclectic range of props and accessories available to hire for your wedding day.
Taylor Made Blooms an independent florist in Manchester covering the northwest, specialising in Weddings and events.
Whitehouse Events Crockery supplies some of the most unusual and innovative crockery and glassware for hire.
The Embroidered Napkin Company creating personalised embroidered napkins.