Once you have set the date and booked your wedding venue, you will be starting to think about your wedding invitations and stationery. Personalised wedding invitations are pretty important if you want some guests right!? With all of the excitement and planning, you may have great intentions to make your own wedding invites. Here are 5 reasons why you need a wedding stationer instead.
1. Setting the Wedding Day Tone with Your Wedding Invitations and Stationery
Your wedding invitations are the very first insight your guests will have into your wedding day. What a joy to open that luxury envelope to find the most perfect wedding invitation. Setting the tone for one of the most exciting and important days of your life. The quality of your wedding invites says a great deal about what to expect on the day. A wedding stationer knows just how to set that tone for you, working with a variety of budgets. With all good intentions, there is a difference between handmade and homemade! A professional handmade wedding invitation requires a great deal of skill and should exude quality, no matter what the budget.​

2. Making Wedding Invitations and Stationery Requires Experience, Knowledge and Skill
Believe it or not, making wedding invitations and stationery, takes a great deal of skill. We are experienced in what we do and do it all day, every day. It may sound silly, but if a line isn't straight, you and your guests WILL notice. That takes practice too, even with a design degree! As professional wedding stationers, we have the knowledge to advise on styles, from rustic wedding invitations to elegant table plans, as well as card choice, wedding invitation wording, and 'on the day' wedding stationery. Inspired by Lisa has grown from strength to strength since 2007 and I am very proud to have a wealth of knowledge and experience. This experience doesn't just include designing and making personalised wedding stationery, but also a knowledge of helpful wedding planning tips too.
3. How to Find Inspiration
Wedding stationers are a very creative bunch. Being able to offer clients inspiration based on their ideas is essential. You can Pinterest until your heart's content, but then knowing how to execute an idea or adapt it to suit your wedding theme takes time. Inspiration is all part of the design process and having somebody to offer you inspiration and a solution is key to achieving the look that you desire.

4. Do you Have Time to Spare?
Time is perhaps the most overlooked aspect of making wedding invitations and stationery. Planning a wedding is time consuming and can be very stressful. Having a wedding stationer is a guarantee that you will alleviate some of that stress. How many people under-estimate their time? Do you really have time in your busy lives to design your wedding stationery, source quality supplies, print, cut and assemble carefully to a standard that you are happy with? I have lost count of the amount of panicked brides that contact me, not realising that making wedding invitations was MUCH more difficult than they anticipated. DIY wedding invitations will cause you unwanted stress!

5. Wedding Invitation Wording and the Many Variations
This can be a bit overwhelming, as chances are; you have never done this before. When it comes to wedding invitation wording, there are a multitude of things that can be included and different ways to word them. Your wedding invites need to look beautiful as well as serve a purpose without going over the top with information. We can also offer lots of advice on how to word your invitations based on your family arrangements. You definitely don't want to upset your new in-laws with this one. Oh, and not forgetting that elephant in the room….gifts!! I have written a more in-depth blog on What To Include in Your Wedding Invitations well worth a read.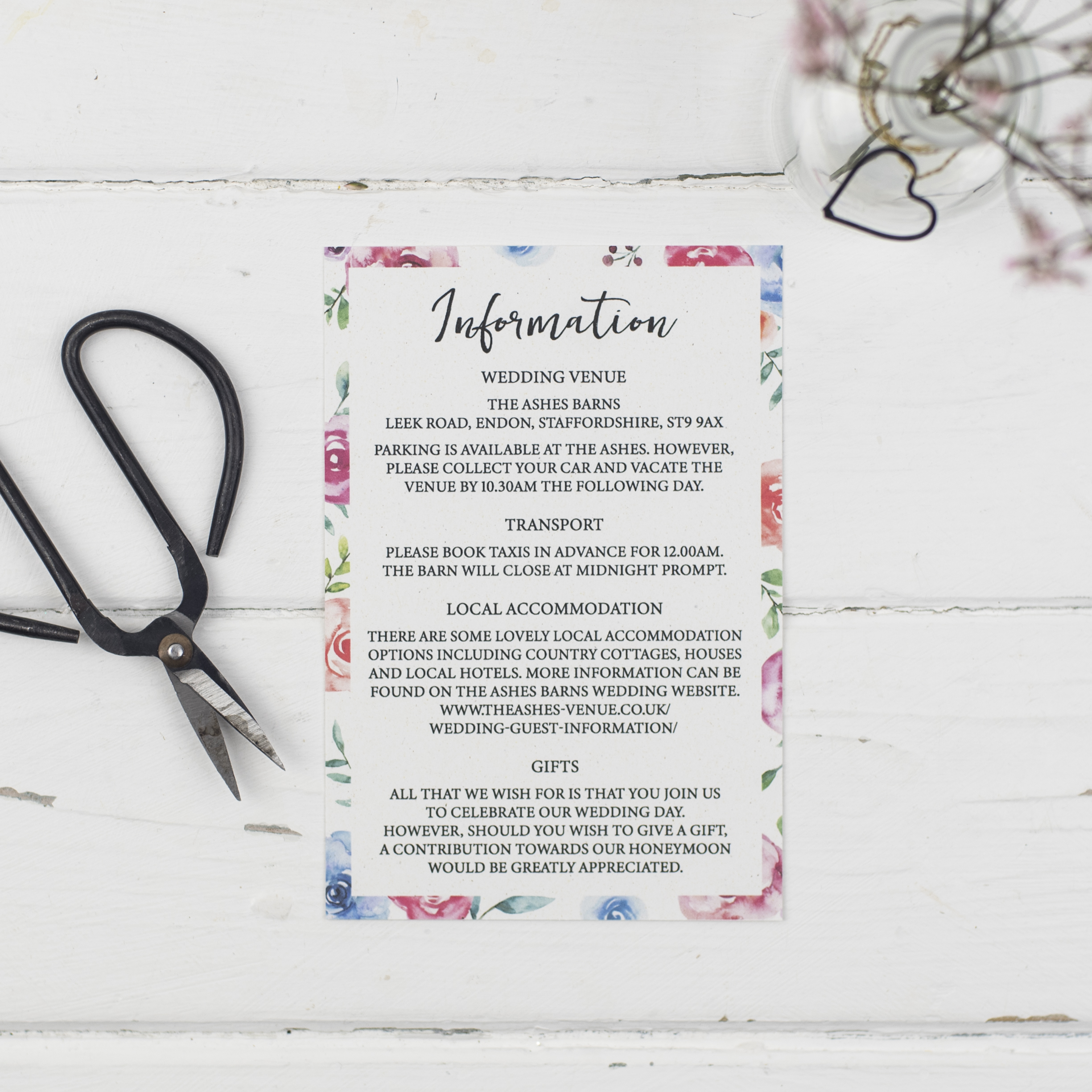 Working with a wedding stationery company will offer you peace of mind. The stationery will be finished on time and stress free. Another tick on your ever expanding to-do list too! Please get in touch for a very informal chat to see how I can help you, so that you can enjoy your wedding planning, without the stress! Check out my Instagram and Facebook pages for regularly updated inspiration.