How did it all Start?
Hello, my name is Lisa! If you haven't guessed it already, I design, create and handmake wedding invitations and stationery under the name Inspired by Lisa. Ever since I used to plead with my Grandad to draw me one of his amazing pictures, I have been inspired to draw and create. After completing my degree in Surface Pattern Design at University, I followed my dreams to be a designer. I worked within the textile and wallpaper design industry for many years which I loved. Whilst at Uni, I met my Mr!! (he can be spotted with me at the occasional wedding fayre) He finally asked me to marry him after 7 years and in 2005 we said 'I Do'.  9 months later we received the perfect wedding present, a beautiful baby boy.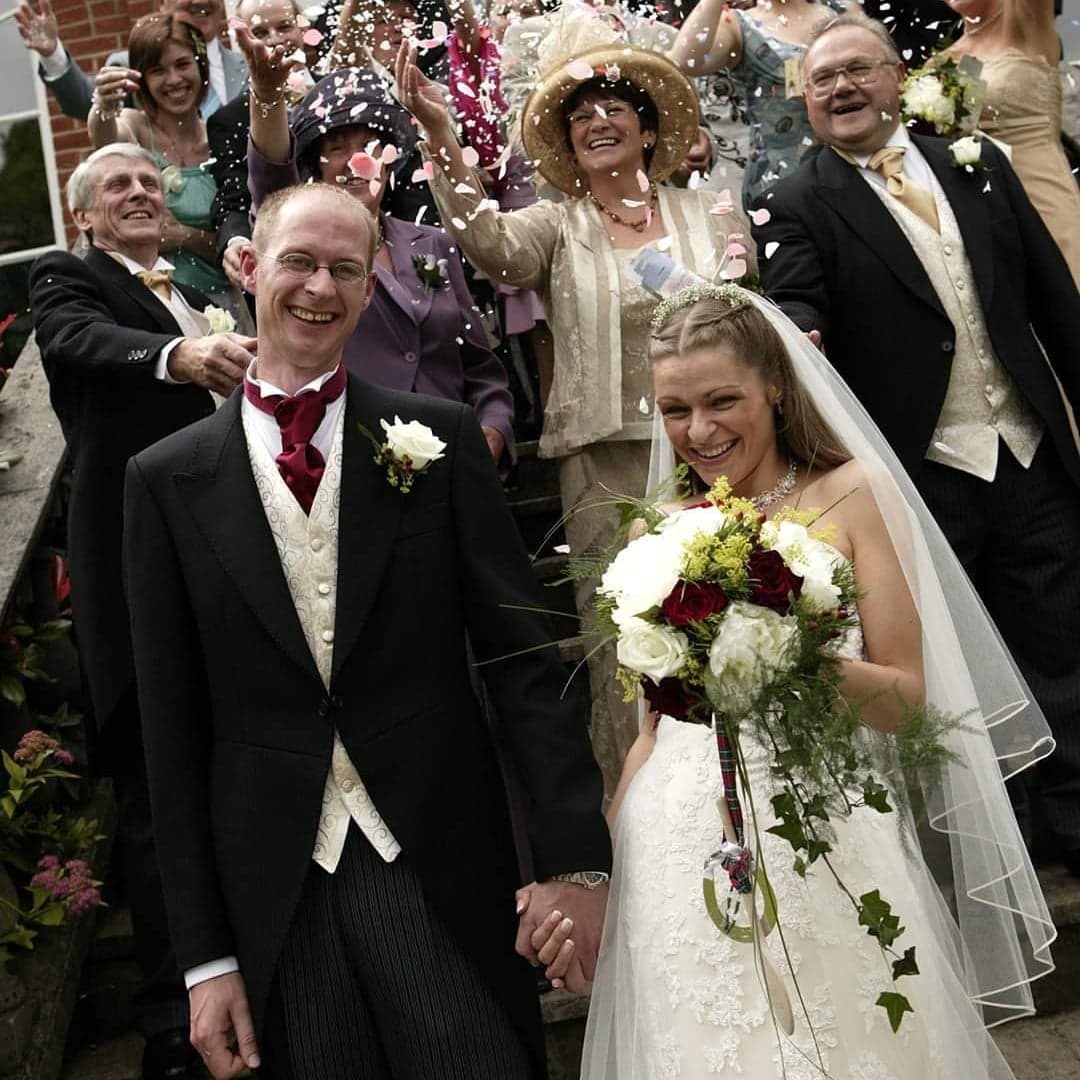 Following my Heart – the beginning of Inspired by Lisa
With a new baby, returning to my full-time studio design job just wasn't an option for me so I took a huge risk, followed my heart and left my job. Being a designer is something I had always loved so it was just a matter of time before my next creative adventure would begin. Having made the wedding stationery for our own wedding, closely followed by family and friends, it became obvious……Inspired by Lisa was born in 2007! Seven months after the launch of Inspired by Lisa, our little Princess was born and our family was complete. Two will do us just fine!
What do I do?
'I design and create handmade luxury wedding invitations and stationery for stylish couples, to help fulfil their wedding day dreams.'
Being a perfectionist (I blame my Dad) can be a hindrance, but when it comes to wedding stationery, I embrace my perfectionism. After all, if it's not good enough for me, it certainly isn't good enough for you. Attention to detail is everything.
Making clients feel at ease and feeling confident in me and what I do is of the utmost importance to me. My main purpose it to make your wedding stationery journey as stress free as possible. In fact, I want to make it an enjoyable experience. I love the whole design process from finding out what styles you love, to finally delivering that box of perfect wedding invitations that you dreamed of. I have a flawless customer service record with lots of fabulous reviews which I am very proud of. Don't just take my word for it, have a read for yourself by clicking here.
Love my Job
I live and work in an idyllic village called Rudyard in the Staffordshire Moorlands, just a couple of miles from the Cheshire border. It's the perfect place for walks with Murphy, our crazy Labradoodle. The lakeside café does the best bacon sandwiches too! As well as loving where I live, I simply adore what I do and couldn't be happier in my work. How many people can say that!? I am so very lucky and privileged to be part of so many incredible weddings. I take great big bucket loads of pride in what I do and still get butterflies from every enquiry that comes my way. Inspired by Lisa continues to grow year on year and my clients never cease to amaze me with their kindness and appreciation of what I do.
Thank you my lovely clients.
Love and hugs

A few of my favourite things….
Dancing! Dancing is the only time I forget the world around me.
I have become a little bit obsessed with my Fitbit and its ability to track my sleep. I love sleep and I definitely need more of it.
Coffee keeps me going, despite the fact it is decaf. Work that one out?!
My weekend tipple is a nice cold glass of Rose. If I am 'out out', then a Pornstar Martini is my top choice.
I love pilates, second to dancing, this is when I forget the world and I get to do this more often than dancing these days.
Manchester is THE best city. I was born and bred in Stockport, Greater Manchester.
My film guilty pleasure…The Greatest Showman! If you don't have children, that's no excuse, watch it anyway. Guaranteed to make you feel good.
Weddings. Who doesn't love a wedding? Talking about it, planning it, spending, attending….it's just fab!
Above and beyond all of this, I love my family. They make my world go round.
Now you know about me, go and dive into my Collections.
To book a consultation, or to ask a question, send me an email HERE. I would love to hear from you.