When you dream about your wedding, how do you imagine it? Have you considered DIY wedding invitations ​as you want them to be unique and personal to you both? If the answer is yes, STOP right there! The DIY or 'do it yourself' approach whilst very personal can also be very time consuming. Unless you have the skills required, it can also be very stressful. (Have a read of 'Why You Need a Wedding Stationer' for more information.)
So, here's my suggestion. Rather than 'do it yourself' how about 'design it yourself' and let me do the rest? Your exclusive luxury wedding invites can be designed by you and handmade ​with skill and perfection ​by me.
I recently worked with Ellie on her 'DIY' wedding invitations. Ellie and her partner Matt wanted very unique and personal handmade wedding invitations and the outcome was just perfect.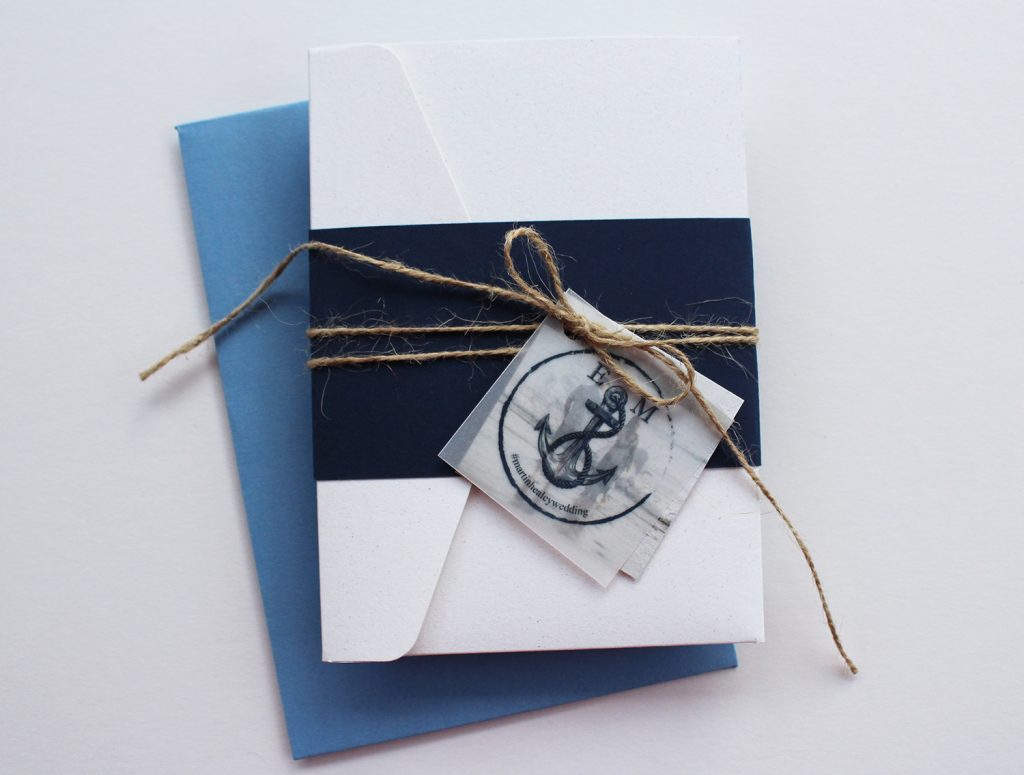 Getting to know my client
'Hiya, I've been following your page for quite some time now and it's finally time for me to start thinking about ordering our wedding invitations… I have a few ideas as to what we'd like …'
Ellie got in touch via my Inspired by Lisa facebook page which she had been following for some time. She had been searching for her dream wedding invitations without success. Ellie had a collection of saved images for inspiration along with a head full of ideas. She knew the look that she wanted to achieve but couldn't find it anywhere.​ ​We talked about the wedding venue, the chosen colour scheme and the look that they both wanted to achieve for their wedding invitations. The wedding venue was particularly important as it is on a beach in Ilfracombe in Devon. This was to become the main theme for the invitations.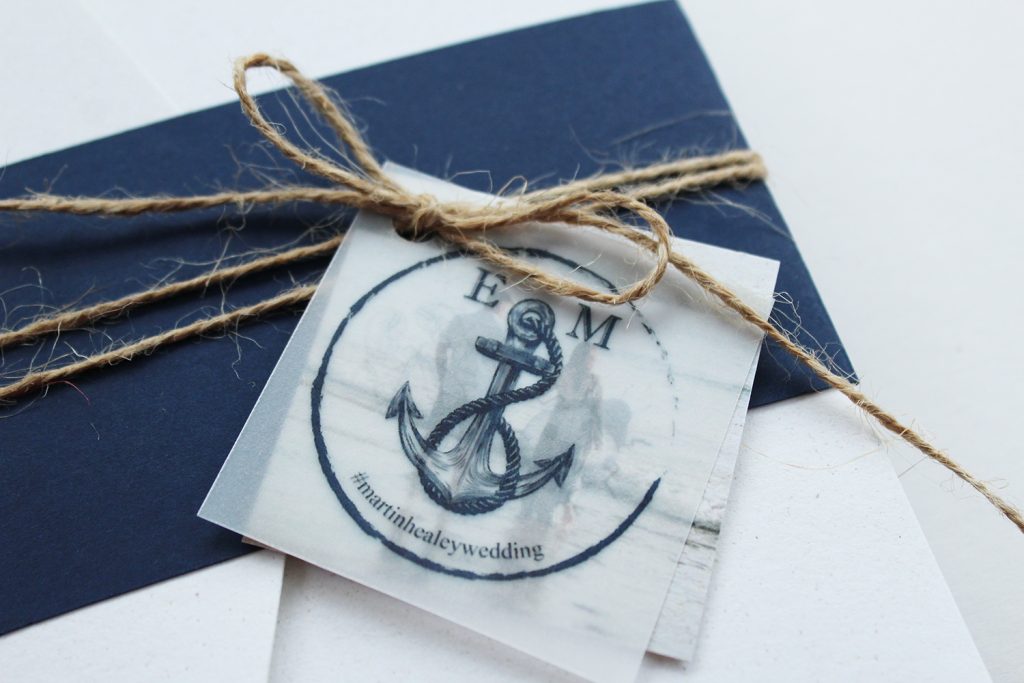 Unique 'DIY' wedding invitations
Ellie sent me various images she had collected for inspiration. She was also very keen to fulfil her own ideas. Ellie and Matt had their own wedding logo which had already been uniquely designed for them to use throughout their wedding. T​his logo was a must for their wedding invitations too.​ They had also recently had an engagement photoshoot on a beach in Ilfracombe and really wanted to make use of their beautiful images.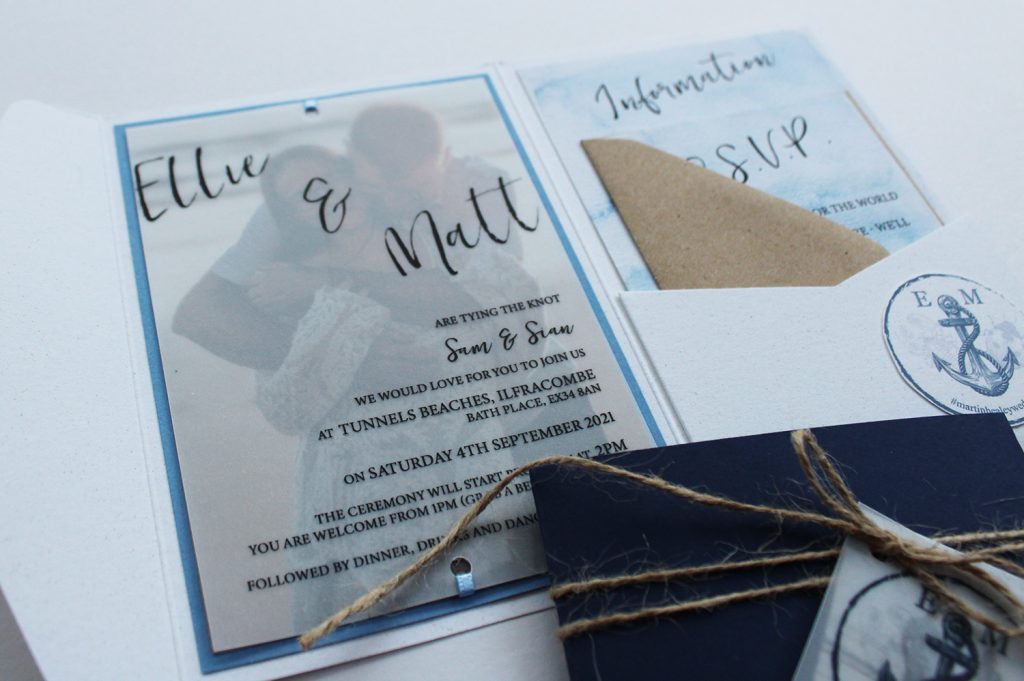 Design Ideas
I discussed at length with Ellie, several design ideas. It was important at this stage to discover what Ellie liked and disliked and the design elements that were most important to her. I listened to Ellie's requirements and looked at the images she had sent me for inspiration. I shared several images of wedding invitations that I had already made along with suggestions of how I could incorporate everything that she wanted and keep with her beach theme. Ellie particularly liked my Meadow pocketfold design with the wash background and a personalised belly band.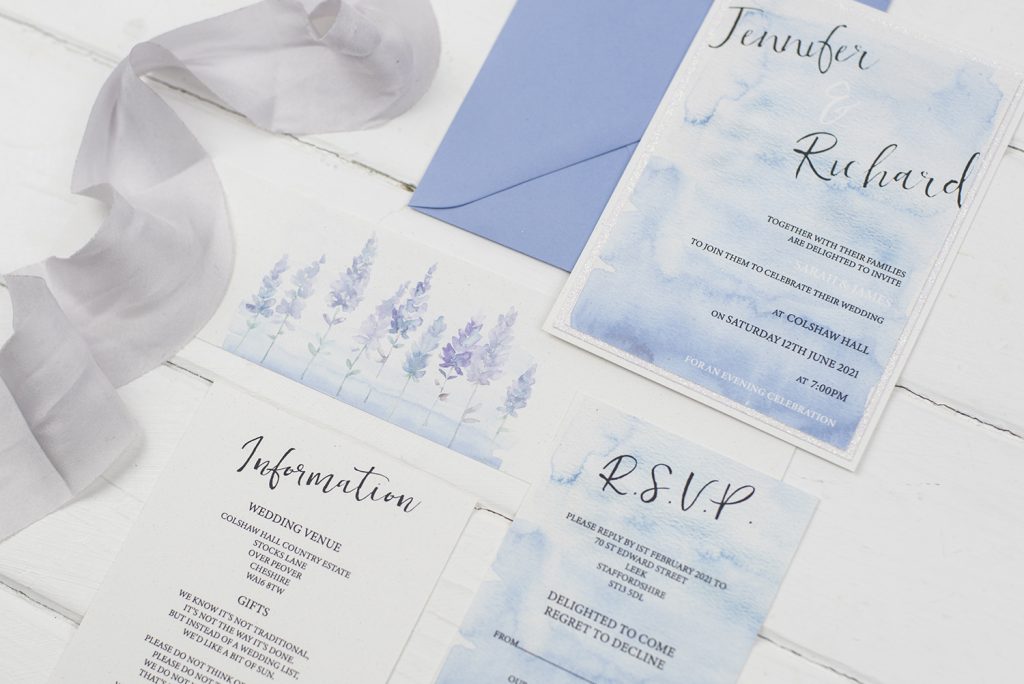 Handmade wedding invitation samples
These handmade wedding invitations were going to be very bespoke and a sample would definitely be required. Ellie wasn't quite sure what I meant by some of the design elements that I suggested, however she was happy for me to try design ideas.  She was confident in my skills as well as my understanding of her ideas and the look she wanted to achieve. I produced 2 samples based on all that we had discussed. This meant she had some choice and alternative ideas to consider.​ ​Before making Ellie's samples, we discussed the possible cost of subsequent invites to keep things transparent and informed.
'You're literally the best! Never been more thankful for stumbling across a Facebook page. (I was getting stressed about finding a stationer) x'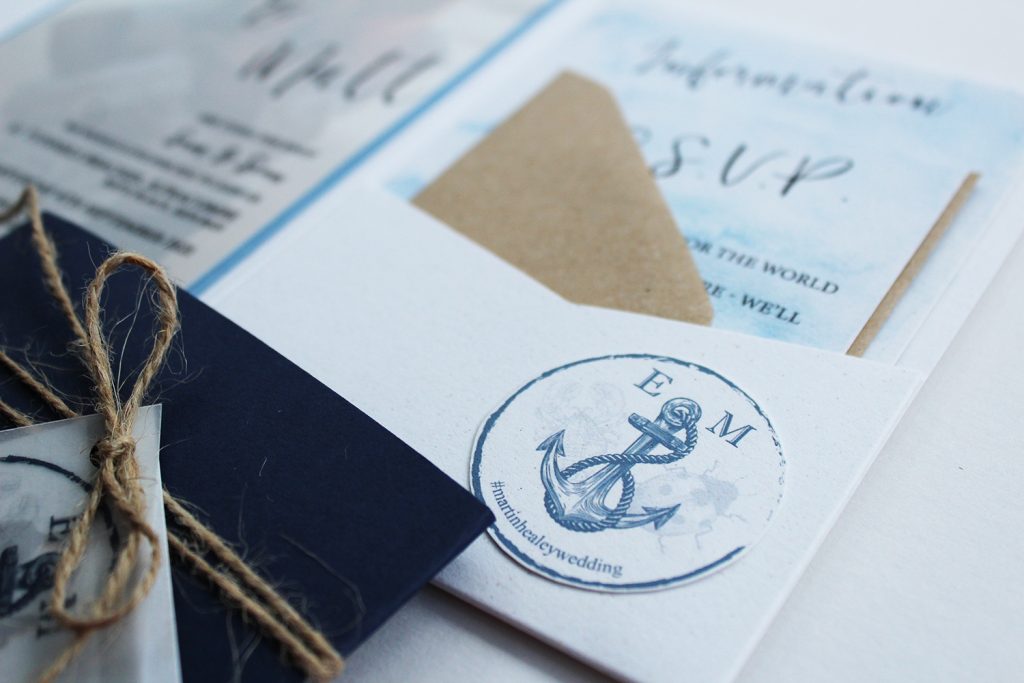 DIY Wedding Invitations Order
'Hi Lisa! We received our samples yesterday and are absolutely over the moon with what you've put together for us. So I'll get in touch in the next day or so to confirm everything and have a look at starting to write the info etc we'd like xx'  
Ellie and Matt received their samples and were ​over the moon. Ellie was very precise, and after discussions with her Maid of Honours, she ha​d​ a few tweaks that she wanted me to try for her. The third sample was sent and we were good to go!
'So we received our third sample today…… and we absolutely LOVE IT!!! The logo looks amazing the way you've done it. Thank you so so much for adapting it all, it all looks amazing.'
'I know I'm a perfectionist but thank you so so much for your patience. They are going to be PERFECT!!! Xxx'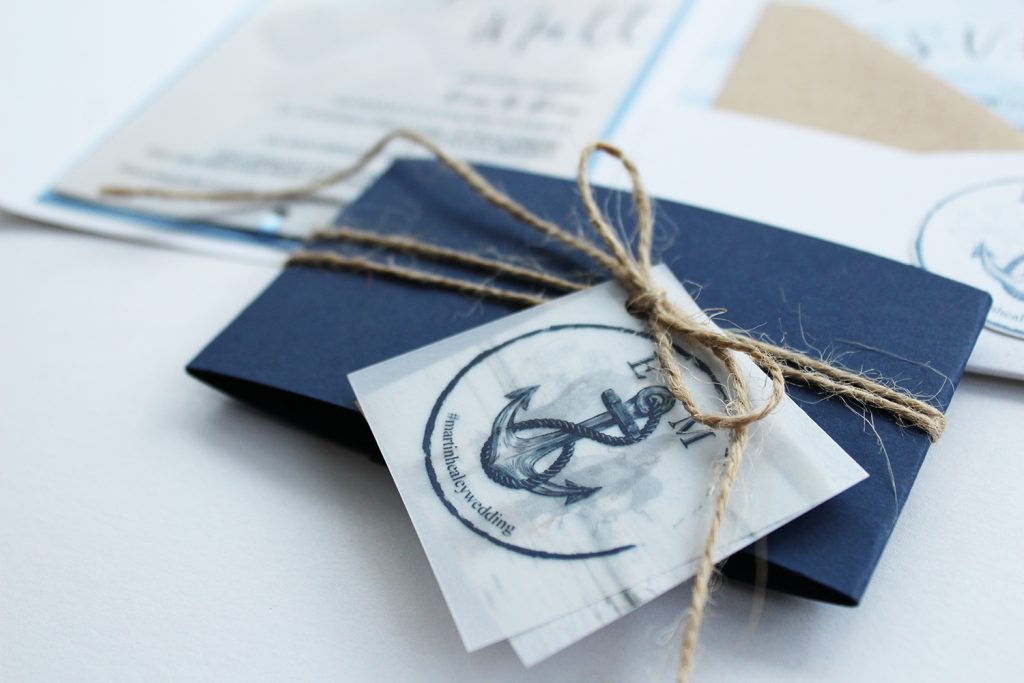 Final handmade bespoke wedding invitations
The next stage in the process was for Elle and Matt to place their order. Once the design was approved, Ellie sent me all of the wording that she would like to include in her invitations. I arranged it accordingly and sent proofs via email. Of course, there were many unique touches to the wording such as icons instead of headings and very personal wording.
'Hello lovely! Just wanted to let you know that I FINALLY put our invites together last night and got them all posted this morning. They're absolutely perfect – can't wait for people to start receiving them!! X
'They're exactly what I wanted and a million times more x'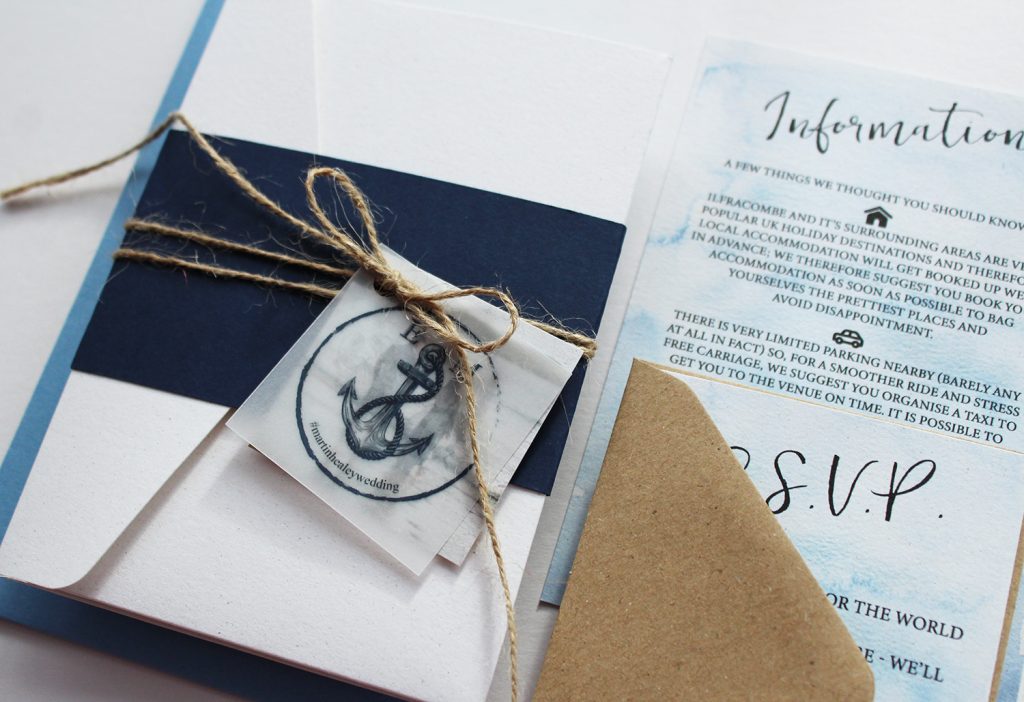 Thank you
When Ellie first contacted me, she had no idea what to expect​ from me but knew what she wanted to achieve​. After much conversation she gained trust in my knowledge and experience and felt confident that I was able to achieve what she wanted. Thank you so much to Ellie and Matt for choosing me to make their perfect wedding invitations for them. I am very excited to be making their matching 'on the day' stationery soon.

'Just wanna say a massive thank you to Lisa for our wedding invitations. They've been sat here for a few weeks now but yesterday evening I finally put them all together and posted them out this morning. They are absolutely PERFECT. I am, annoyingly, an absolute perfectionist when it comes to things like this and had Lisa tweaking the tiniest of things over the course of us designing these and putting our ideas together and not once did she object. They are absolutely everything we thought they'd be and so much more – I've never been more grateful to have stumbled across a Facebook page. I cannot wait for our guests to receive them over the next few days! Thank you so so much Lisa, you are so great! I'll continue to recommend you to anyone that asks and we'll be in touch soon to organise our signage' – Ellie and Matt