There is no simple answer. Handmade wedding invites can be as simple or as luxurious as you desire. The cost of a handmade wedding invite can vary dramatically and will depend on several contributing factors. The cost will also be determined by you as a couple and your preferences. This won't just apply to your wedding invitations and stationery either!
The Type of Card Used to Make Your Wedding Invites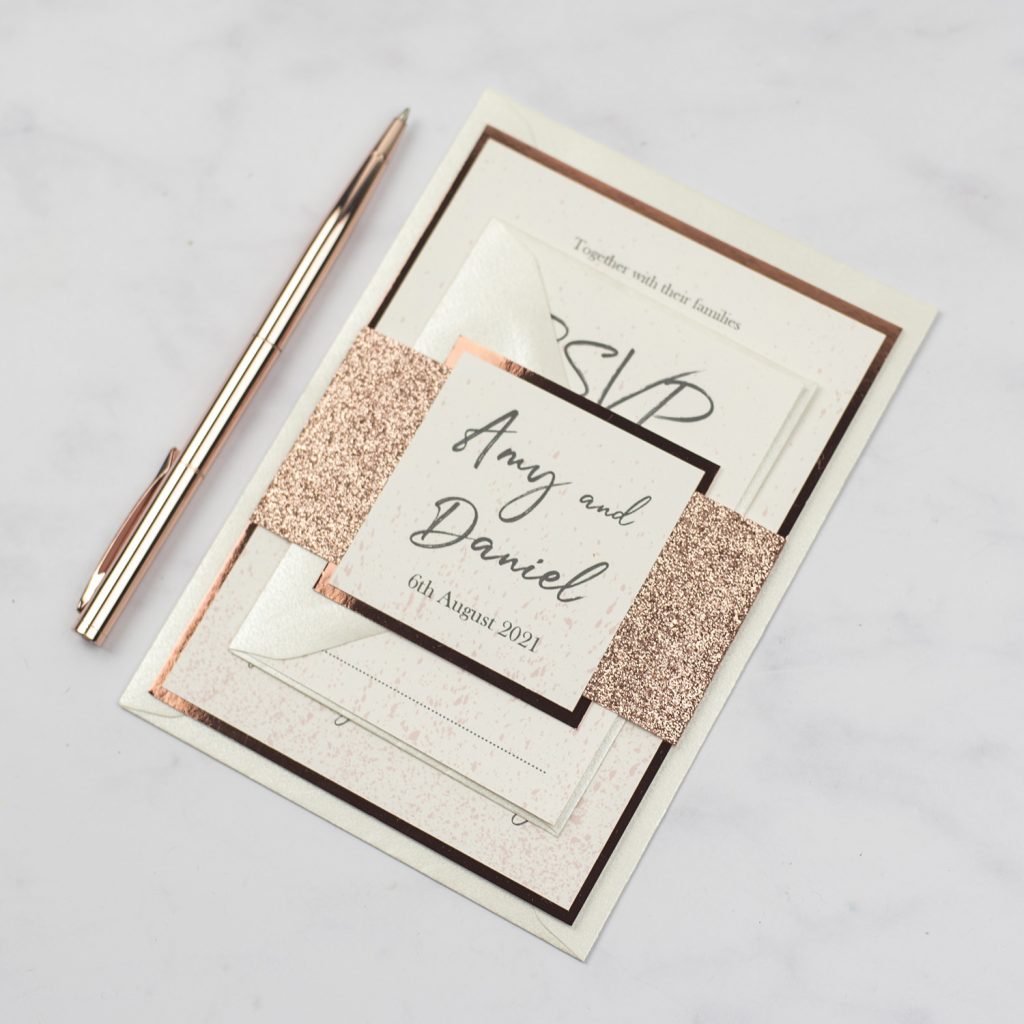 There are many different types of card that can be used to make handmade wedding invites. A card with a higher GSM value is usually preferred as it will give a good quality and heavyweight feel to your invitations. There are also many varieties of special cards such as glitter, foil and handmade papers the cost of which will be considerably more than a plain card.
Printing Handmade Wedding Invites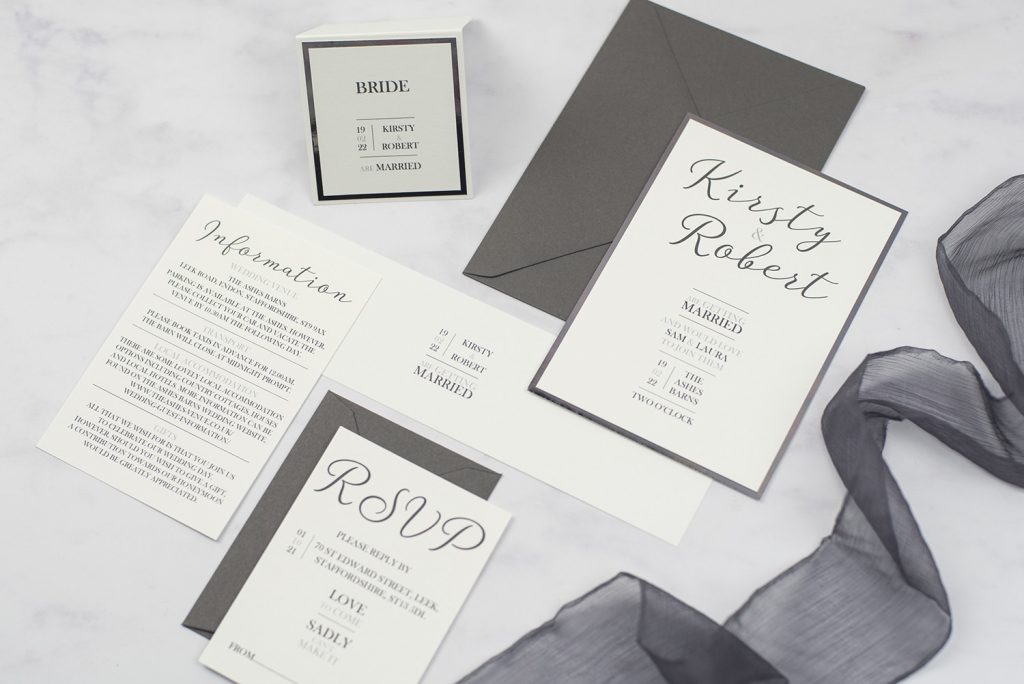 The cost of printing handmade wedding invitations includes not just the card, but the ink too. A good quality printer uses several individual colour inks and will be printing at the highest quality to achieve the best print for your invitations. This uses a lot of ink.
Embellishments and Ribbons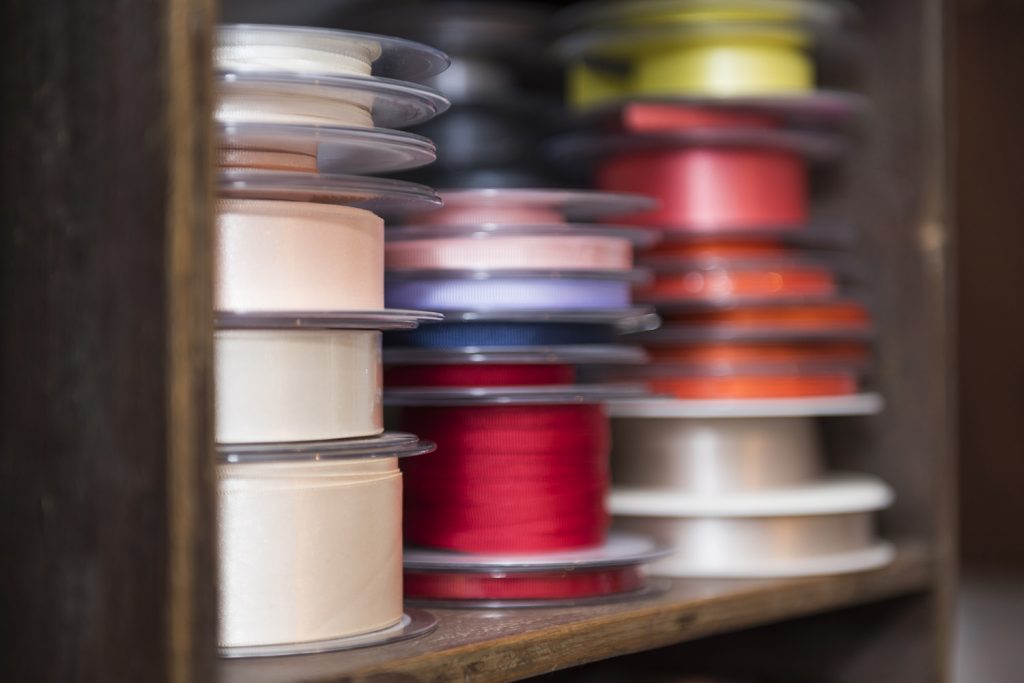 If you are looking for a luxury handmade wedding invite, then embellishments and ribbons will definitely help to achieve a luxurious finish. I prefer to use the best quality ribbons to avoid the snagging and fraying that you get with a lower quality product. There are also many crystal or pearl embellishments which add a beautiful finish to your invitations but these can vary in cost from 50p up to several pounds.
How Much Information Needs to be Included?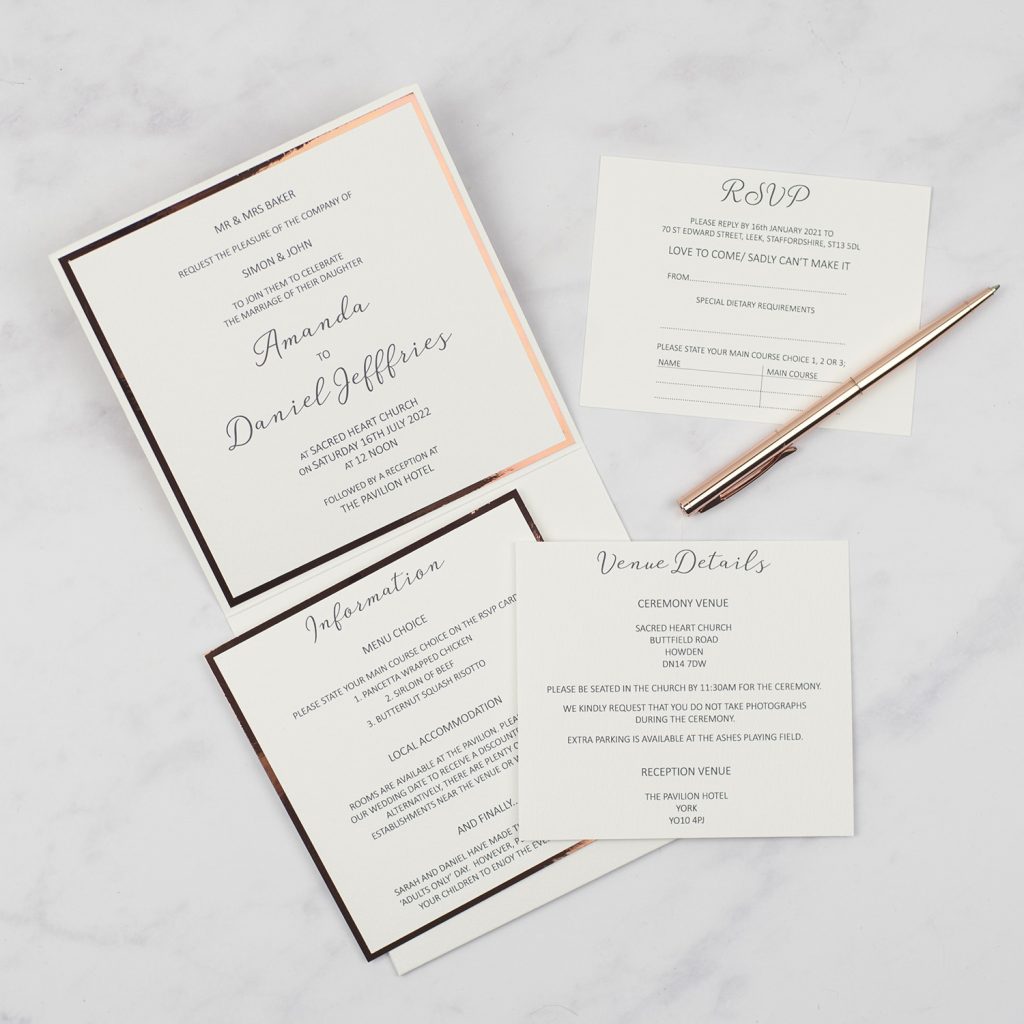 The amount of information you choose to give your guests will impact on the cost of your handmade wedding invites. All of my invitations collections have added information inserts with the option to add more should they be required. For lots of information on what to include in your wedding invitations, click HERE and have a read.
From a Collection or Bespoke Design
Most handmade wedding stationery companies will have a collection of designs to choose from or offer a completely bespoke service. My collection of designs can be bought exactly as they are seen with your personal information added, or you can put your own stamp on a design and request alterations to suit your wedding. There is also the option to have a totally unique bespoke design made specific to your requirements, all of which are contributing factors when it comes to the cost of a handmade wedding invitation.
Personalised for Your Guests
Writing your guests names in handmade wedding invites is something that many couples dread. Having your guests names printed does add to the cost; however it is peace of mind that your invitations have been finished perfectly without any mistakes. After all, a mistake would be a wasted precious invitation!
Handmade Wedding Invites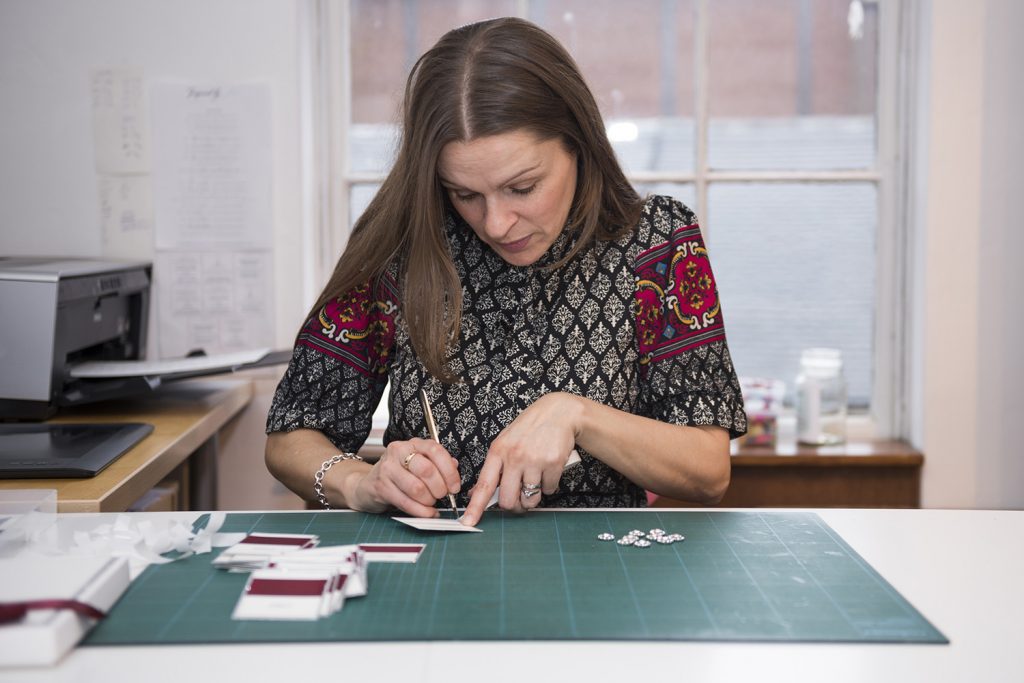 One of the most important factors with regards to your handmade wedding invites, is the fact that they are just that; handmade! Making something by hand, no matter what the item is, takes time and skill. The time it takes to make a handmade wedding invite will depend on the design and the amount of work involved which will of course determine the price. The quality of a handmade wedding invite should be exceptional, no matter how much it costs. The very best way to achieve the perfect handmade wedding invite is by having a professional wedding stationer. Why? Read HERE to find out why it is so important.
So…How Much do Handmade Wedding Invites Cost?
To give you an idea of how much my handmade wedding invitations cost, I will look at 3 of my collections and base each on a requirement of 50 invitations.
Budget of £200 to £250 – Wreath Handmade Wedding Invitation Suite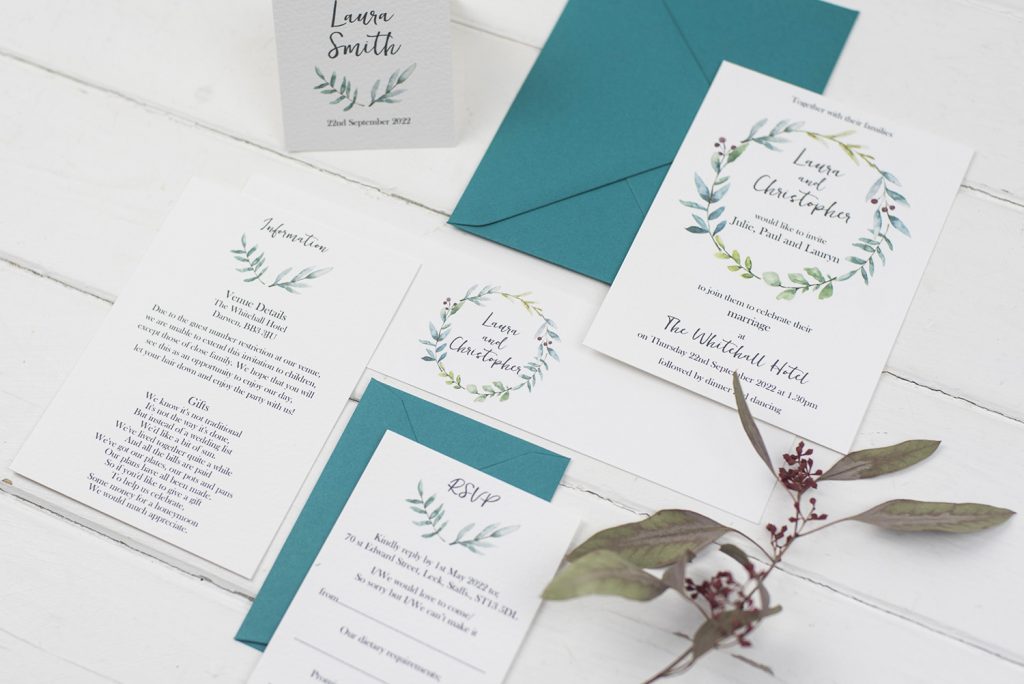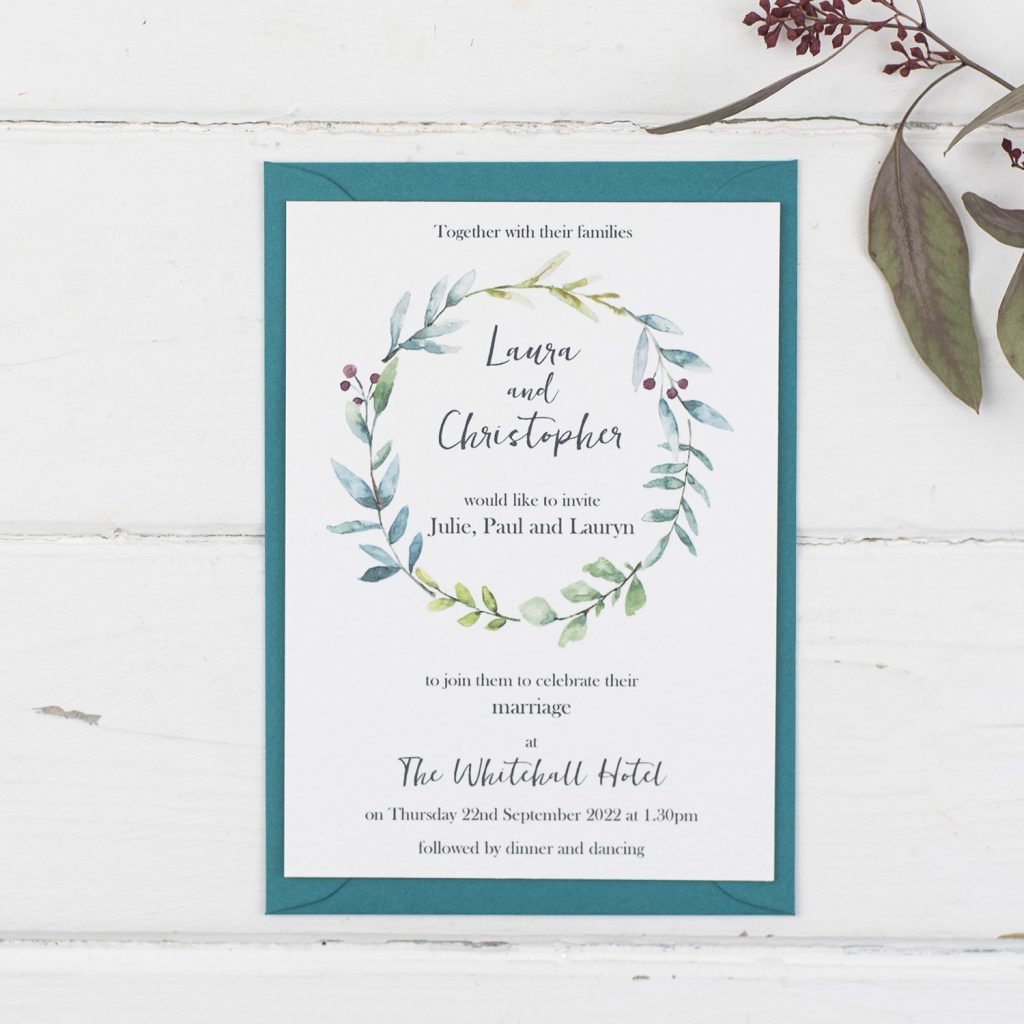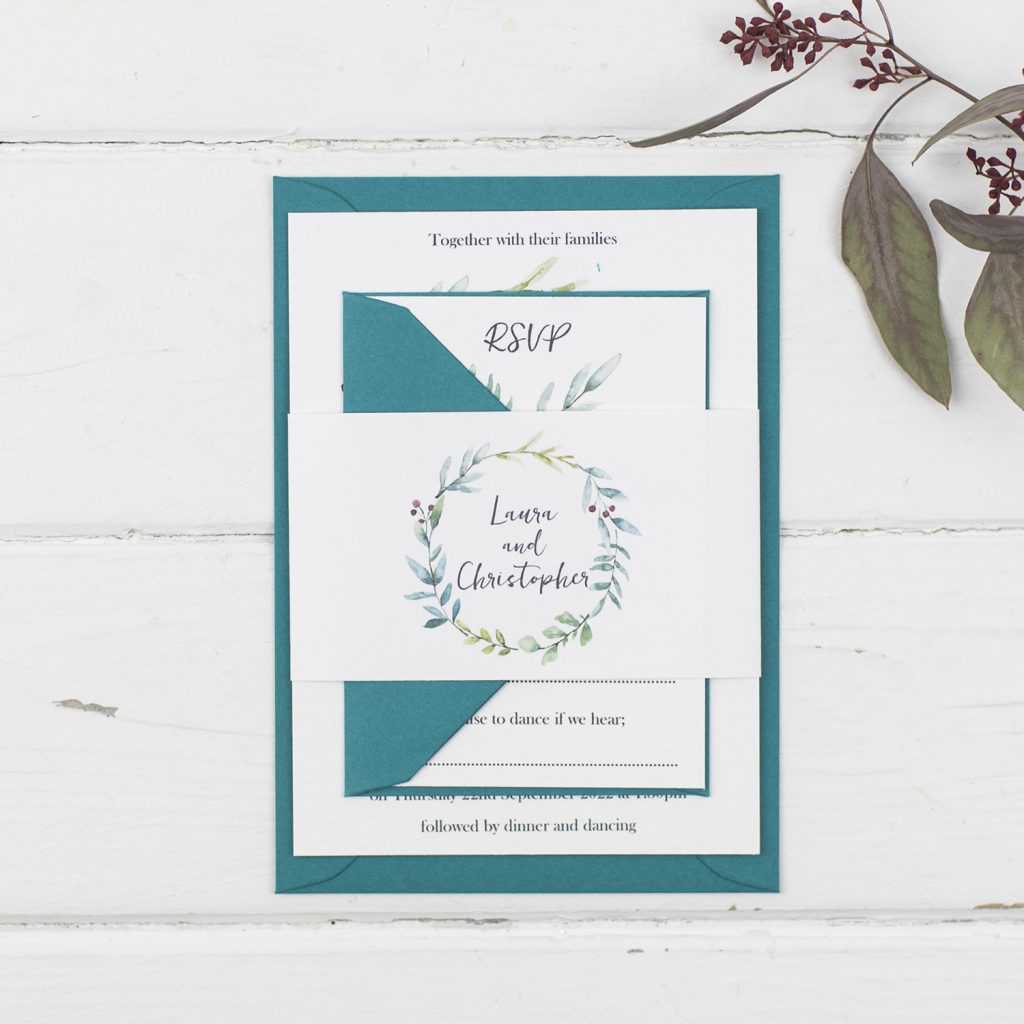 This collection is made with a 300GSM lightly textured card. The design includes a printed watercolour foliage wreath which was originally hand-painted. Included with the invitation suite is the invitation, an information insert, an RSVP card, a personalised bellyband and 2 matching or contrasting quality envelopes.
Budget of £250 – £300 – Rural Handmade Wedding Invitation Suite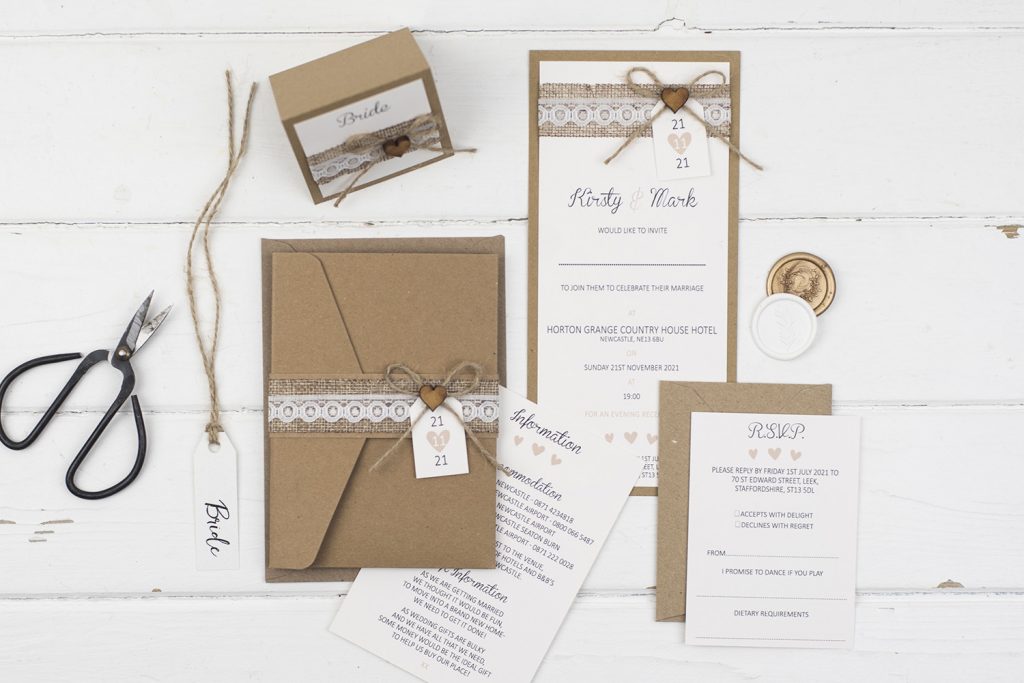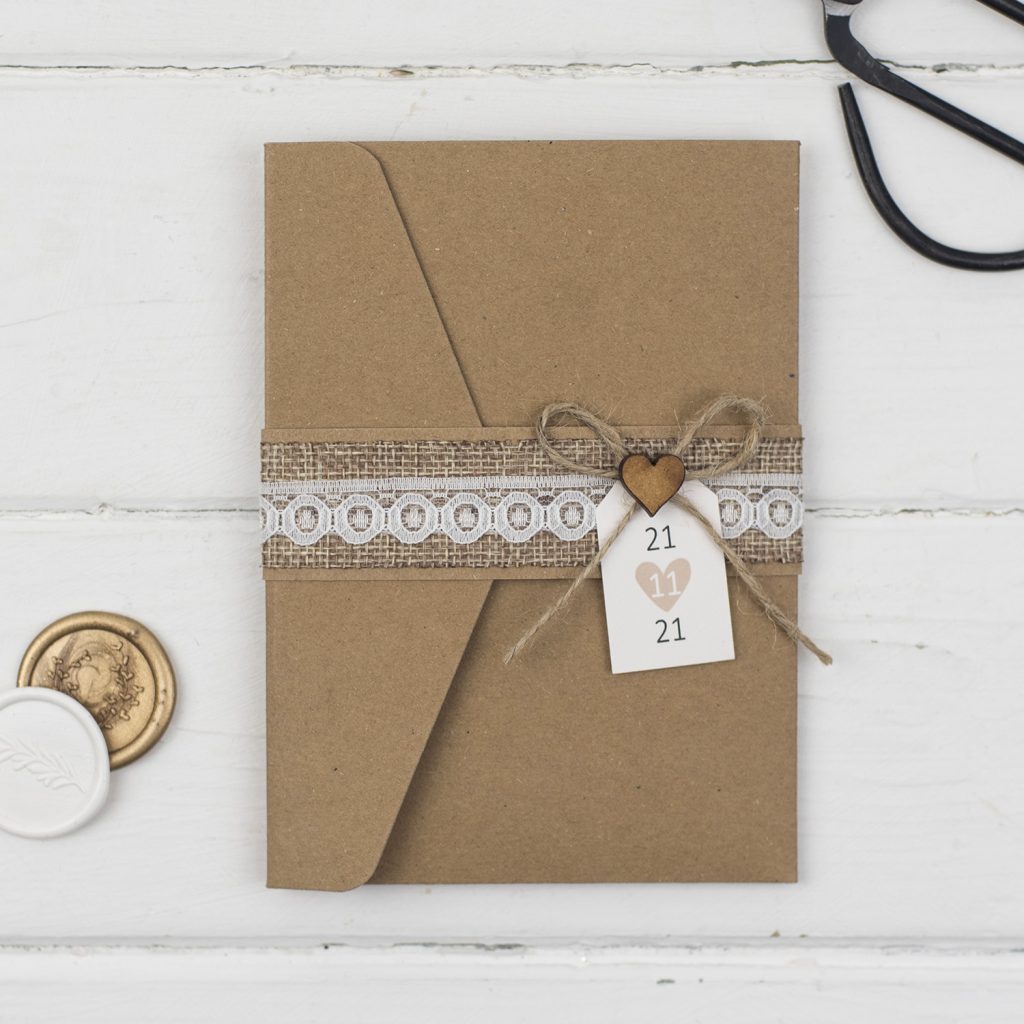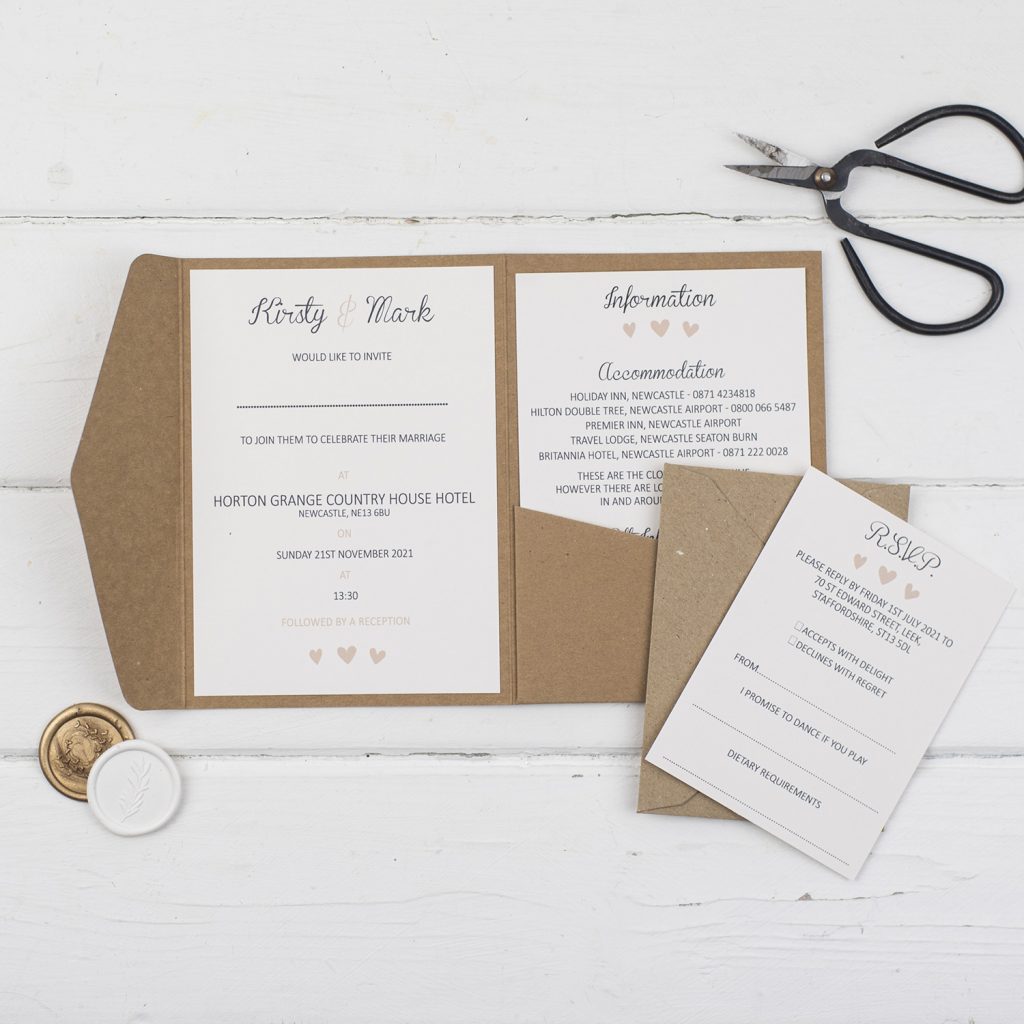 This collection is made with a combination of Kraft and Corn cards, both of which are recycled. Layering of cards helps to create a heavyweight quality feel. A layering of different textures to decorate the bellyband is meticulously applied layer by layer. The invitation suite contains the invitation, information insert, RSVP card and the decorated bellyband. This also includes 2 matching Kraft envelopes.
Budget of £300+ – Luxe Handmade Wedding Invitation Suite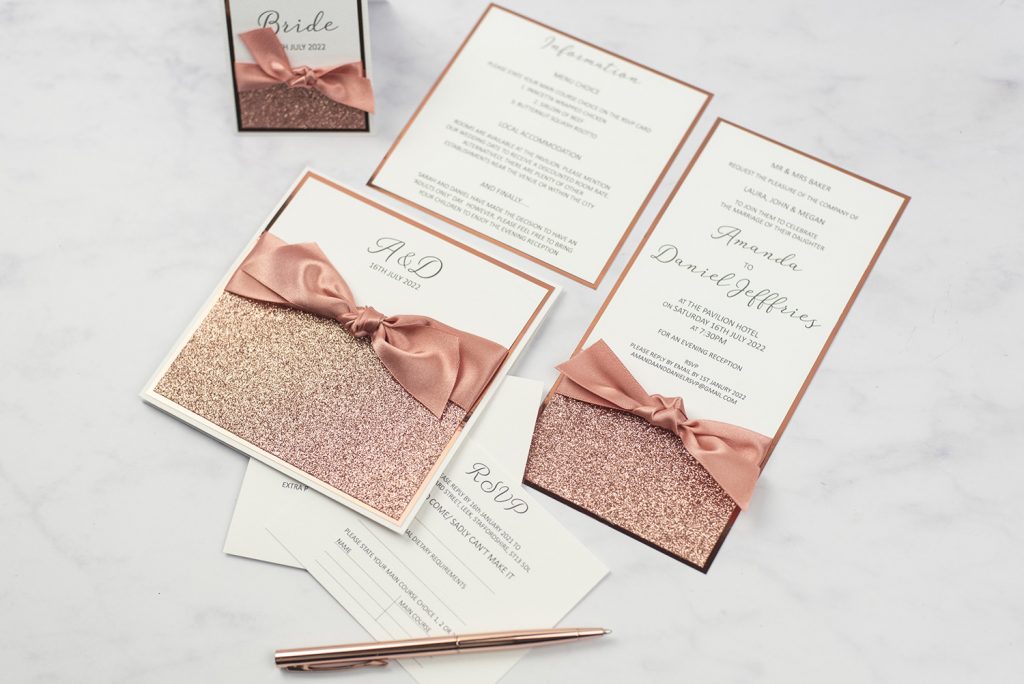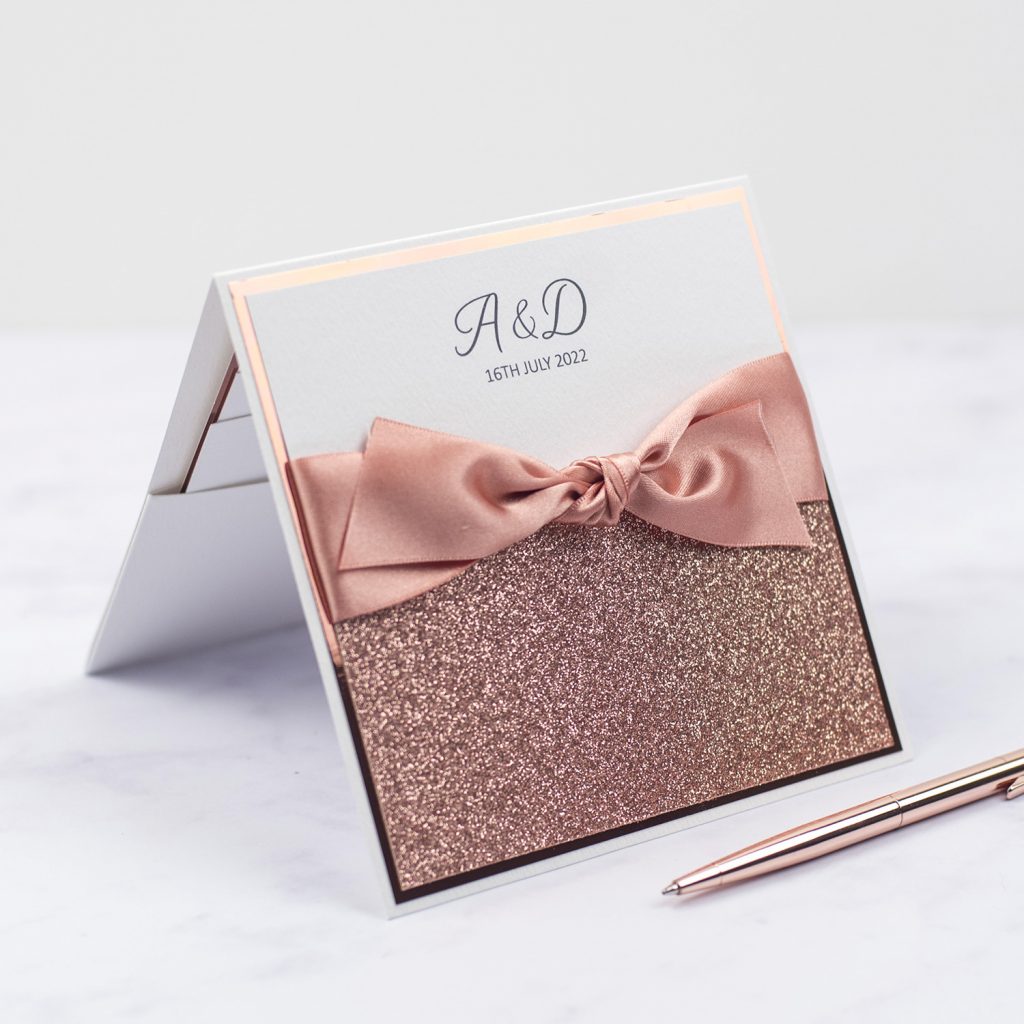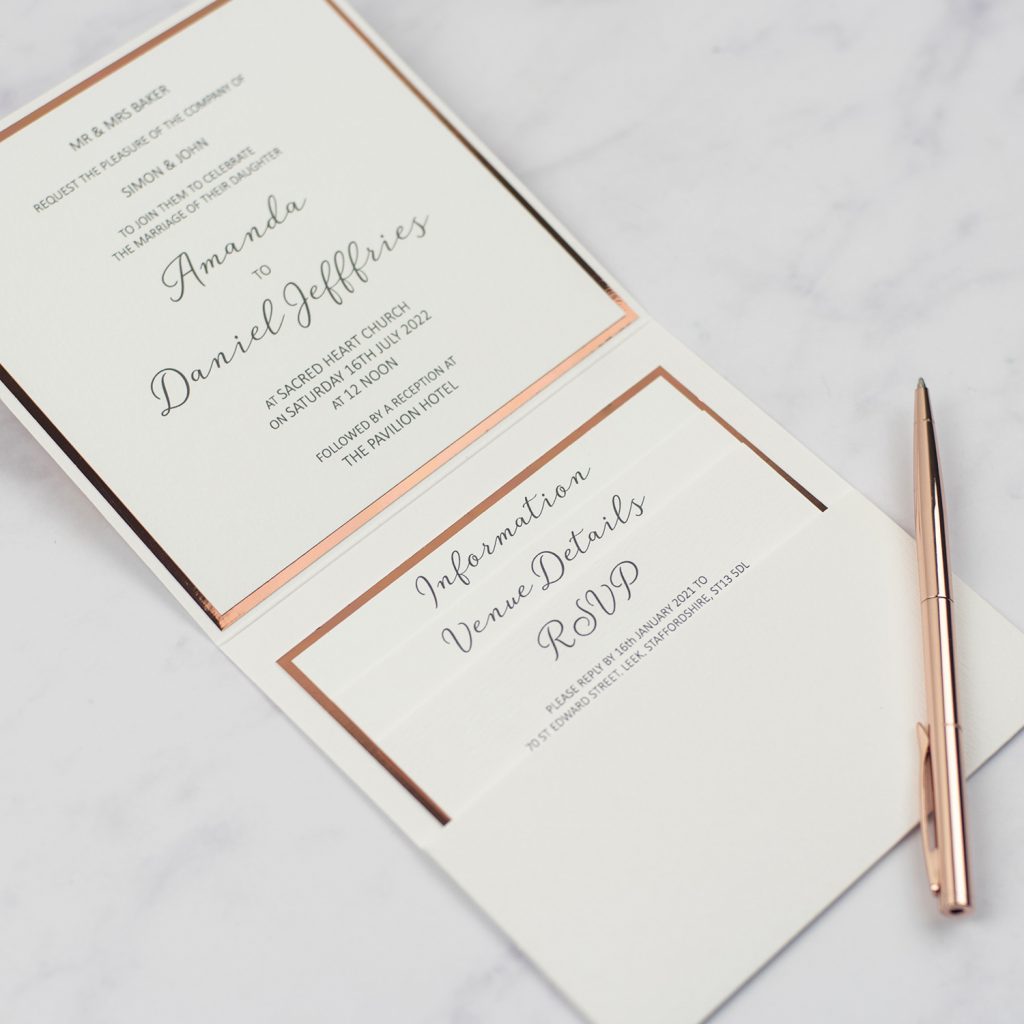 This is a highly luxurious handmade wedding invite, made with a 300GSM lightly textured card. Decorated and layered with both glitter and foil cards and finished with a hand tied satin ribbon. The invitation includes the invitation backed with foil card, information insert backed with foil card, 2nd information insert and RSVP card. This also includes 2 matching quality envelopes. For the ultimate luxurious finish, you can add a personalised matching invitation box. This is the perfect way to present your handmade wedding invite.
Receiving your Handmade Wedding Invite
To open an envelope with a handmade wedding invite and feel the luxury of the handmade quality is a truly lovely thing. This is the first glimpse your guests will have into your wedding day. It's the perfect opportunity to portray the level of luxury that you want your guests to experience at your wedding. If you have a particular budget in mind, let your wedding stationer know at your initial contact and they will try and work within your budget and offer many suggestions. There are often several ways to reduce the cost, or add luxury to your handmade wedding invitations. An important point to remember; you get what you pay for!
'Received my invitations today, I love them and are just what I wanted I spent ages looking for someone to make my invitations and came across Lisa on Facebook, I communicated with Lisa just through Facebook and was a bit nervous putting my trust in someone I had never met but honestly Lisa did an amazing job. Thankyou. Great delivery down to Cornwall and very well packed.' Natalie
Lisa xx