There are many different types of wedding invitations available. Couples often ask me to explain the difference between each type. Whilst I design and hand-make a variety of different types of luxury wedding invitations, these are the 5 types that couples ask for most often. Each of these types of wedding invitations can be decorated and finished in any design style to match your wedding theme and colours. One of the first things to consider when choosing your luxury handmade wedding invitations is the amount of information that you would like to provide for your guests. This will help when choosing the type of wedding invitation that is best for you. If you are unsure of what to include, this is something that I can help you with.
If you would like help or advice on the best type of wedding invitations for you, then I would love to help so please get in touch. I have also written several other blog posts which you may find very useful. The links are at the bottom of this page.
1. Pocketfold wedding invitations
Pocketfold wedding invitations come in many different sizes, usually square or rectangular. The pocketfold wedding invitation has been around for a long time and has been extremely popular over the years. They can be very luxurious and heavyweight which gives a feel of grandeur for your wedding. A great first impression of your wedding day.
These wedding invitations open up to reveal the invitation and information details on the inside. As the name suggests, inside the invitation there is a pocket. These types of wedding invitations are perfect if you want to provide your guests with information and an RSVP card. The information inserts are neatly stacked in a staggered display within the pocket. This invitation can also stand up so that it can be displayed.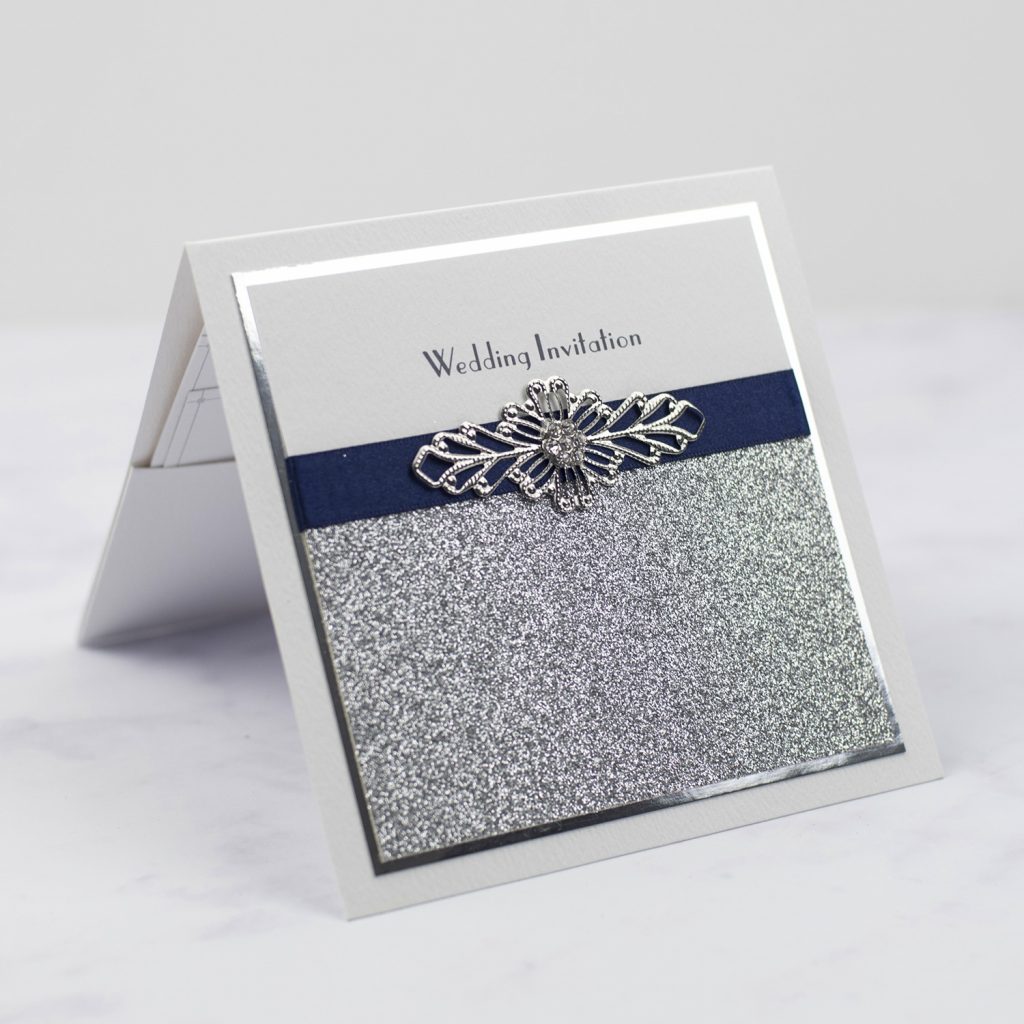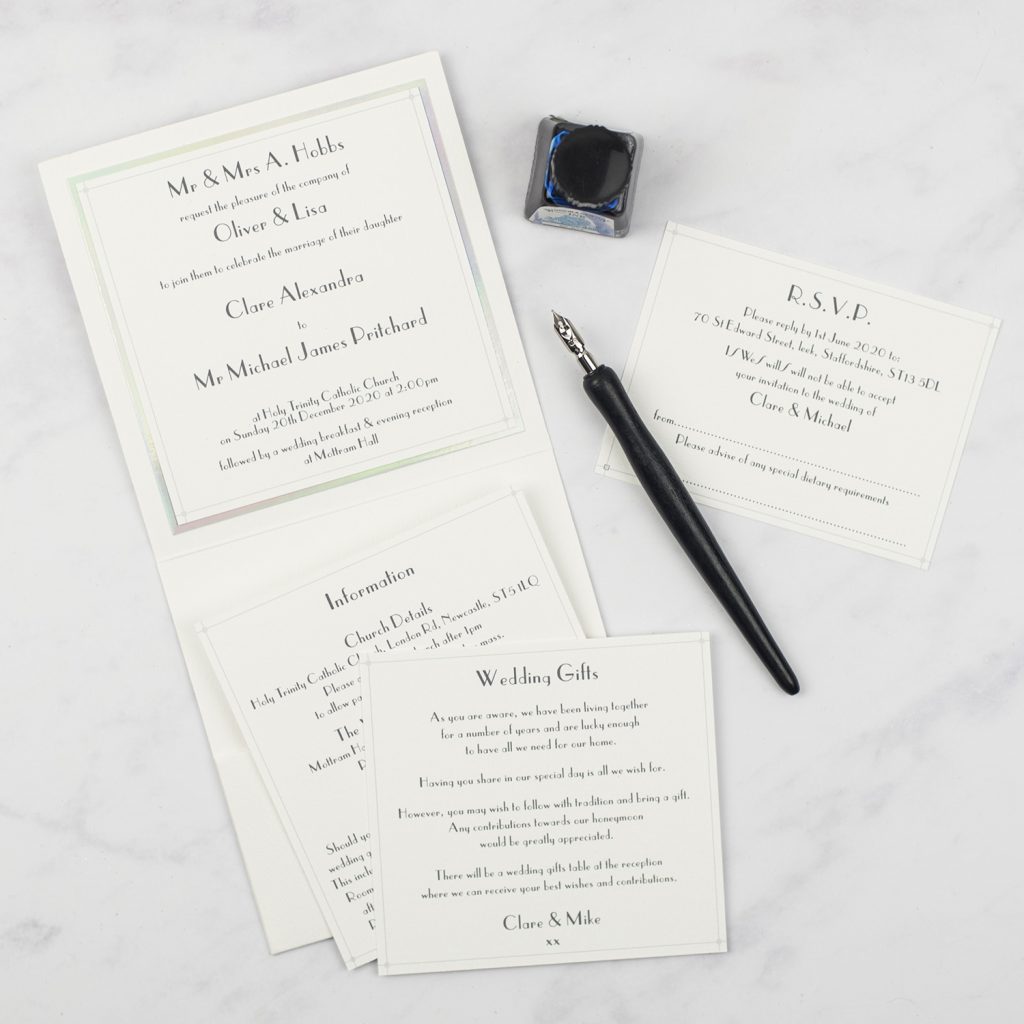 2. Pocketfold wedding invitation with belly band
This type of wedding invitation is another pocketfold which can have a more modern feel. The pocketfold opens out the same as the original pocketfold wedding invitation and has an internal pocket for information inserts. However, the pocketfold is held closed with a belly band. In order to open the invitation and reveal the information inside, the belly band needs to be removed. This is a lovely way to add another layer of surprise and anticipation to your handmade wedding invitations. Like the original pocketfold wedding invitations, these work best with the extra information inserts added to the pocket.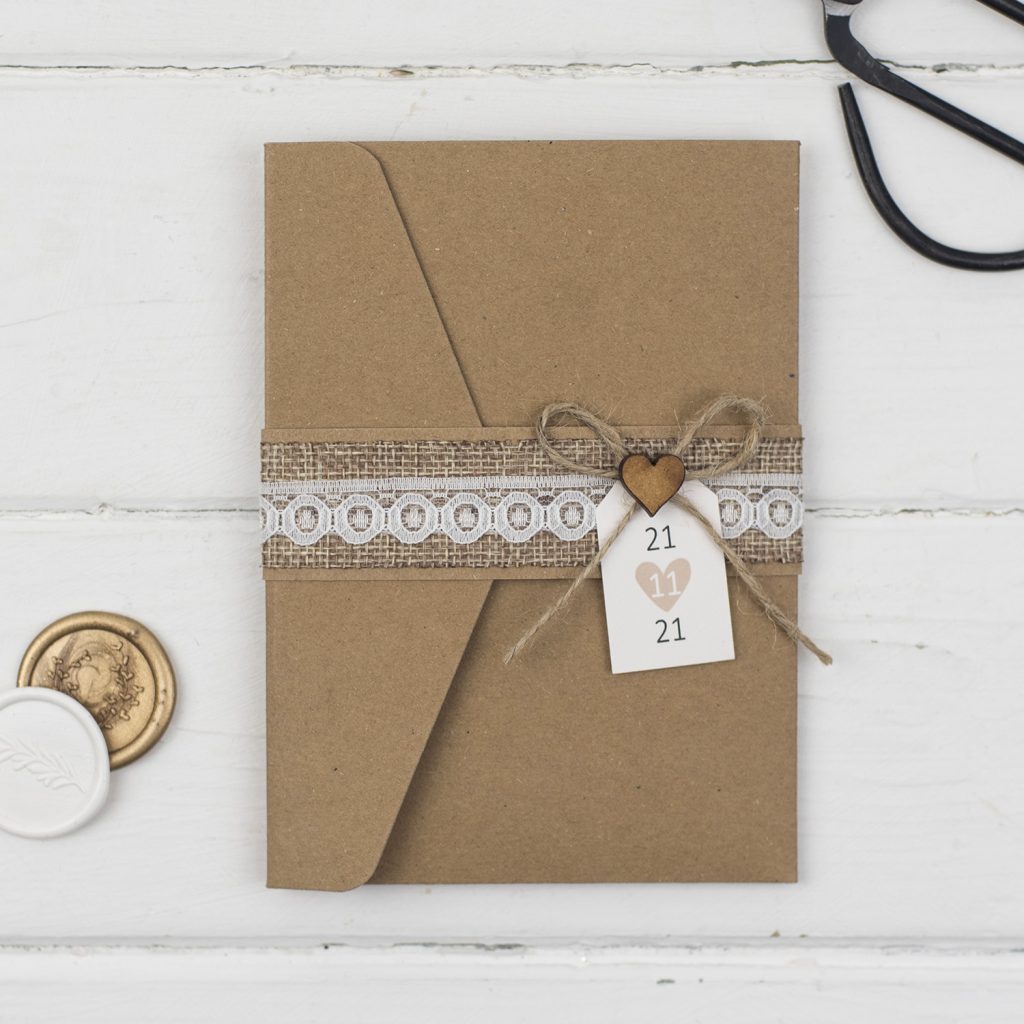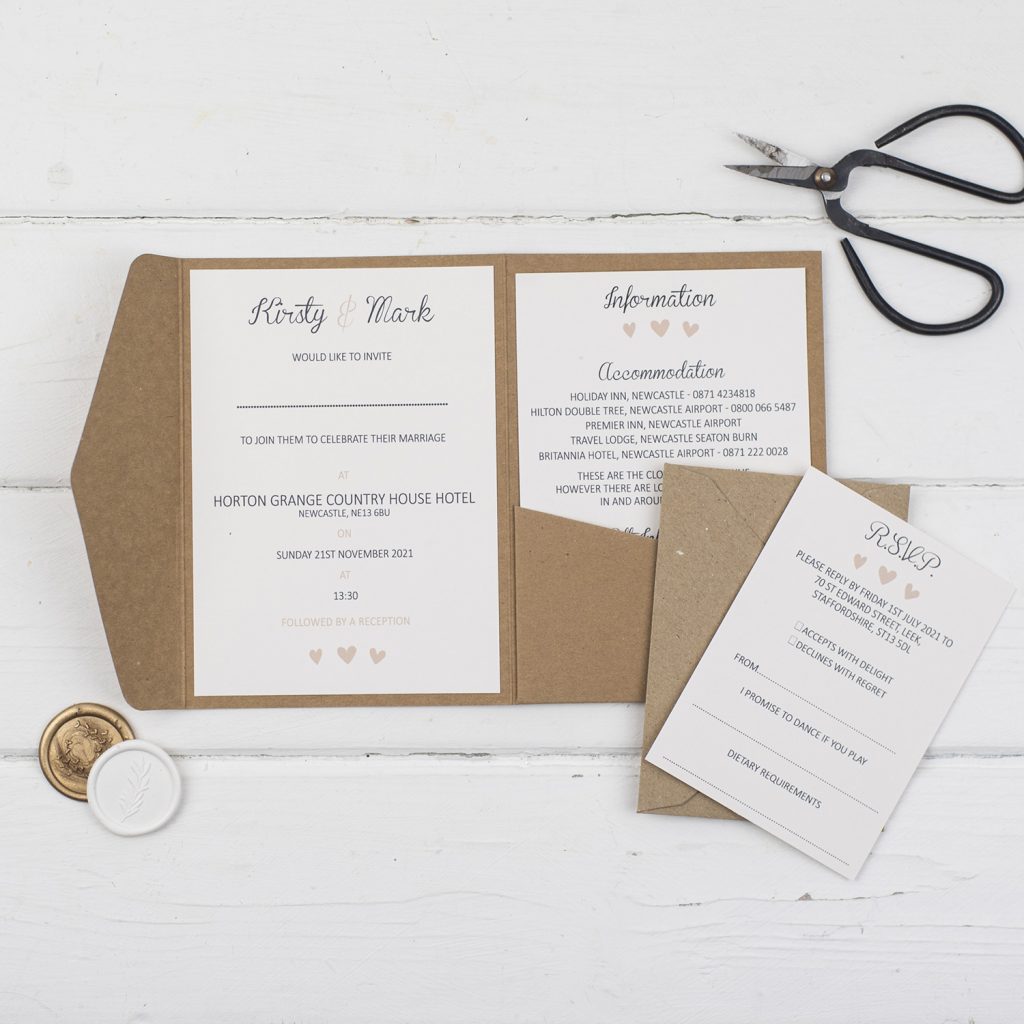 3. Bundle wedding invitation with belly band
If you are looking for something a little less elaborate than the pocketfold wedding invitation, then the bundle invitations with a belly band may be just what you need. If you would still like to provide your guests with extra information about the wedding day along with an RSVP card, this is a great way to do it. The inserts can be staggered so that they don't cover the invitation. The belly band is a perfect way to decorate and finish this type of wedding invitation. These types of wedding invitations are a popular choice for both full wedding day invitations and evening invitations too. They can look fantastic with or without inserts.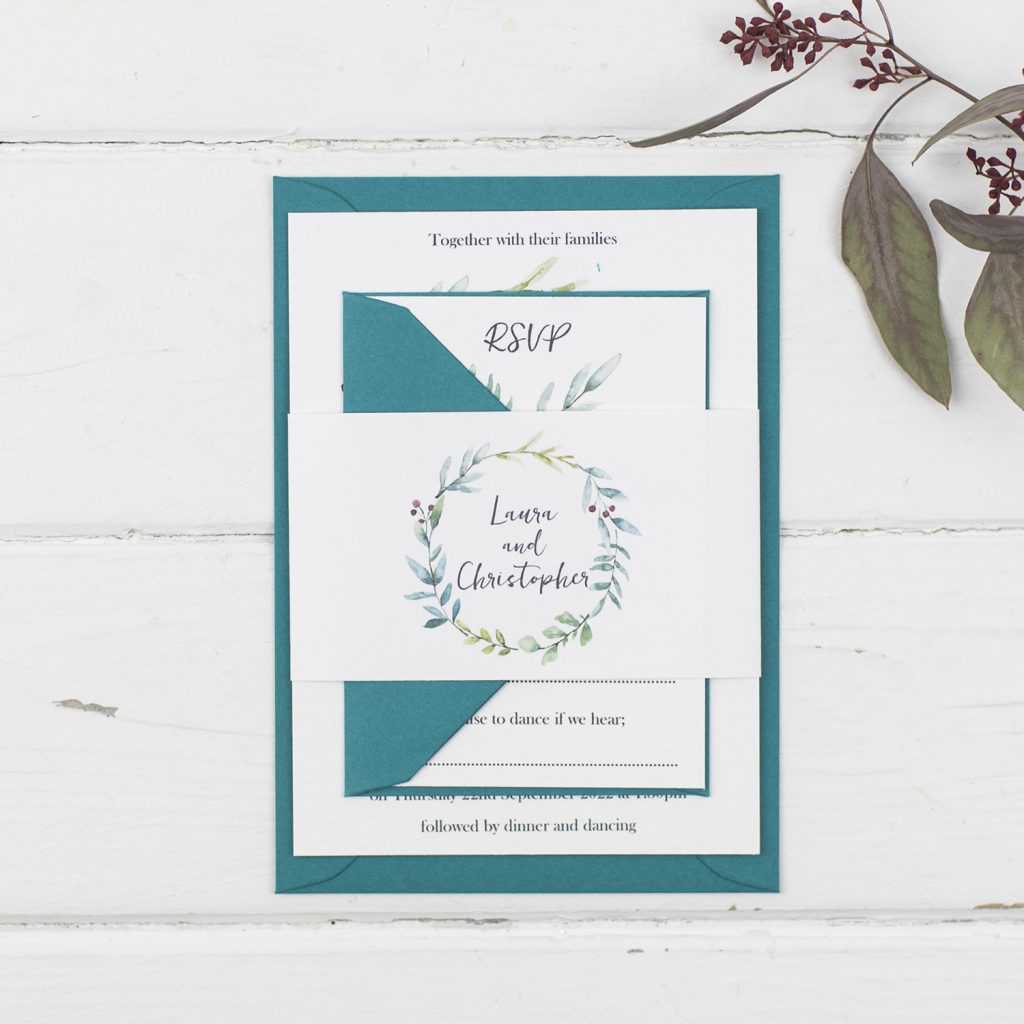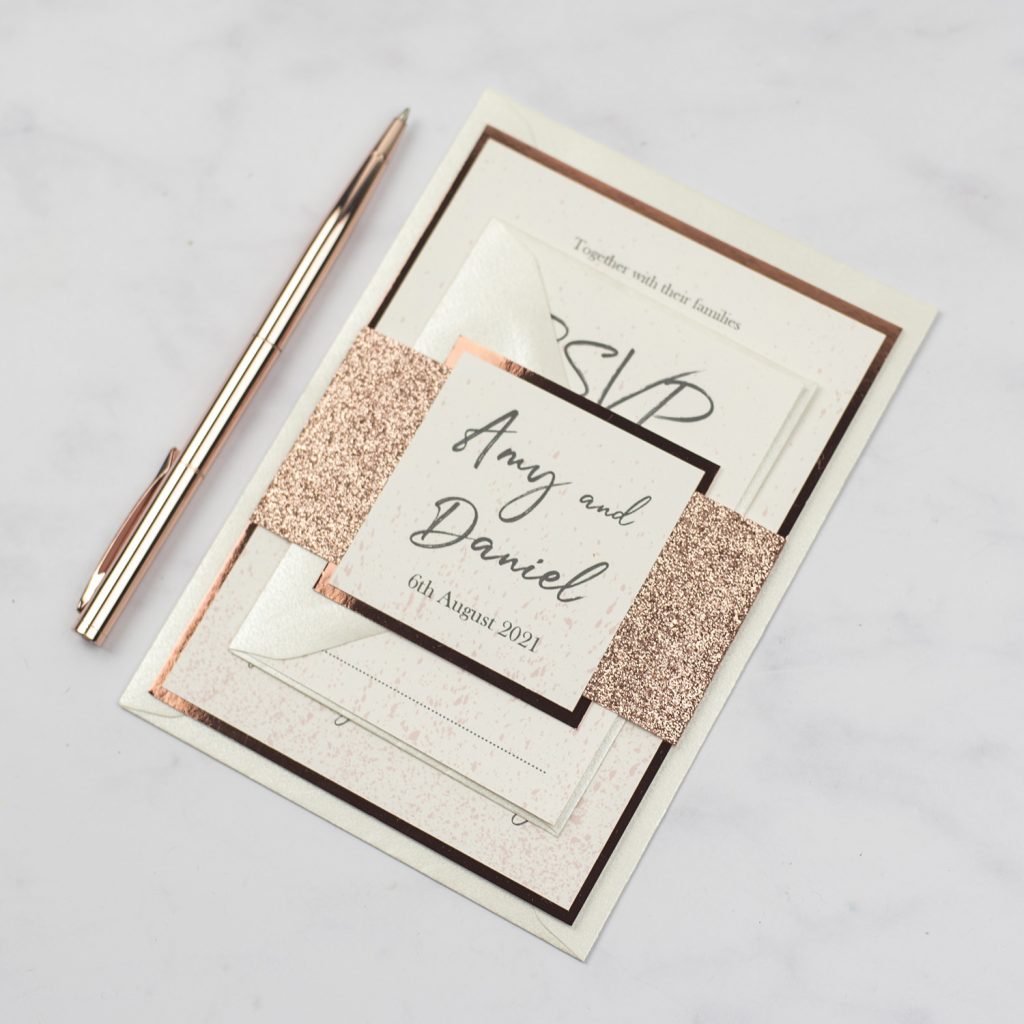 4. Flat wedding invitation
These types of wedding invitations are more often than not used as an evening invitation. Although, they can of course be used for day wedding invitations too if you require something without any extra guest information. The invitation is a flat, single sided design. RSVP information can be added to the bottom of the invitation or it can be teamed with a separate RSVP card. If you have chosen to have a more elaborate invitation for your wedding day guests, the flat evening invitation can then compliment your day invites by using the same design style.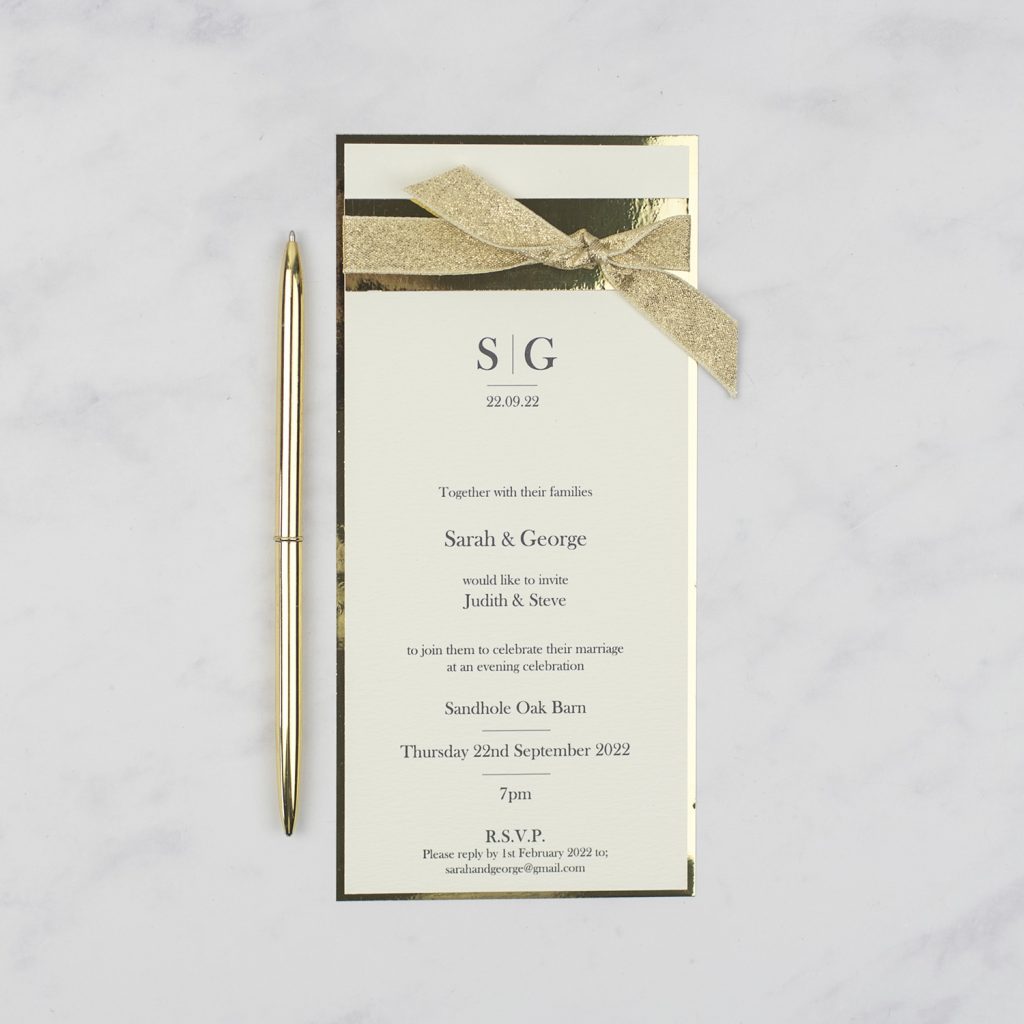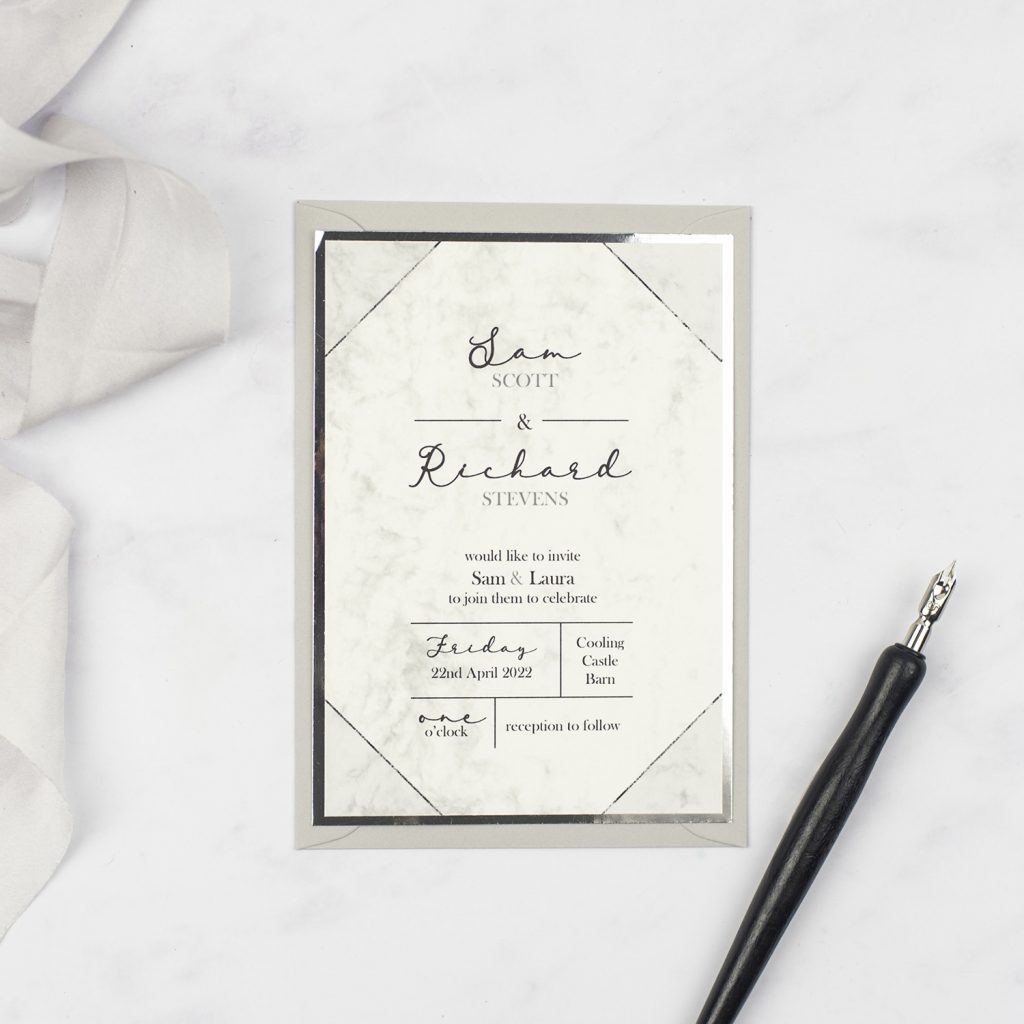 5. Wallet wedding invitation
Wallet types of wedding invitations can be very elegant. They come in a variety of shapes and sizes. The wallet can be quite versatile too. Adding a wallet to a simple flat invitation will turn the invitation into something more elaborate and heavyweight. Within the wallet you can just have a flat invitation and you can also add information inserts. The inserts can all be the same size and kept as separate inserts or they can be held together at the top and then staggered.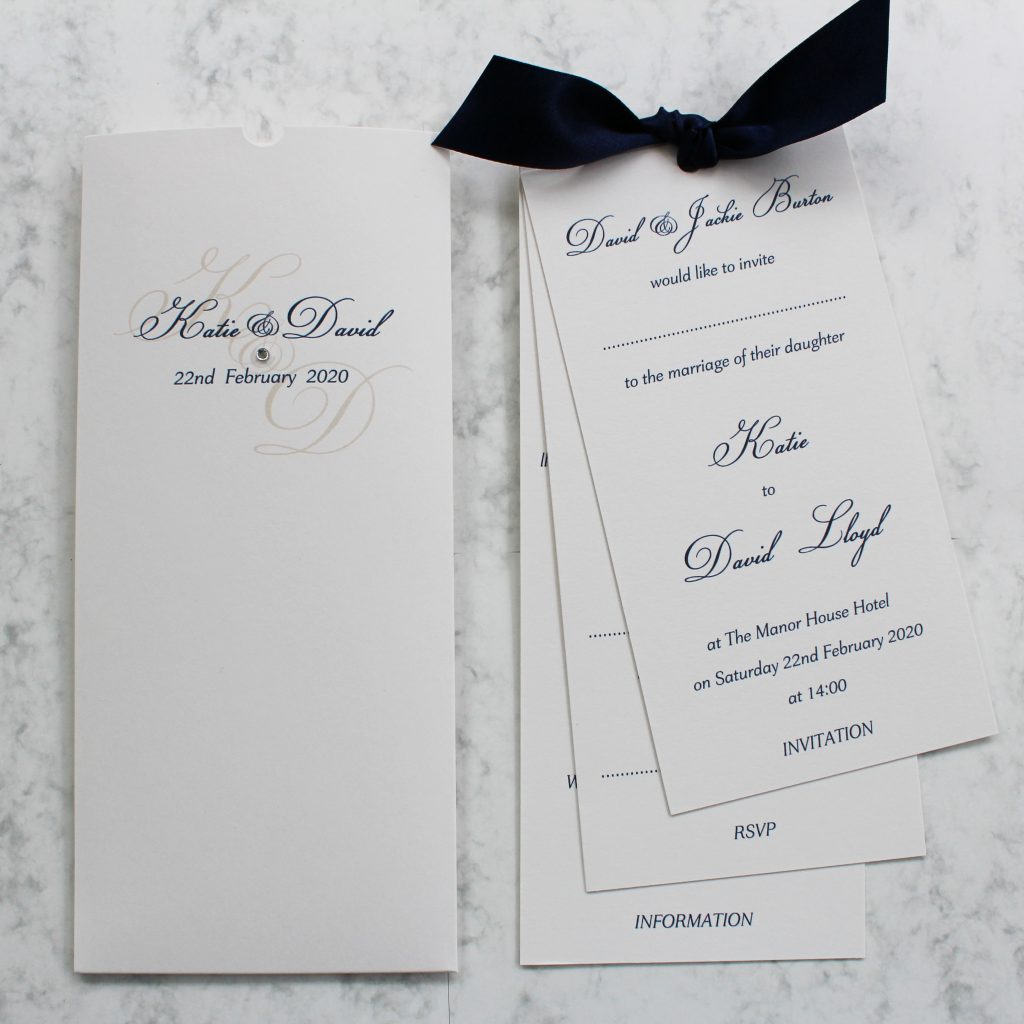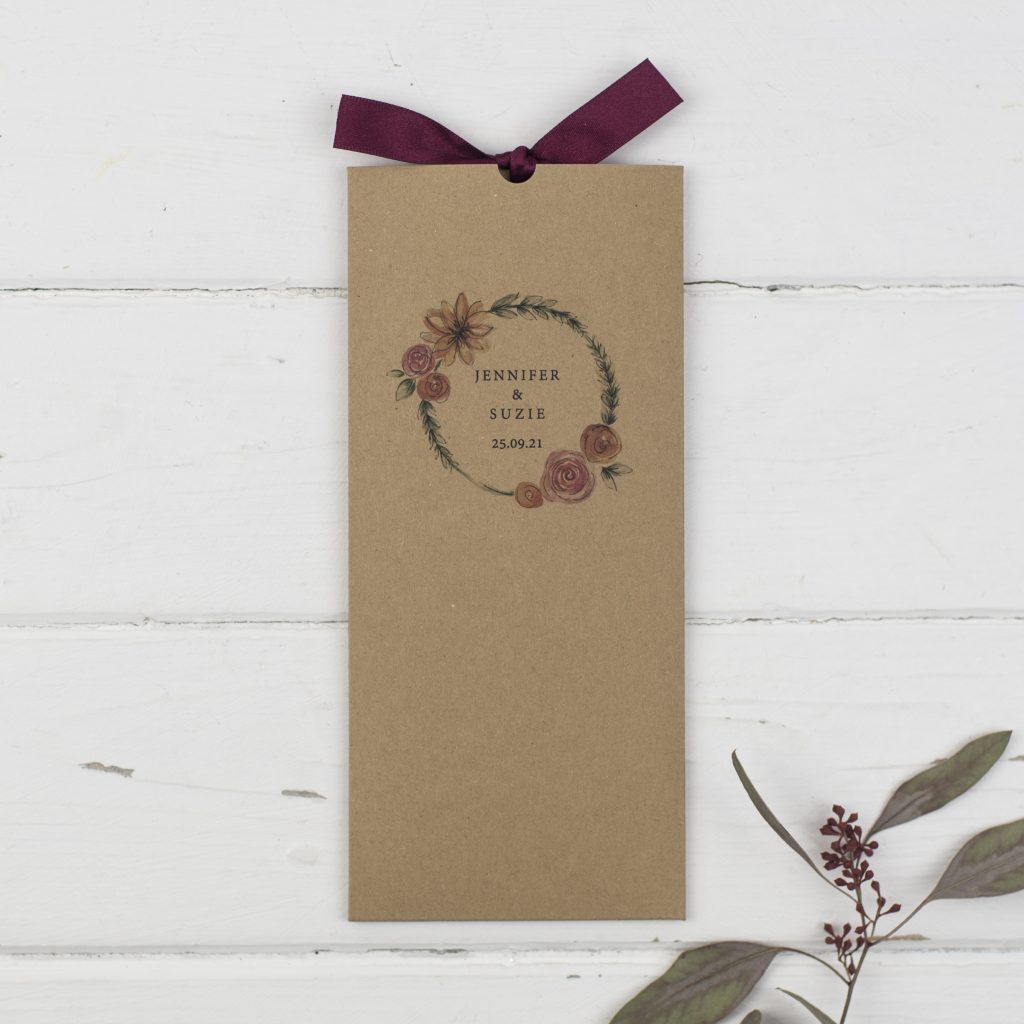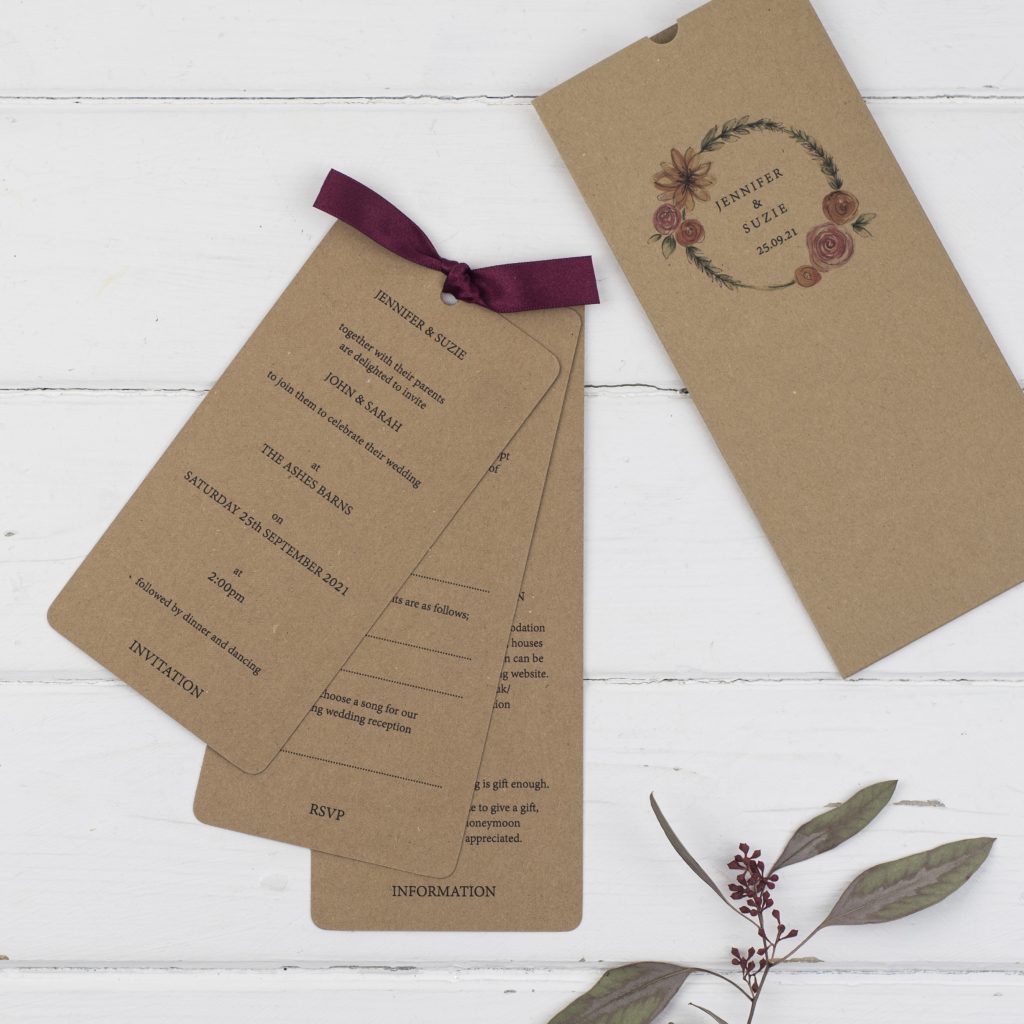 These are my 5 most popular types of wedding invitations, however there are many more options available. Whatever type you choose, your luxury handmade wedding invitations should have the wow factor. There are many design styles to choose from which can be adapted for each of the wedding invitation types too.
Alternative types of wedding invitations include concertina, traditional folded, chequebook, luxury boxed, gatefold, laser-cut and many more. If you would like to know more about any of these types of invitations, please feel free to ask. You can get in touch HERE or;
Useful blog posts related to this post;
Top 10 Tips; What to Include in Your Wedding Invitations
10 Top Tips you Will Need to Know When Choosing Your Wedding Invitations