I am often asked 'what should I include in my wedding invitations?'. Most people have absolutely no idea of what the wedding invitation wording should include. After all, you probably haven't done this before. My advice is, don't over think it, don't over fill it and most definitely, don't worry about it! I have lots of experience in this (over 15 years in fact) so leave it with me.
*Wedding invitation wording doesn't have to be a stressful task.*
Here are my top 10 tips of what to include in your wedding invitations. Do get in touch with your questions.
1. Wedding Invitation Wording – who, when, where?
The invitation includes the host's names (this was traditionally the parents as they were often footing the bill, but not always the case today), the couple's names, the date, the venue(s) and the time of the ceremony. There are many ways to word this whether it is formal or more relaxed. This is something I can help you with.
2. RSVP
Hopefully your guests will pop their reply in the post promptly!
The reply card should include a reply address, a date to reply by, a chart for menu choices if required, perhaps a song request for your D.J. or band, and finally any special dietary requirements or allergies. If you want to go that extra mile for your guests, you could include a printed addressed envelope with a stamp.
3. Wedding Venue Details
Within your wedding invitation wording, it is useful to include the full address of both the ceremony and reception venues if they are different. Make sure to include postcodes so your guest can pop it into their sat nav.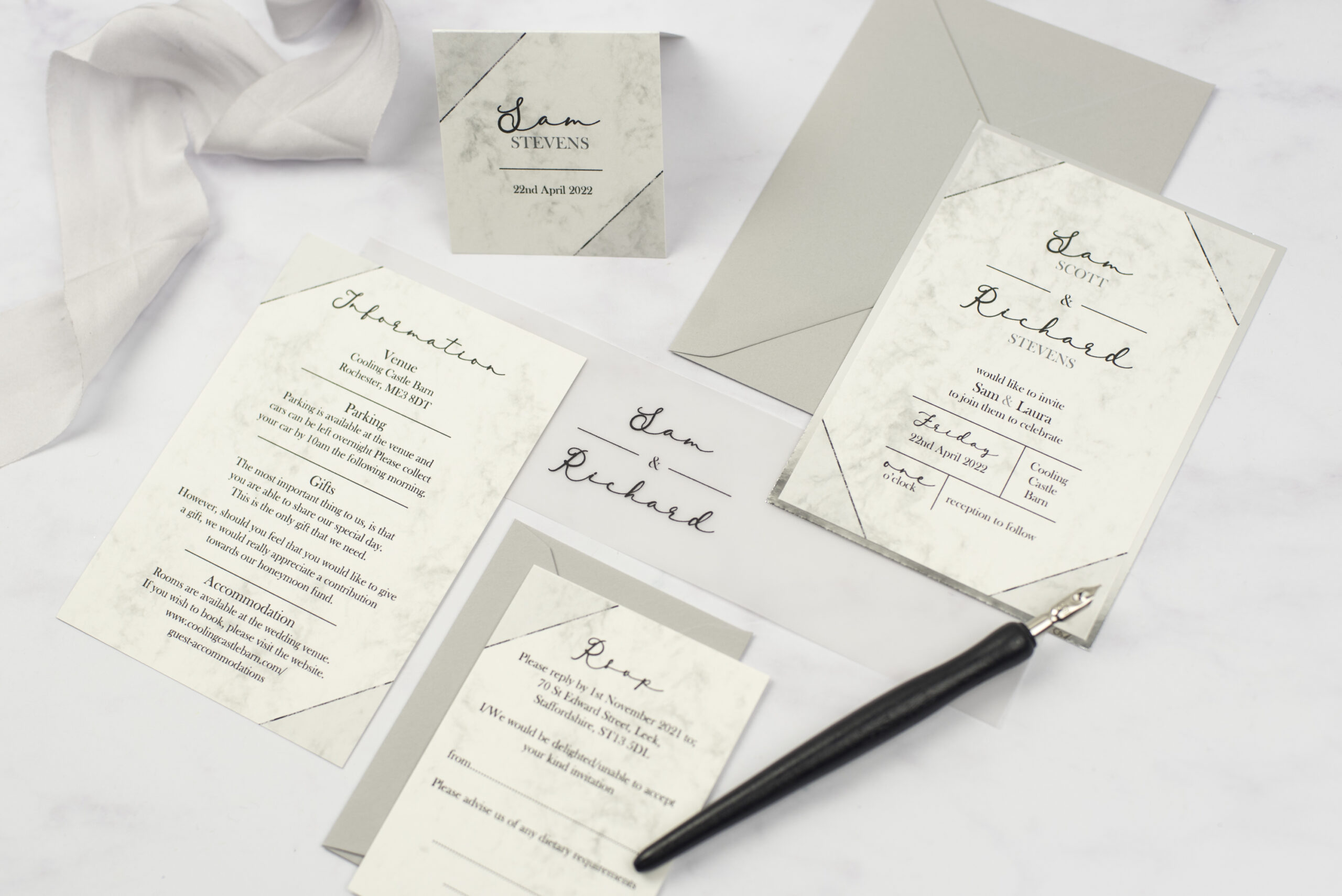 4. Venue Accommodation and Prices
If your wedding venue has accommodation available, they may be able to offer your guests a preferential room rate. Your guests will love to know about this! If rooms are limited at your venue, be sure to let your wedding party know first.
5. Alternative Accommodation and the Location
Whilst rooms may be available at your venue, they may get booked up by your wedding party. Offering alternative accommodation choices will be really helpful to your guests, particularly if they are travelling and don't know the area. Perhaps mention 2 – 3 that are not too far from your venue. Be careful that you don't go overboard. Most people use google and will often do their own research!
6. Local Taxi Companies
If your guests are not from the area, local taxi numbers come in very handy. Taxis may also need to be booked in advance which is helpful to mention. Telling your guests the time your wedding will finish will also help when booking their taxi in advance.
7. Parking at the Wedding Venue
If your guests wish to leave their vehicle at the venue overnight, the venue may request that the vehicle is collected by a certain time the following day. Some venues may not have parking available so offering suggestions of nearby alternative parking will also be helpful to your guests.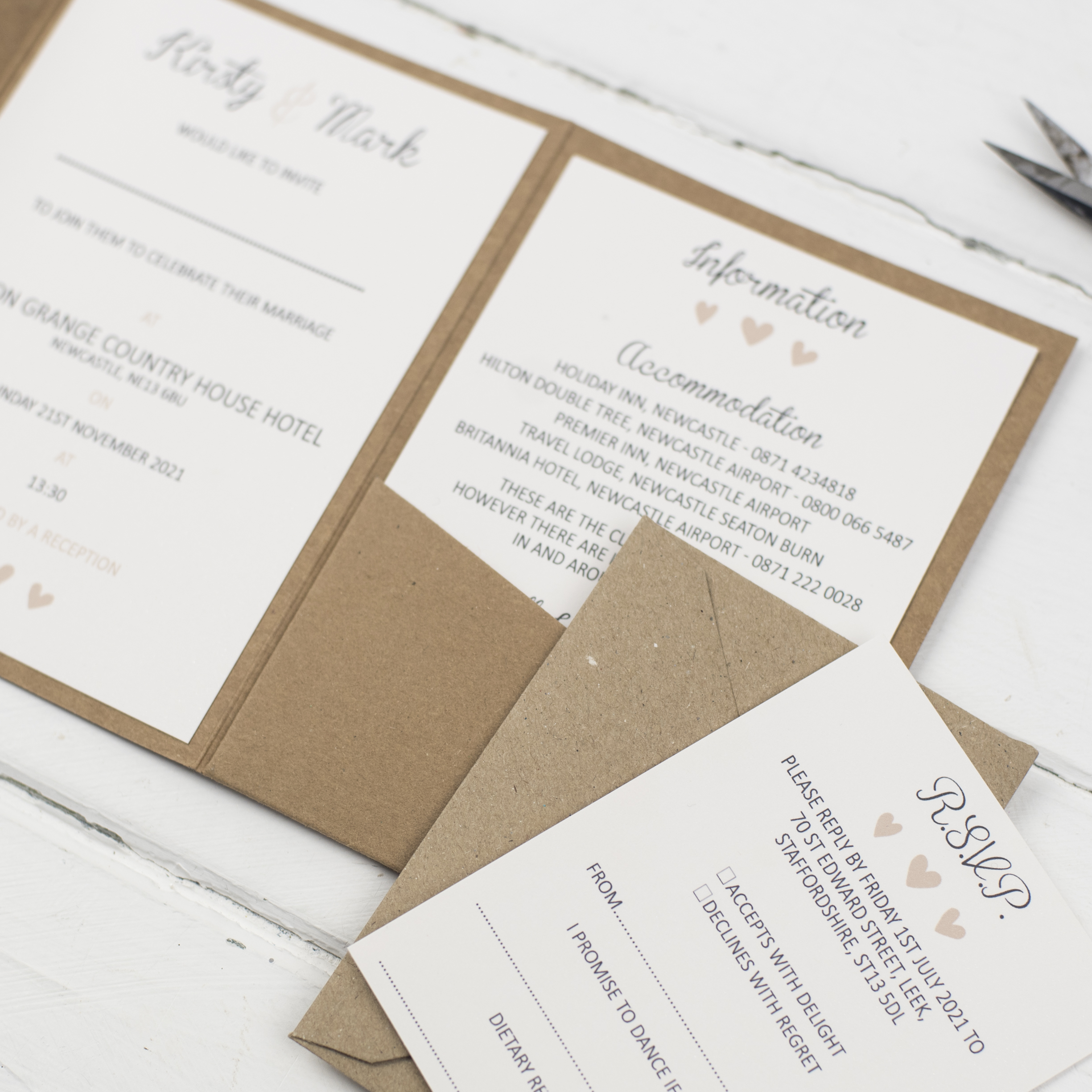 8. Gifts and How to Ask for Them
It is a fact that your guests WILL want to give you a gift. There are a plethora of poems that politely request money for a new home or the honeymoon of your dreams. Perhaps you have opted for a gift list at a store? You may prefer to request no gifts and ask for a small donation to your favourite charity. Either way, I advise you to be specific if you don't want any unwanted gifts.
9. Children at Your Wedding
This is becoming increasingly popular as more couples choose, or are simply unable to include children at their wedding. This can be worded appropriately so as not to offend! In fact, many guests will see this as a chance to let their hair down and enjoy the celebration so don't be afraid to mention it.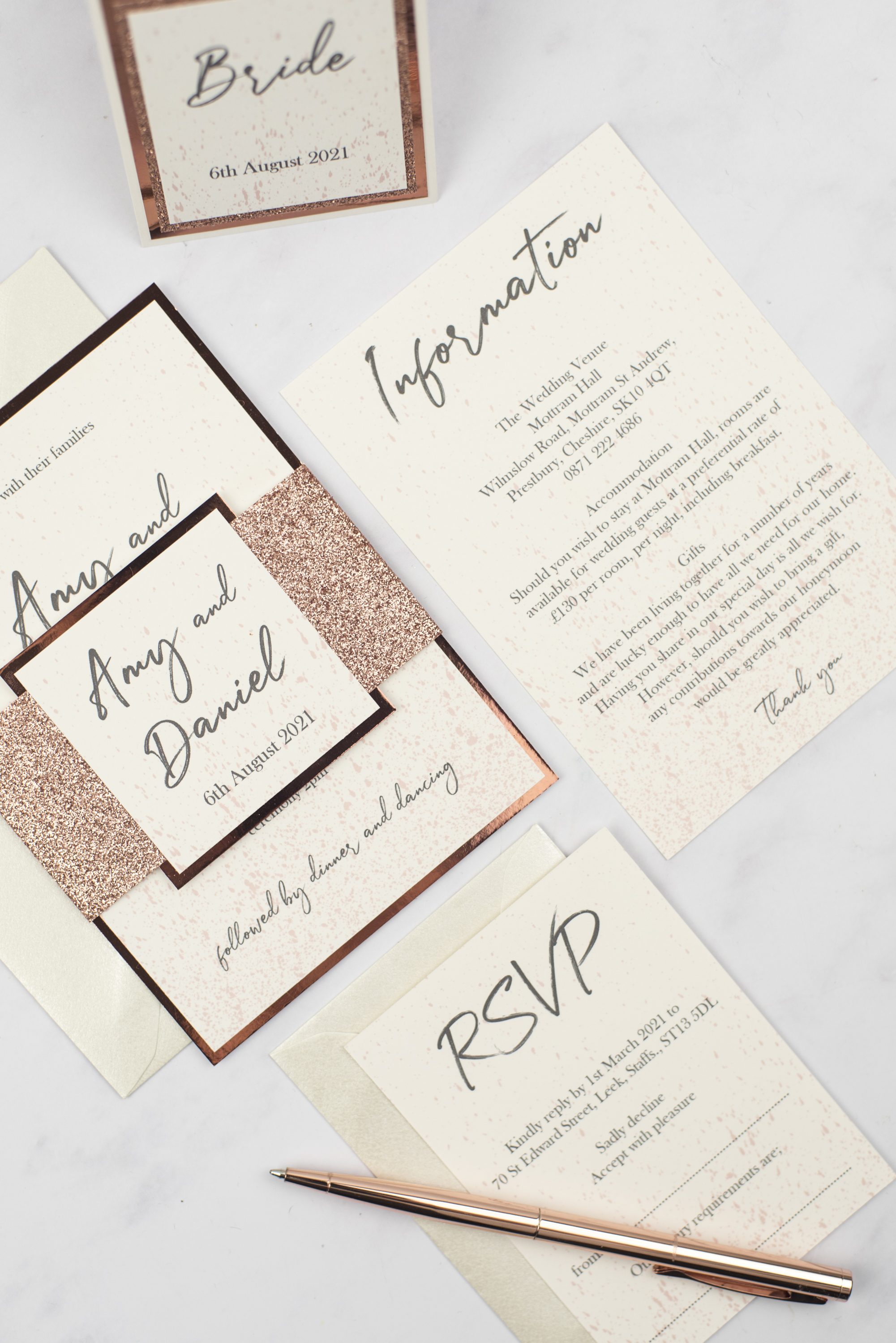 10. Wedding Breakfast Menu Options
You may be offering your guests a choice for their wedding breakfast meal. My advice would be to keep the wording of the menu as simple as possible. You can number each course to make it simple for letting you know their choices on the RSVP card. There is no need to mention your menu if you are not giving your guests a choice, let it be a surprise!
So, in a nutshell, that covers most points when thinking about your invitations and what to include. Remember, you don't have to include all of them!
There are many ways to word your wedding invitation, whether its formal, fun or quirky, the choice is yours. Please get in touch for advice and suggestions of which I have many. For regular updated inspiration visit my Instagram and Facebook pages.