When you send your wedding invitations, you may be wondering whether to include RSVP cards. It may come as a surprise but getting your wedding guests to respond to your wedding invitation can be tricky. There are several ways to ask your wedding guests to acknowledge their acceptance or decline your invitation. Your guests could call, write, text, email or send an RSVP card so which is the best option?
Very often your closest friends and family will assume that you know that they will be attending your wedding. Therefore they think they do not need to reply to your invitation. Whilst this may be the case, it is likely that you will be asking for more information from your guests on your RSVP cards.
Do you need advice with what else to include in your wedding invitations. Have a read of this useful blog.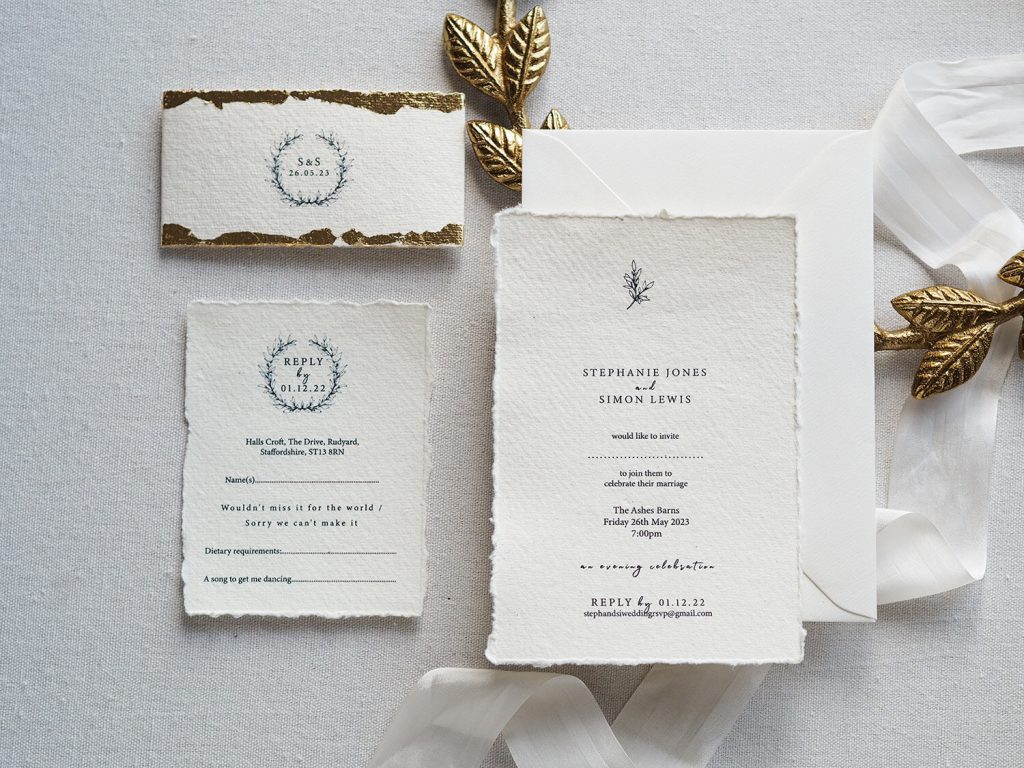 What does RSVP mean?
RSVP is an abbreviation of the French phrase 'répondez s'il vous plaît'. When translated this means 'respond please'. As with so many French figures of speech, it was imported into the English language in the 1800s by socialites. It was considered classy!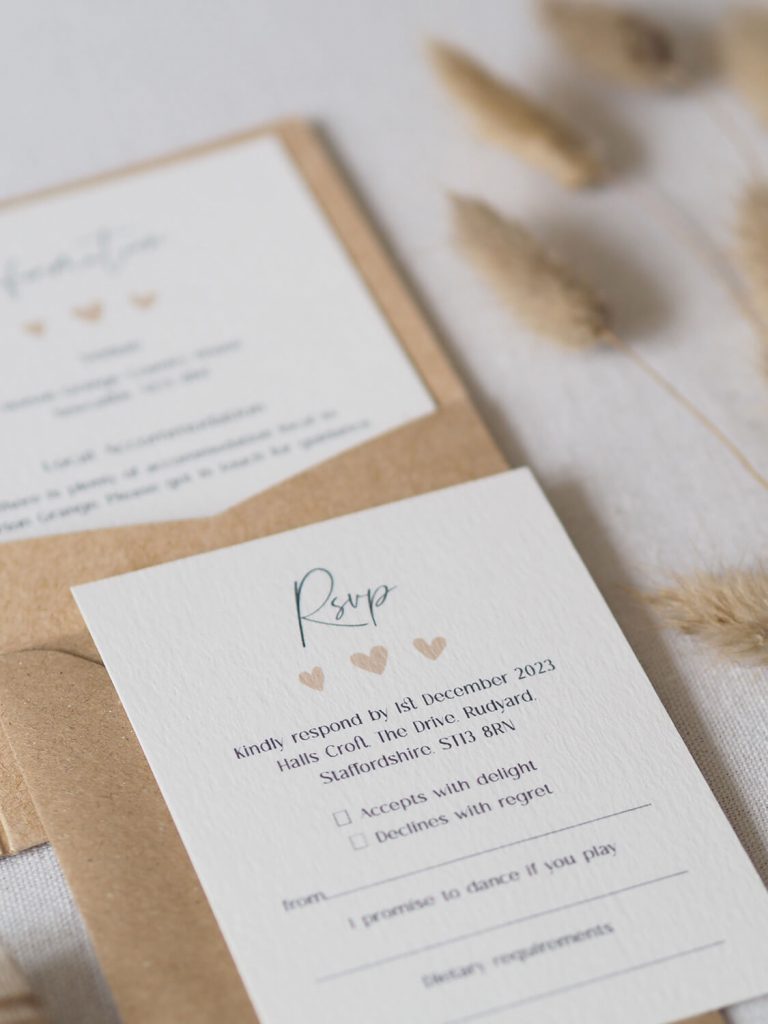 What are the benefits of including RSVP cards in your wedding invitations?
When your guests return their RSVP cards to you it is a great way to keep a track of your replies. The RSVP cards can be kept together in your wedding folder and is a perfect way to keep everything organised.
If you are offering your wedding guests a menu choice for the wedding breakfast, the RSVP card is the perfect way to receive their choices. Your invitations will include an insert with your menu options which are all numbered. A chart will be made on the RSVP cards. Your guests can fill in the choices for each person. Again, this is the best way to keep everything organised and in one place.
If you need to gather any other information from your guests such as dietary requirements or a song choice for your band or DJ this can all be noted on the RSVP card.
TOP TIP – the pocketfold wedding invitation is a great way to include your RSVP cards along with any other guest information. Here are 5 reasons to choose a pocketfold wedding invitation.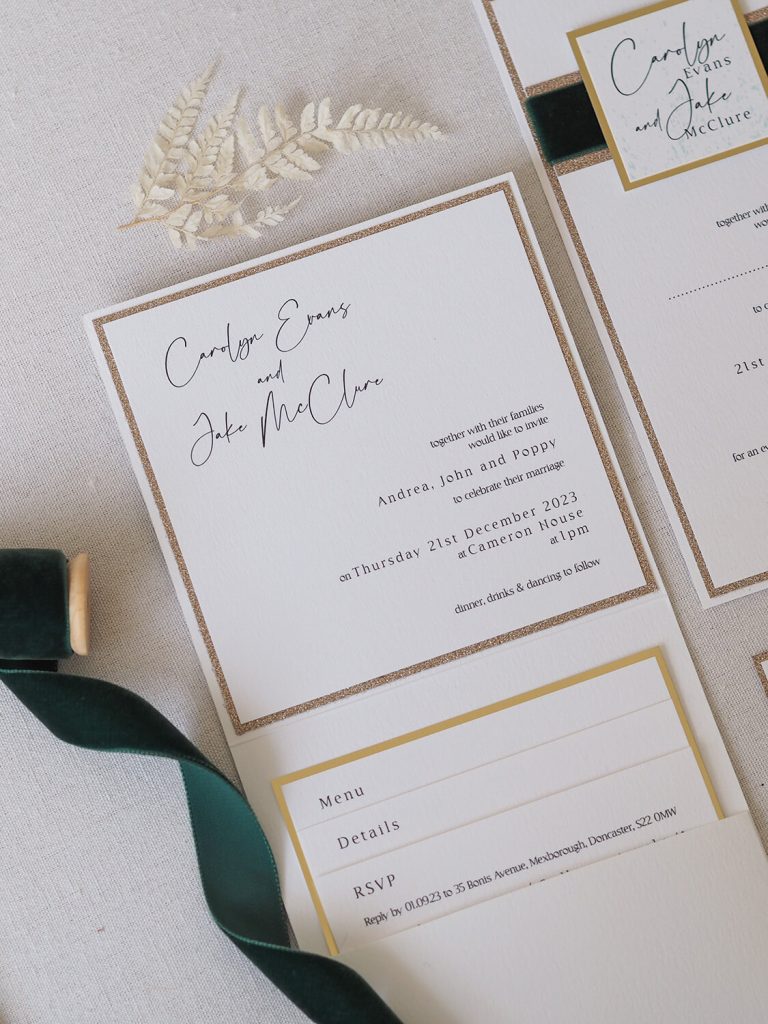 What wording should be included on RSVP cards?
It is important to ask your guests to reply within a certain timescale. Be specific with a date rather than asking them to reply ASAP. This will give your guests a clear idea of what you are asking of them.
You will need to include the address that you would like the RSVP cards to be returned to. This may be your home address or perhaps you have handed over the role of collecting RSVPs to a member of the wedding party. Mums love this job!
It is very important to ask your guests if they have any specific dietary requirements such as being vegetarian of if they have any food allergies. This can be asked on your RSVP cards.
Your guests should be able to accept or decline your invitation with either a tick box or by crossing out an appropriate line. Don't forget to leave a line for your guests to put their name too. Anonymous replies will not be helpful!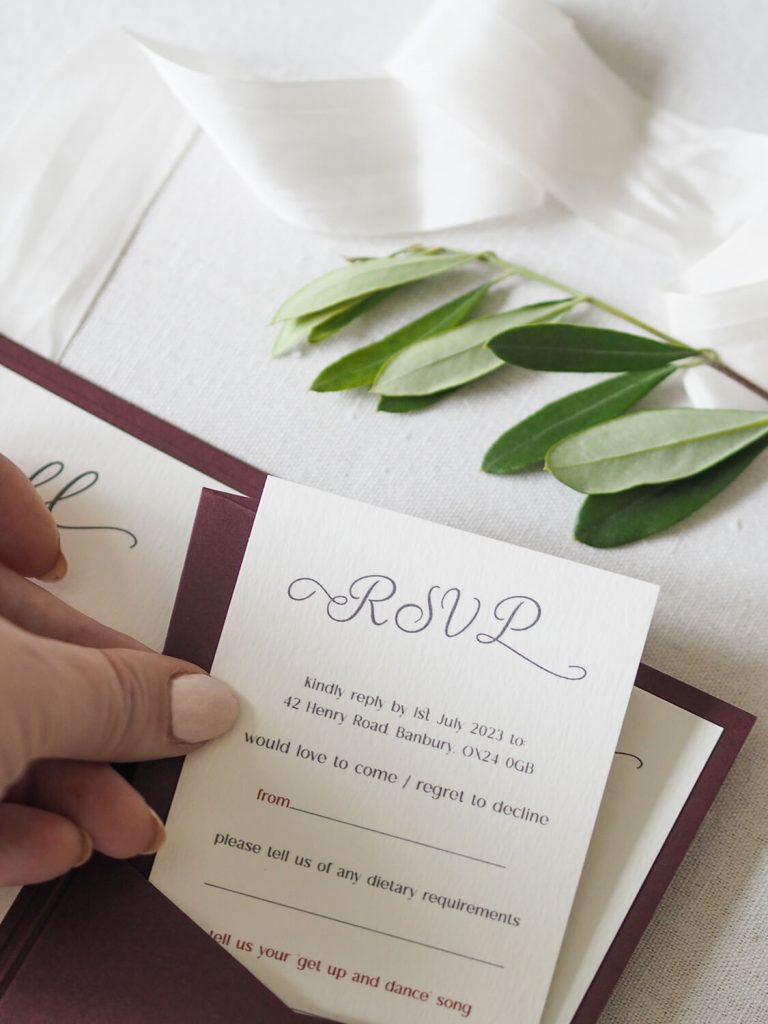 TOP TIP – How you can encourage your guests to return their RSVP cards
If you include a printed addressed envelope with the RSVP cards this will be very helpful to your guests. You can even go one step further and include a stamp. Anything that makes life easier for your guests will encourage them to return the RSVP card to you.
Alternative options to RSVP cards
There are many ways to ask your guests to respond to your invitation to your wedding. You may want to save space in your invitations if you have a lot of information that you would like to include. There are several alternative ways to ask your guests to reply.
Email – you can set up a wedding email address for your guests to reply to. By setting up a separate email address this will help to keep your replies in one place.
Phone number – you can ask guests to reply to your invitation by calling, texting or using WhatsApp.
TOP TIP – if you are using a phone number only provide one number. This method of reply can be tricky to keep track of. Adding more then one phone number will complicate things further.
Wedding website – many couples like to set up their own wedding website to offer more in-depth information about their wedding. This can also incorporate an rsvp page. The details for your wedding website and how to reply would be included on your invitation.
If you decide to use any of these alternative RSVP options, then I would recommend that you also include the date by which you would like them to reply. This will encourage your guests to send their response.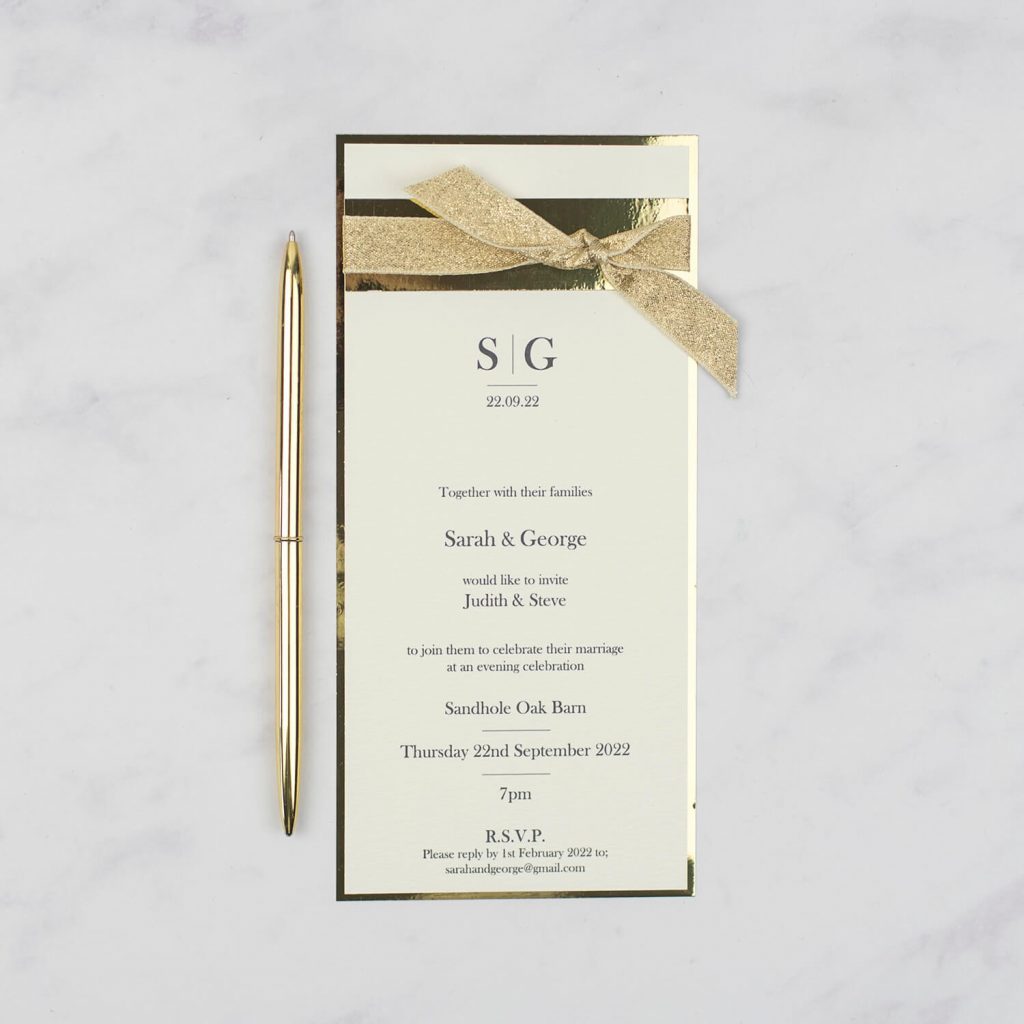 As you can see there are many advantages to including an RSVP card in your wedding invitations. Whilst there are several ways to ask your guests to reply, the RSVP cards are the best way to keep your replies organised and enable you to gather any extra information that you may need from our guests.
There are of course no guarantees of a fool proof way to get your guests to reply. However, the simplest and most effective way to encourage those replies is to include an RSVP card with a return by date and a stamped addressed envelope.
If you would like any help with any aspect of your handmade wedding invitations and stationery, get in touch. I would love to help.
To keep up to date with new designs and lots of useful information you can follow my Instagram and Facebook pages.