There are many different styles of wedding invitations available to choose from including pocketfold wedding invitations. So why choose this style? There are several reasons including its versatility and its multitude of design styles. Pocketfold wedding invitations are a very popular choice with many of my clients because of its versatility. Here are 5 reasons to choose pocketfold wedding invitations for you and your wedding guests.
1. Perfect place for extra guest information
As the name would suggest, the pocketfold wedding invitation is a folded card. Inside the card is a neat internal pocket which can hold pieces of card. When you send your guests their wedding invitation there will often be extra information that you would like to provide.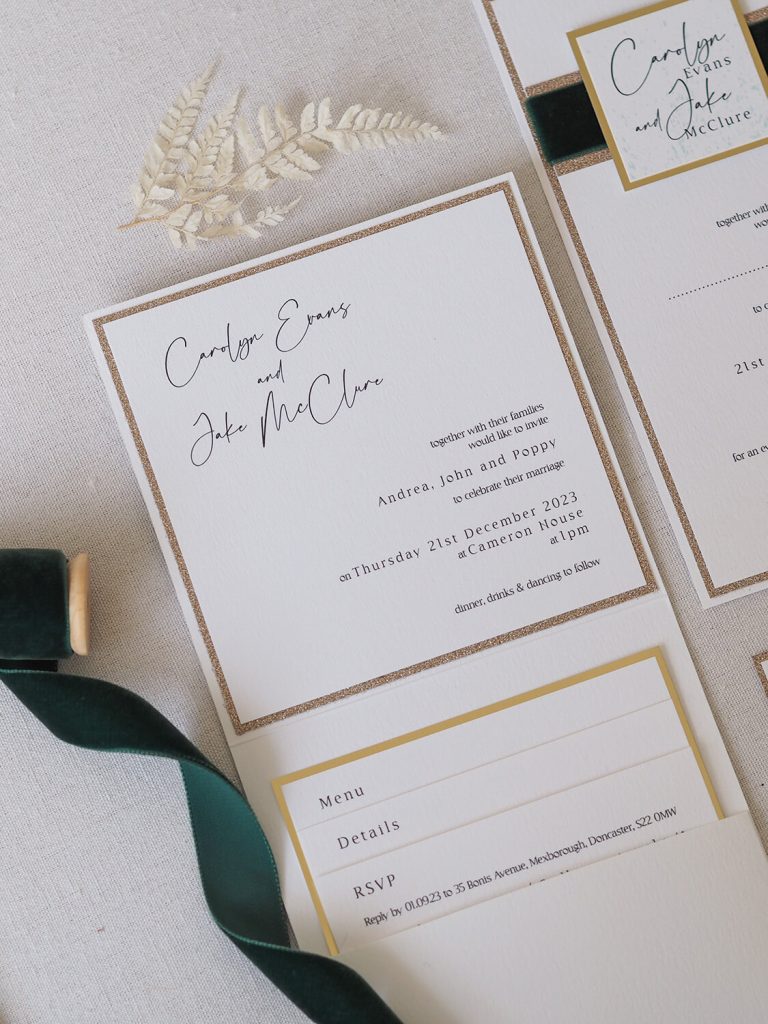 The internal pocket is a great place to include any extra information which can be printed onto separate pieces of card. The pocketfold wedding invitation is very useful for keeping all the important information secure and in one place. If you need help with what to include in your wedding invitation, you will find this blog post very useful.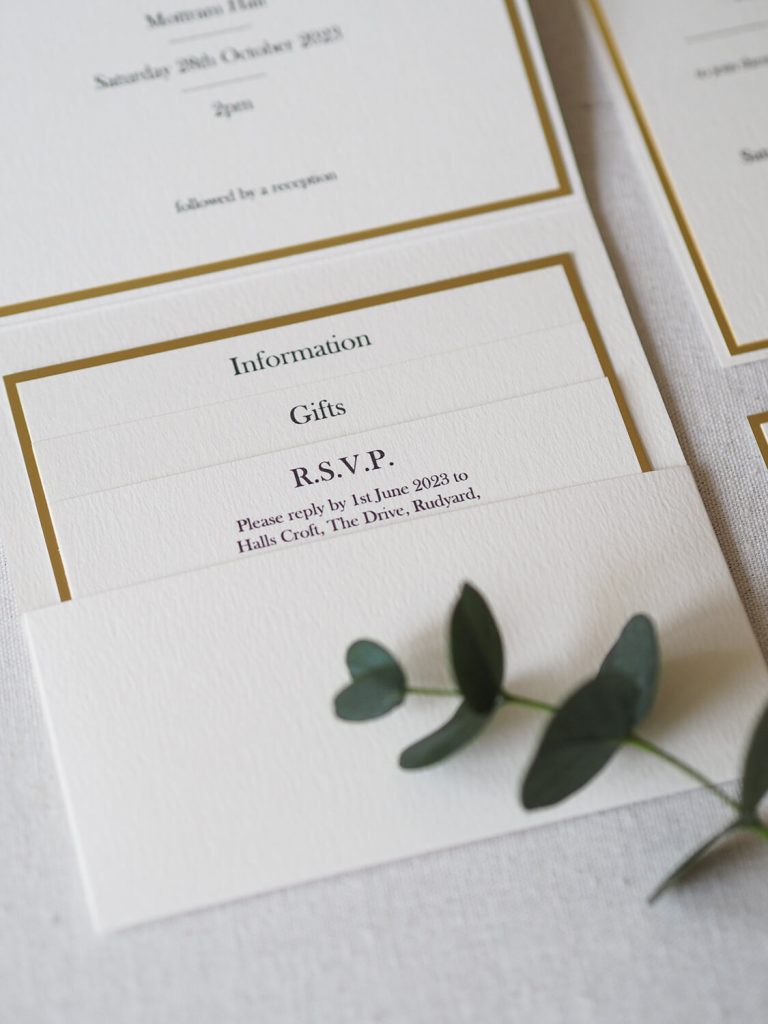 2. Design versatility of a pocketfold wedding invitations
Pocketfold wedding invitations are a very versatile style of invite. It comes in various shapes and sizes and can be opened in a variety of ways. It can open like a book and the internal pocket can either on the left or the right of the inside of the invitation. Alternatively, you can open and read the invitation from top to bottom with the pocket being at the bottom of the invitation. The usual shape would be square or rectangular and is available in a variety of sizes.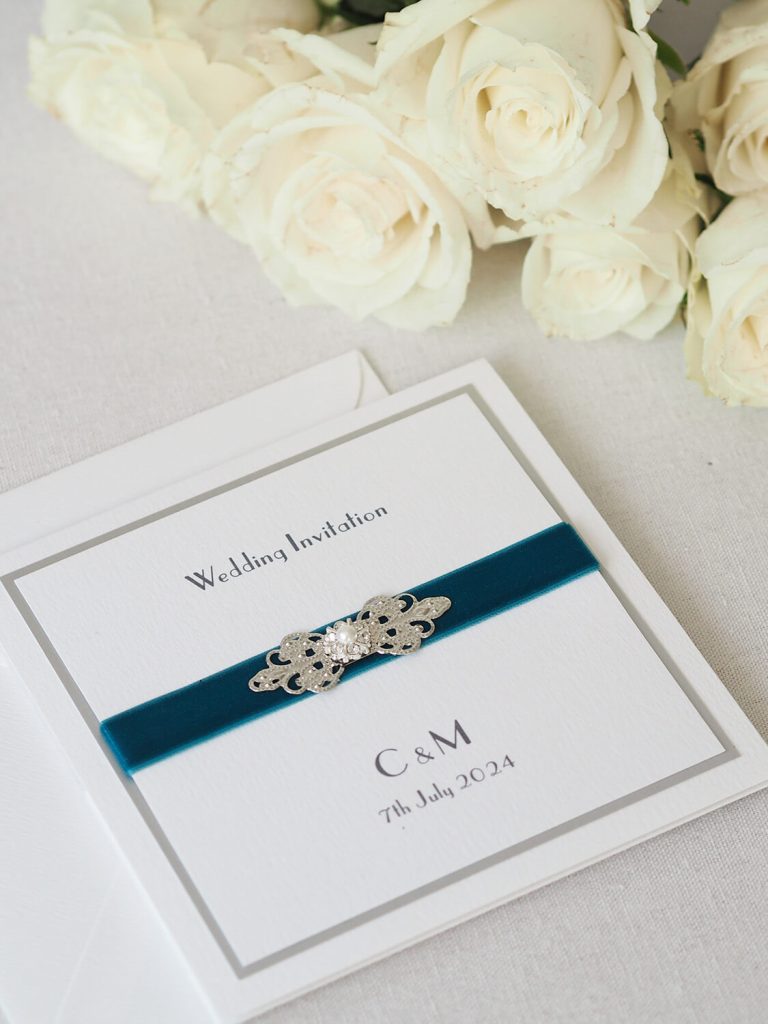 There is also the envelope style pocketfold which has a flap like an envelope. There are various ways to keep this style of invitation closed including a bellyband or a tied ribbon.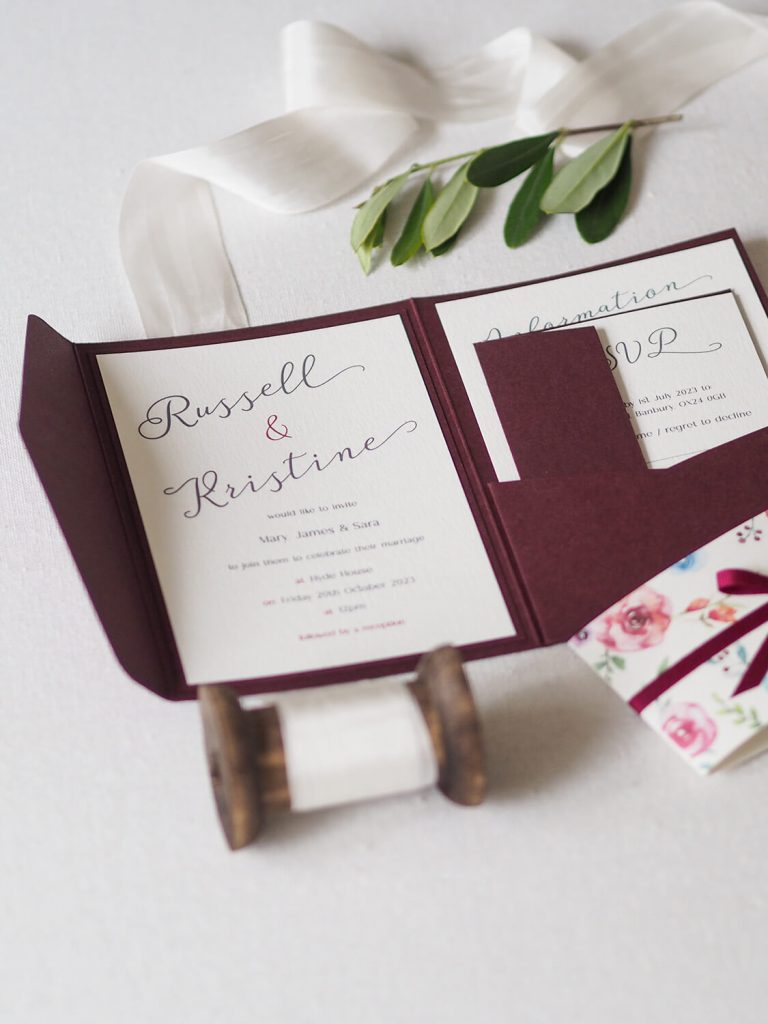 3. Pocketfold wedding invitations have endless style possibilities
The pocketfold wedding invitation is so versatile when it comes to design and decoration because it is a blank canvas. You can have any style that you like to compliment your wedding theme and colours. You may be looking for a rustic look with linen and twine or something more opulent with velvet ribbon and a wax seal.
Pocketfold wedding invitations can also be very luxurious. Heavyweight card can be used throughout adding extra luxury. The information inserts can be double layered to add extra weight and luxury. Alternatively, you can keep the design simple and elegant with beautiful fonts and delicately textured card. The possibilities are truly endless.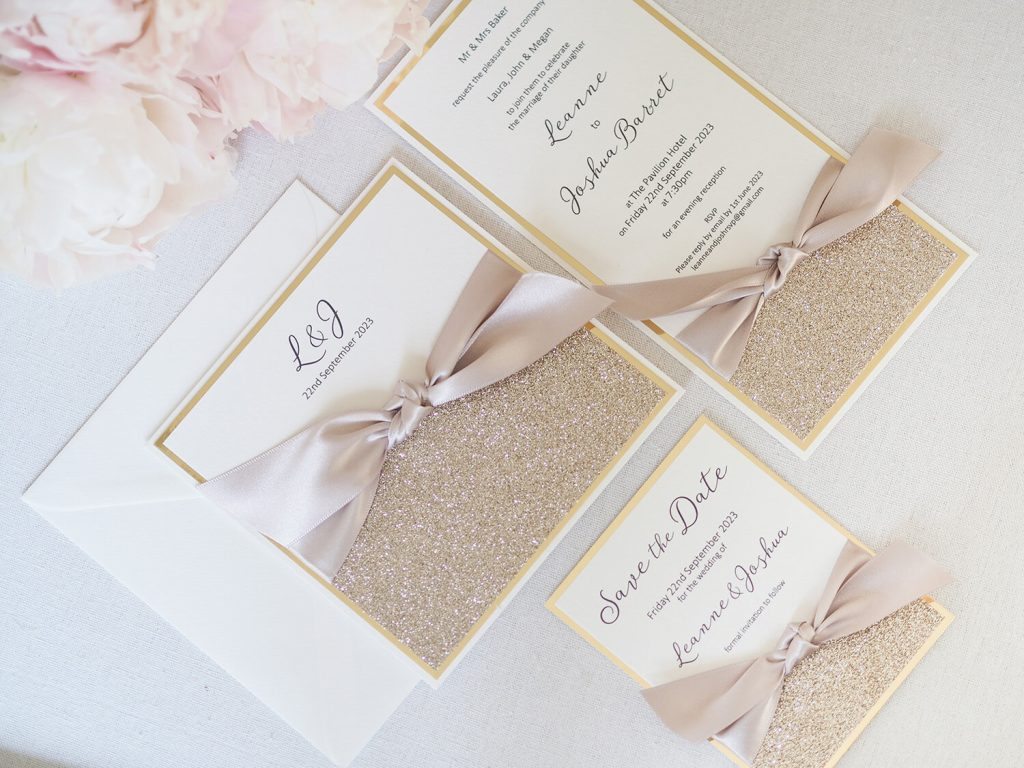 4. Show it off
As so much thought and effort goes into the design of any wedding invitation it is a shame to hide it away in a cupboard for safe keeping. The square or rectangular pocketfold wedding invitation is a perfect style to be displayed at home by your guests. This style of invitation can stand just like a greeting card whilst keeping all the information organised within the internal pocket. A perfect daily reminder of your ensuing wedding day.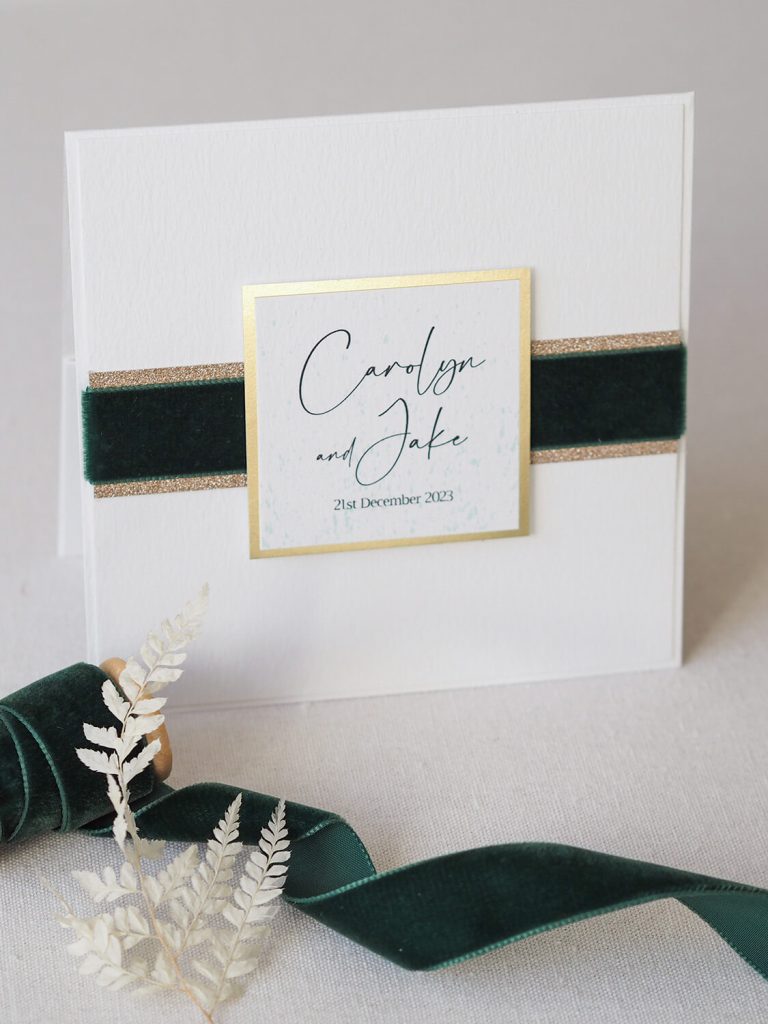 If you chose to have the envelope style of pocketfold, this is more difficult to display as it usually comes with a bellyband or ribbon to hold it closed.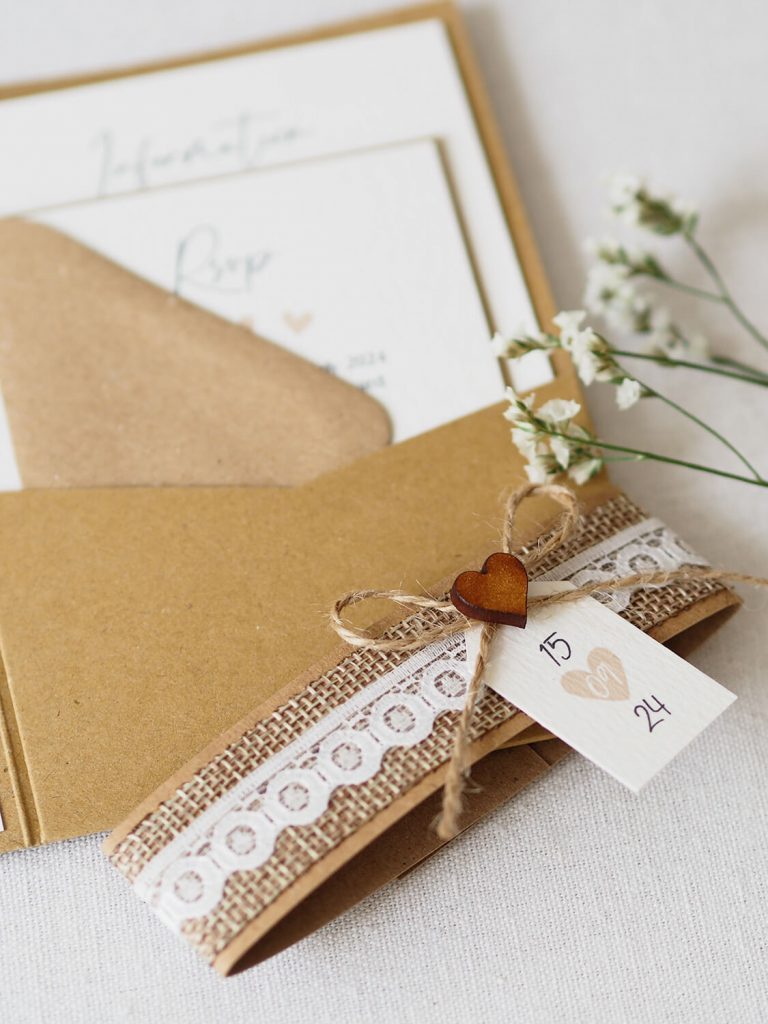 5. Pocketold wedding invitations will impress your guests
Who doesn't love to receive a wedding invitation? The anticipation of opening the envelope to reveal the invitation is exciting right?!
To receive a pocketfold wedding invitation adds that extra excitement. Firstly, it is a great way to create a first impression of you wedding day for your guests. The design and weight of the invitation will really set the scene of your day and create excitement.
As your guest opens the pocketfold wedding invitation they will be 'wowed' by the amount of information and organisation within the invitation itself.
You can't go wrong with a pocketfold wedding invitation. It is versatile in shape and size and can be decorated in any style of your choosing. Your guests will love the organisation of this style of information and will be grateful of all the information that you have provided for them to make the day as special for them as it will be for you.
There is a pocketfold wedding invitation to suit all couples and the chosen wedding themes. Get in touch to discuss your ideas. I would love to help.
For other styles of wedding invitations, have a read of this interesting blog post.
To keep up to date with all of my work you can follow my Instagram an Facebook pages.