Nothing makes it seem more real than receiving your dream wedding invites and delivering them to your guests. This is the first glimpse into the style or theme of your wedding day. Before you can send your wedding invites, there are a few things to consider first. Style, wording, colours, timescales can all seem like endless and overwhelming decisions. Well it doesn't have to be. Here are few handy tips to get you started.
1. Do you want to send save the dates before your wedding invites?
Save the date cards are sent before wedding invites and are usually sent within a month or two of setting your wedding date and confirming your venue. This is essentially alerting your guests to the fact that they are going to be invited to your wedding and that they should mark the date in their calendars. However, they certainly aren't mandatory and it does also mean that you need to have your guest list confirmed at the very early stages of your wedding planning.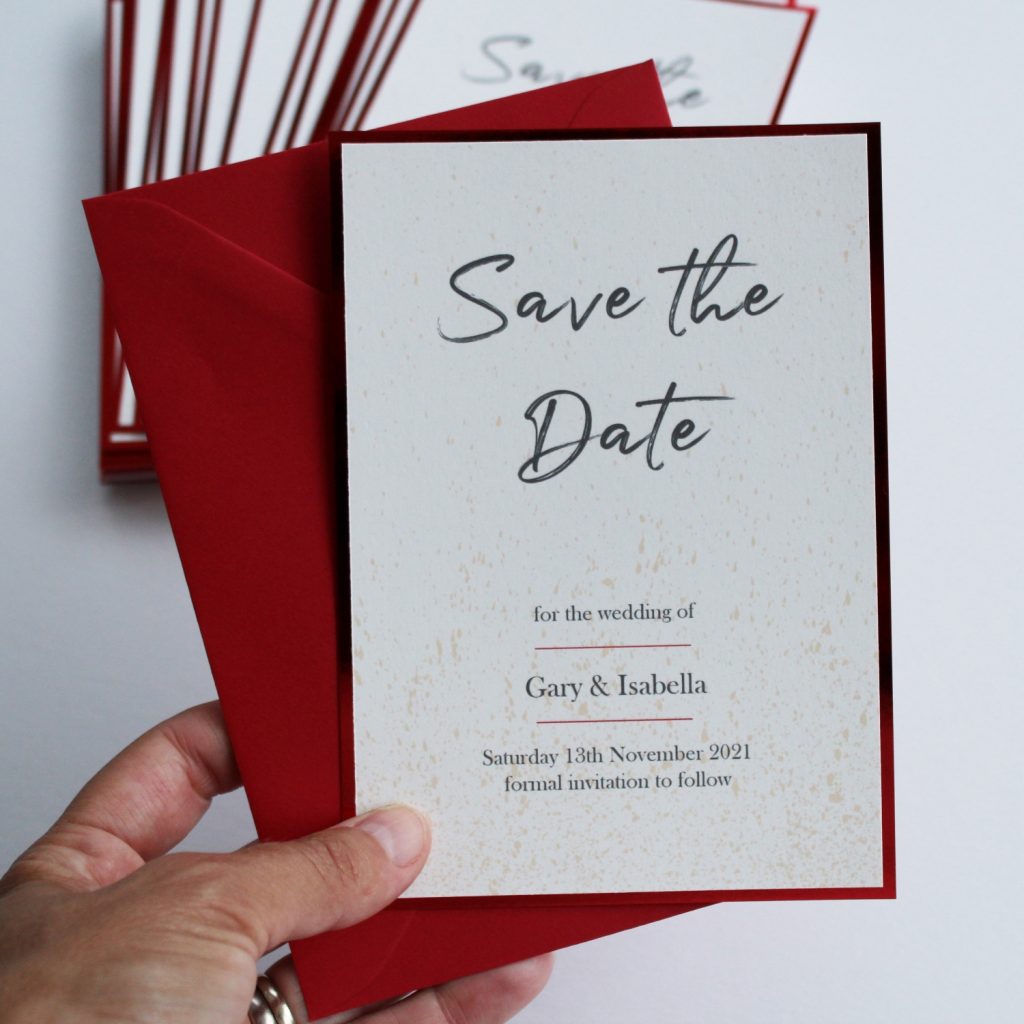 2. Define your wedding style or theme
When you are planning your wedding, before you can even think about your wedding invites, you will need to decide on a theme or style for your day. This will also help to determine the formality of your wedding. Pinterest is a great place to start when looking for inspiration. Whatever style or theme you choose, your wedding invites should reflect that. This is the first glimpse your guests will have into your wedding day giving them a taste of what is to come!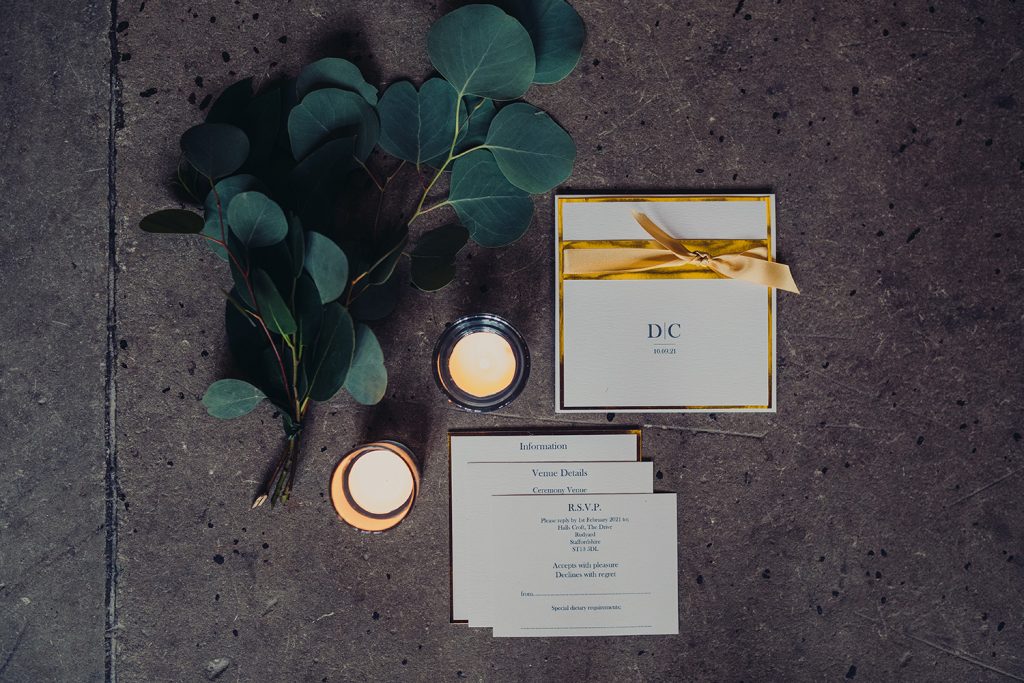 3. Choose your wedding colours
Choosing your colour scheme is really important when creating your style. Your chosen colours will need to flow through your decor, flowers, cake, bridesmaids dresses etc. Often the time of year can help with choosing your colours such as Spring fresh pastels or Autumnal rich berry tones. Choose colours you are comfortable with and don't feel compelled to use the latest trend colours. For example, neon yellow might not be your thing!!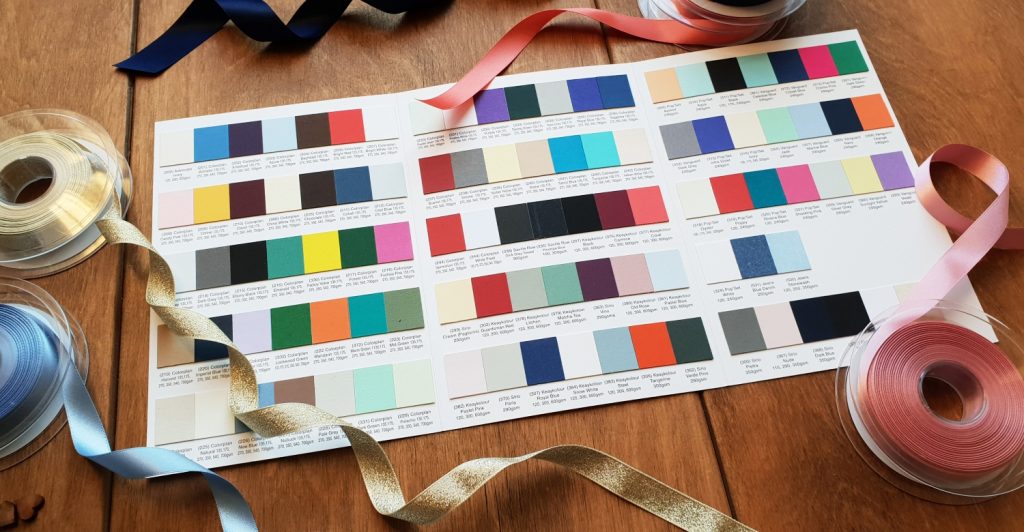 4. How many wedding invites do you need?
The most common mistake that people make when counting up their numbers for wedding invites, is to count the number of guests. Generally your guests will be in couples or families. Therefore as a rough gauge, you will probably require approximately half the amount of wedding invites to the number of guests. This is always a very welcome surprise when my clients realise their invitation bill just halved! Always order a few spare in case you have missed somebody off your list.
5. Choosing the right wedding invite format for you
Wedding invites come in all shapes, sizes and styles. Pocketfolds, bundles, flat cards, wallets etc. I bet you are confused now right?! The first thing to decide is the design style that you like the appearance of. Perhaps you like wedding invites with belly bands or invitations with a safe place such as a pocket to keep all of the extra information. Once you have chosen a design style, then you need to think about the amount of extra information you want to provide your guests. If it is simply the venue, time and date, then a flat card may be suitable for you. If you would like to add inserts with information such as accommodation, gifts and an RSVP, then a pocketfold of some description may be more appropriate.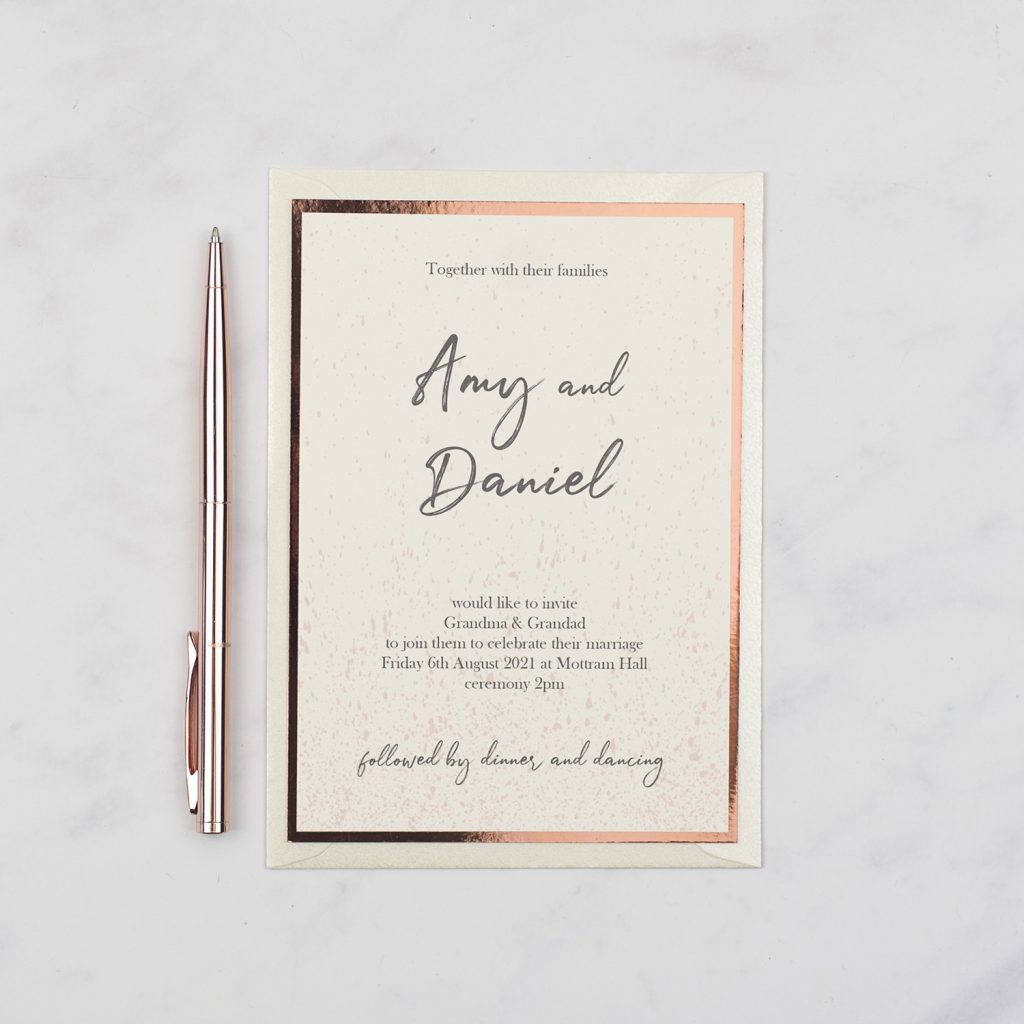 6. Consider your budget
The price of a wedding invite can vary dramatically. If you have a budget that you need to stick to, then this will determine your choices. However invitations can often be adjusted to suit your budget whether it needs to be simplified to reduce the cost without altering the quality or perhaps the embellishments and finishing need to be enhanced for something more luxurious. 
7. Wedding invite samples
Wedding invites can look very beautiful on a screen, especially when the images have been taken in a studio setting with perfect lighting and carefully chosen props. It is often very difficult to show the true colours and textures of an invitation in a photo. The feel and weight of an invitation is also very important, especially if you are looking for something luxurious. Therefore, my advice would be to order a sample before making your final decision.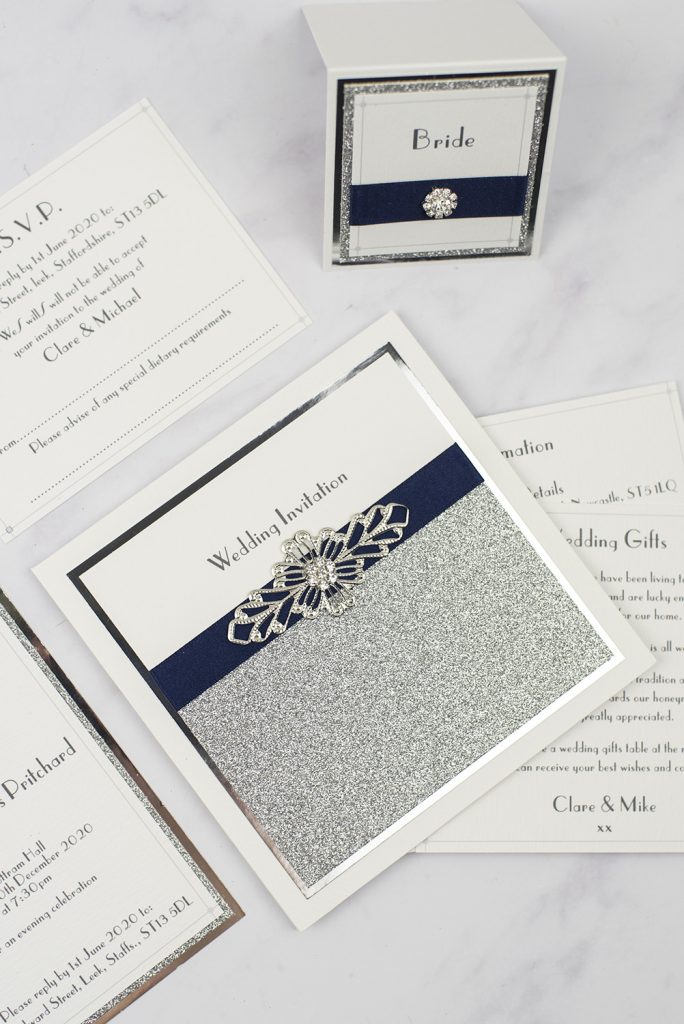 8. What information should I include?
Wedding invites are first and foremost a means of information for your guests. The couples names, wedding date and venue are of course vital information. Reply details are also of great importance so that your guests can inform you of their acceptance. You may choose to keep your invitations simple and only include the essential details. Alternatively you may choose to inform your guests about local accommodation or taxi companies particularly if your guests do not know the area local to your wedding venue. You may have a gift list or would prefer money towards a honeymoon or house renovation. Some couples like to offer their guests a choice of menu for the wedding breakfast which also needs to be included in the wedding invites. For more information on what to include in your wedding invitations, please read more HERE.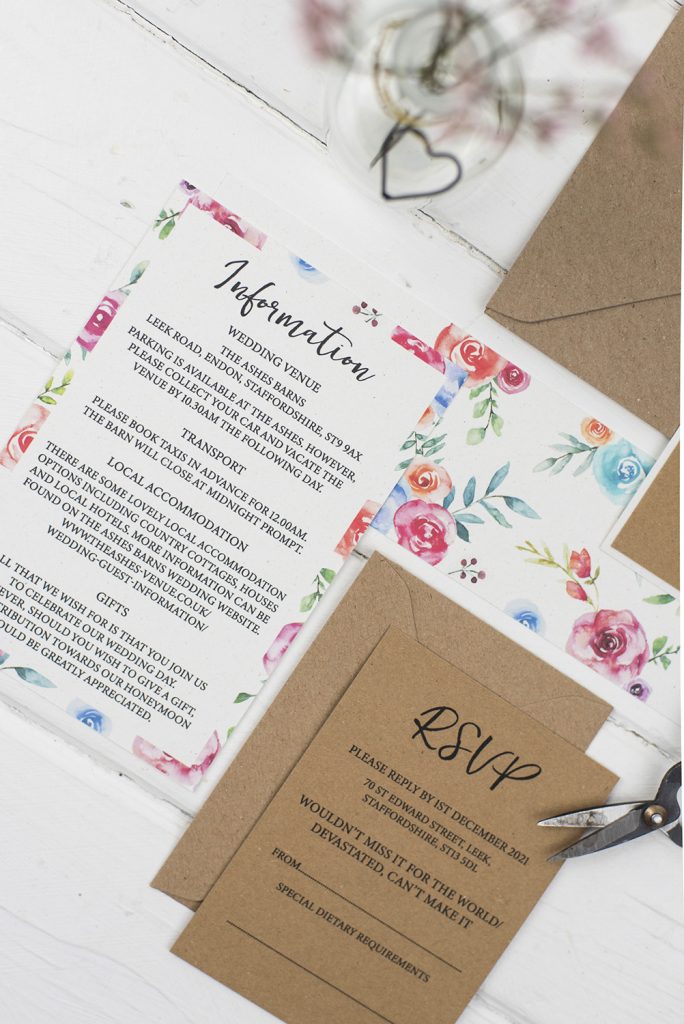 9. Book your wedding invite production slot early
As a wedding stationer my diary can fill up very quickly several months in advance. There are certain months of the year which can be more busy than others. It is advisable to book your production slot with your wedding stationer as soon as possible particularly for wedding invites. A production slot booking will secure your space in the diary even if you haven't made a final decision on your chosen wedding stationery. Highly recommended.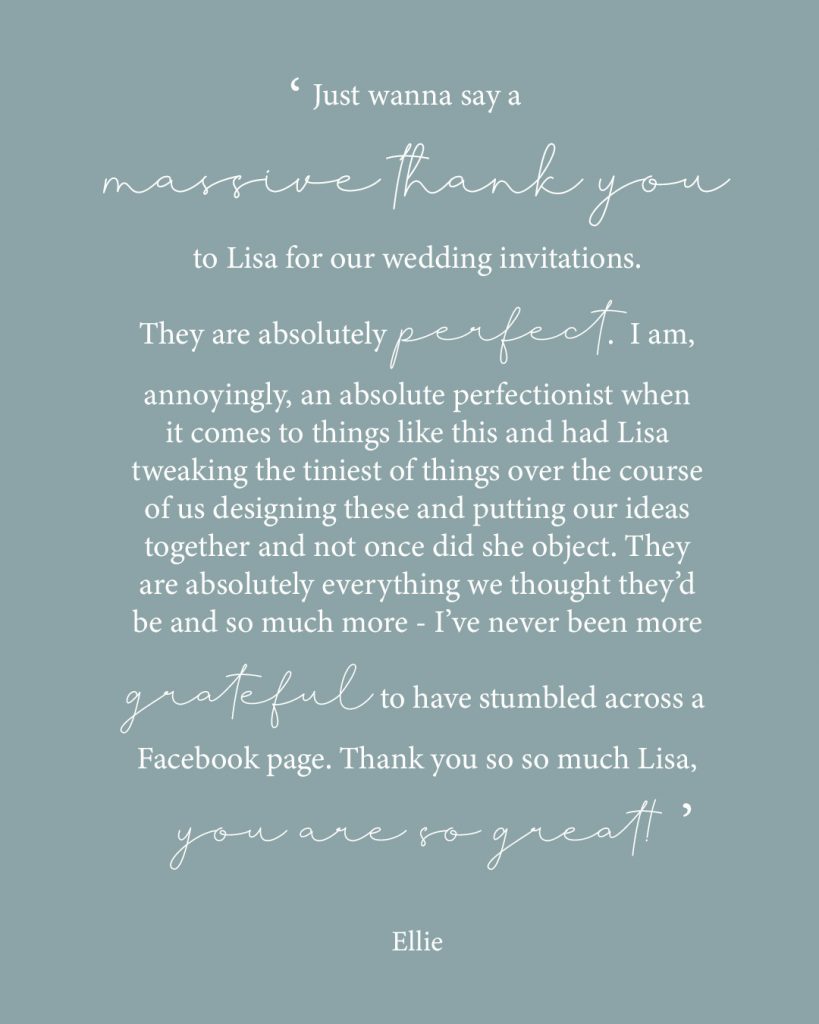 10. Ask for advice
Chances are, you have never done this before so choosing and ordering your wedding invitations and stationery can seem a little daunting initially. There is so much to choose from and consider but hopefully these tips will be a great help to you. I have been making wedding stationery since 2007 and I have lots of knowledge on this subject so please do ask for advice. No matter how trivial it may seem, I am here to help.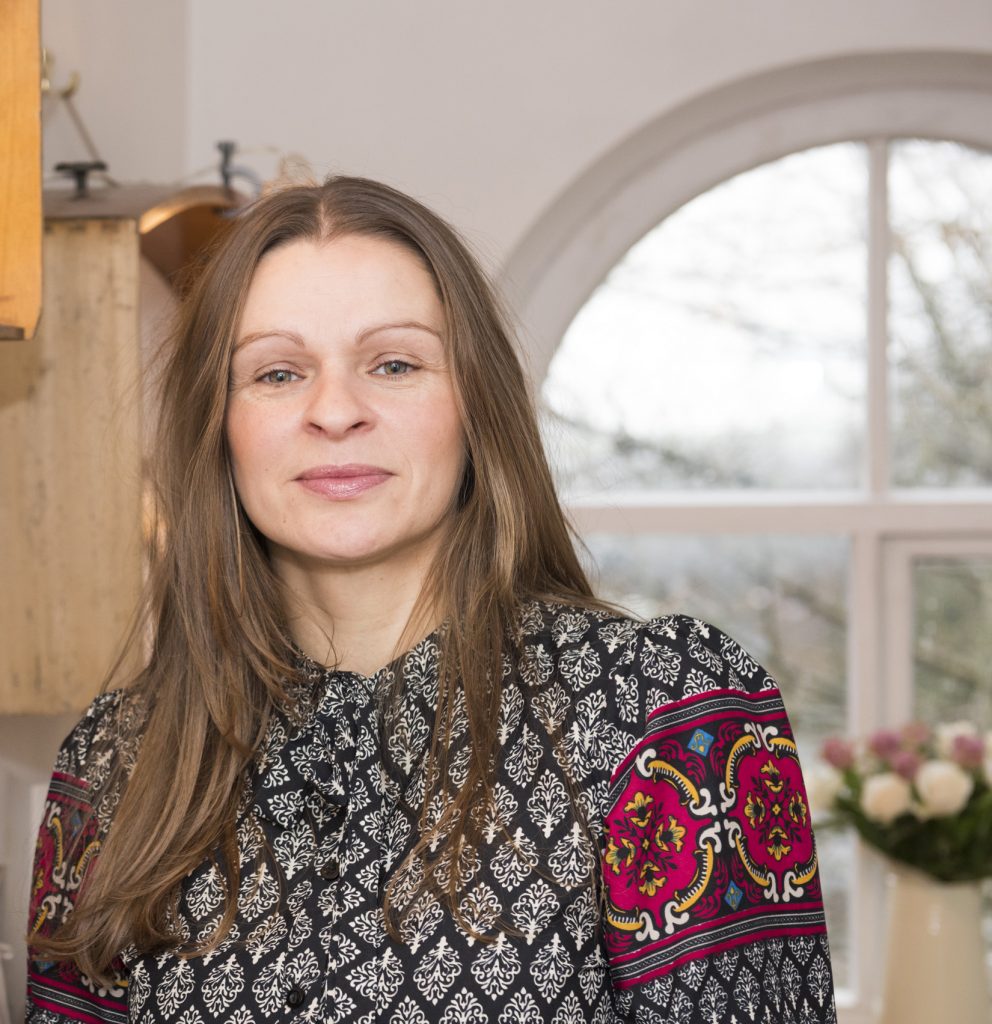 Your wedding invitations and stationery journey should be smooth and effortless from design conception through to completion. This is an exciting part of your wedding planning journey as you finally get to share the first glimpses of your much anticipated wedding day with your guests. I dedicate my time to all of my clients so that I can offer you the best help and advice along the way to make this journey fun and enjoyable. Please get in touch to arrange a free zoom consultation or an informal chat by email or telephone.