The wedding invitations were sent months ago! The RSVP's are finally in and the guest list has been finalised. It's nearly time for your BIG DAY. Here are 10 items of wedding stationery you didn't know you needed for your wedding day?
1. Church Wedding Ceremony Order of Service Booklet
If you are getting married in a Church, an order of service booklet is an important part of your wedding stationery. You and your guests will need to know the order of the ceremony and at what points they are required to join in with singing and prayers. The booklet will also include hymns and readings.
2. Civil Ceremony and Reception Order of the Day
We all love to know what is happening and when, right!? A wedding day is perfectly planned and timings are vital to keep the day running smoothly. Including an Order of the Day as part of your wedding stationery will please your guests enormously by telling them where they need to be and at what time. They will especially love to know what time they are being fed!!
3. Wedding Guest Seating Plan
This element of wedding stationery can be a real show stopper as well as functional. If you would like your guests to be seated at certain tables for the wedding breakfast, then this is essential. There are lots of creative ways to display your seating plan from traditional ornate frames with floral decoration to individual tables in vintage frames.
4. Table Names or Numbers for each Table
When your guests have found their name on the seating plan, they then need to find their table. Whether you have simple numbers or have chosen a name for each table, this will coordinate with your seating plan. Choosing a theme or names for your tables can be a great way of adding personal and unique touches to your wedding day.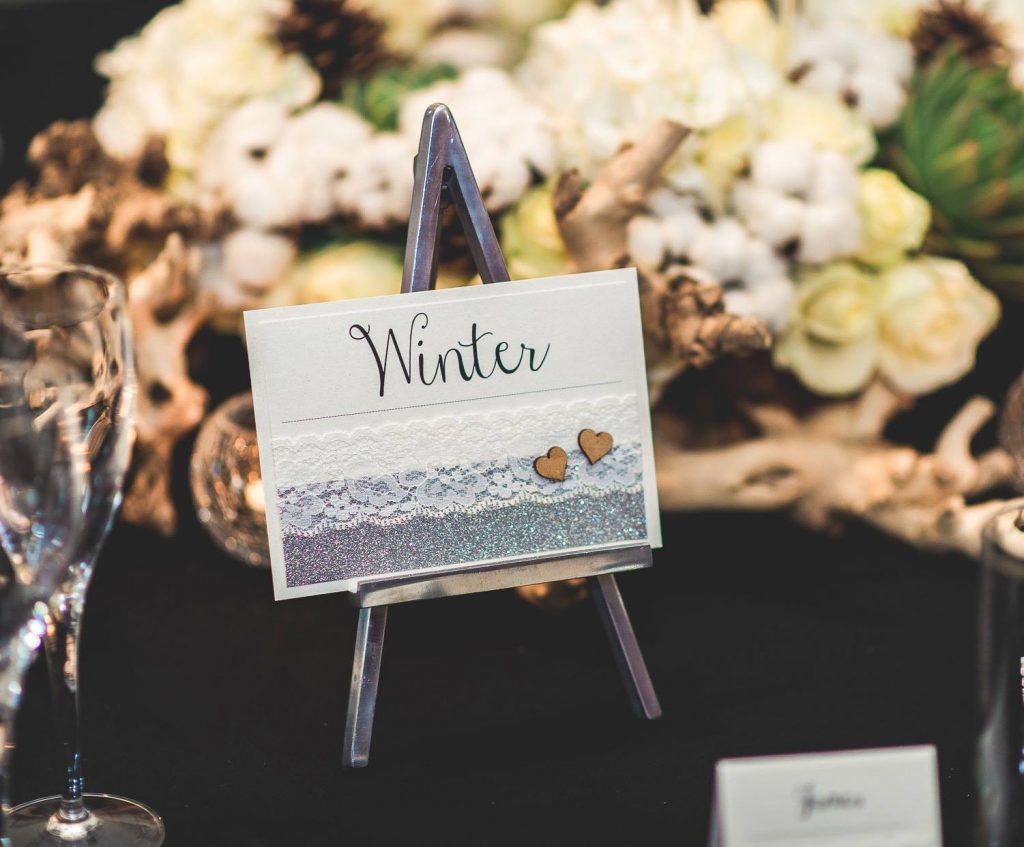 5. Guest Table Place Setting
A place setting, possibly a place card or tag, is not just an item of wedding stationery but can often be a wedding keepsake too. Guests love to take home a snippet of your day as a reminder of the fun they had. I also think this is an important part of your table decoration and can be displayed in so many creative ways.
6. Wedding Breakfast Menu
As wedding stationery goes, I believe this one is vital! Your guests will want to know what they are about to eat. Whether you have a set menu, or your guests have chosen what they wanted to eat beforehand, they will need a reminder. If your guests chose there menu before the wedding day having personlaised menus is a great help. Often they made their choices months in advance. Would you remember what you chose?
7. Personalised Wedding Guest Book
This is a very personal and much loved item of wedding stationery for you to keep forever. Asking your guests to leave messages in your guest book is a lovely thing to read as Mr & Mrs after your wedding day. It is also a lovely way to look back in years to come at the 'expert' advice that was offered. I am sure there will a giggle or two in there.
8. Personalised Wedding Card Post Box
Your wedding guests will bring cards, which may often contain gift vouchers or cash. A safe and obvious place to leave cards is really useful. This can also match all of your wedding stationery and be a useful item to store your memories in after the day.
9. Wedding Day Signage
Signage is a great way to describe or give helpful instructions for certain parts of your wedding day. This can include things such as 'welcome to our wedding' sign, cake flavours for your wedding cake, reserved signs on the Church pews, or even to remind guests to sign your guest book. These are just a few ideas of which there are many more.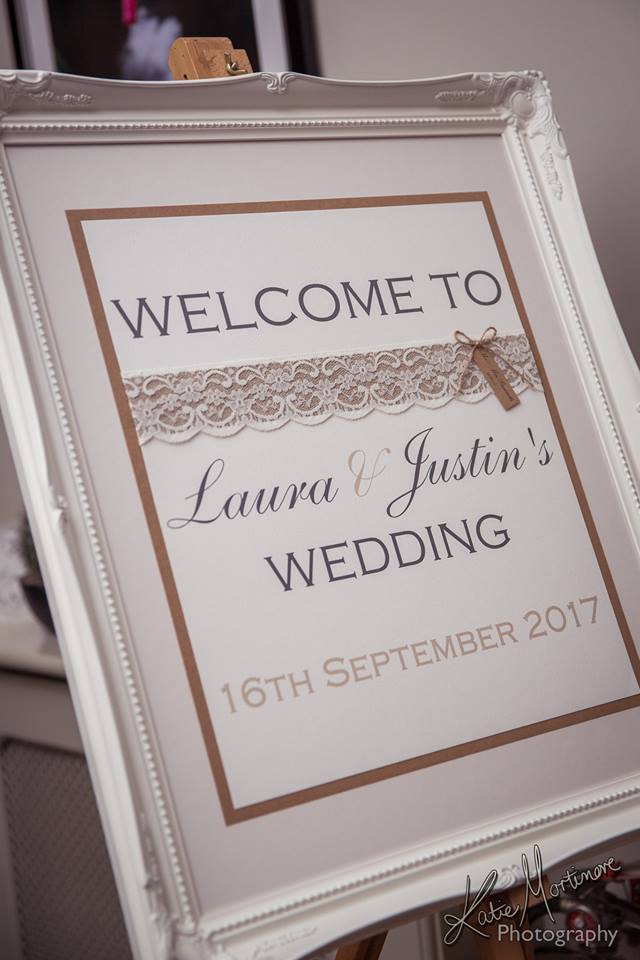 10. Finally…..Do you Need Wedding Stationery or Wedding Stationary?
Wedding stationery and wedding stationary are very often confused. A lot of people use the wrong one when contacting me about their wedding stationery. So hopefully this will help;
STATIONERY is a noun that means tools used in an office or for writing such as paper and pens. You can remember E for Envelopes or ER in paper.
STATIONARY is an adjective used to describe something that is still or not moving. Remember the AR in parked car.
I hope this gives you a good idea of what wedding stationERy you will need. You definitely don't want a stationARy wedding day! If you would like to discuss your wedding invitations and wedding stationery, please do get in touch. I can provide all of what you need to match your wedding day theme.
Several of the images used within this blog are from a recent photoshoot that was photographed by the wonderful Chelsea Shoesmith Photography. To see behind the scenes at the photoshoot at The Upper House, please read my blog post. Other professional images where specified are by James Tracey Photography and Katie Mortimore. Non-professional images are taken by me!
Lisa xx
'The biggest thank you ever to Lisa for making such beautiful stationery for our wedding day. Lisa was an absolute pleasure to work with from my first enquiry before I'd even placed an order, and she captured my vision perfectly. She works to such a high professional standard, I couldn't find fault with any of her work. The quality of the materials Lisa uses is just stunning and really makes everything feel like it's been made with love and care. Lisa was so friendly and professional, I didn't feel rushed at all, everything worked around my timings and when deliveries were convenient for me and when the deliveries came everything was packaged with the upmost care so nothing was damaged – including my table plan which came in a frame! I cannot thank Lisa enough or recommend her highly enough, if you truly want something bespoke and luxurious that's made with love and care with fantastic attention to detail then you must must must order with Lisa xxx ' – Pia